Is a vote for UKIP really just a screech of rage?
There's something anthropological in the political class's view of UKIP voters.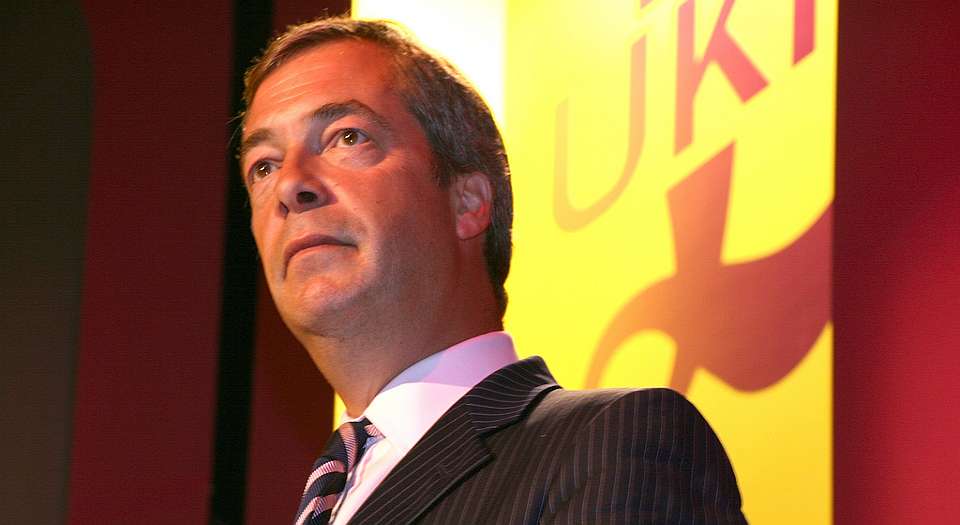 From the perspective of the political class and its media playmates, the rise of UKIP is clearly troubling. After all, this is the party that they have long demonised for the loony, fruitcaked racism it supposedly nurtures in its midst. This is the party whose voters are routinely mocked and stigmatised. And now, this is the party that has followed up its success at May's European parliament elections, which it won with nearly 30 per cent of the vote, by winning its first UK parliamentary seat at the Clacton by-election, and nearly winning a second at Heywood and Middleton. So despite everything that has been thrown at it by sneering broadsheet commentators, despite all the muckraking of mainstream party hacks, UKIP is still the coming force in British politics. According to some estimates, it could even take 25 seats at the General Election next year.
Yet at the same time as the party-political establishment is clearly worried by this threat to its interests, it also seems to be indulging in a spot of denial, too. It simply doesn't quite get what is happening. UKIP's insurgence is all too new and unsettling to be faced head on. Instead, Labour and Tory alike seem content to grasp UKIP's success in terms of the old, stale political narratives of protest votes, and worse still, anti-politics sentiment. That way what's happening can be downplayed and dismissed as a disruption to the normal two-to-three-party course of British politics. It's a deviation, a blip, but one that will, and can, be righted once the proper politicians and the proper parties sort themselves out. That at least is the Panglossian logic.
Read Labour leader Ed Miliband in the Observer: 'Our task is to turn the despair and cynicism on which UKIP thrives into a positive force for change.' Or Labour MP Chris Williamson: 'Support for UKIP is almost a bloody-mindedness. It's not so much about the issue of immigration alone but about people feeling powerless and abandoned… it is a vote for none of the above.' Or fellow Labour MP Diane Abbott: 'It may… be the case that UKIP has momentarily replaced the Lib Dems as the dustbin for mid-term protest votes.' The media have followed suit, with the BBC's Nick Robinson concluding that 'UKIP has now proved that it can assemble a huge coalition of protest votes from the right, the left and the centre, combining people who are angry about the state of the economy and the state of politics, not just immigration and Europe'.
What's striking about the tale being spun from Westminster is the determination to mind-read UKIP's voters, to ascribe to their polyvalent action a single mental state. Time and again, you see the same psychologising phrases being used: UKIP voters are 'angry', 'despairing'; their votes are a 'protest'; their motivation is 'anti-politics'. And time and again the effect is the same: the political class can content itself with a portrayal of the UKIP vote solely as a negation, an act born of people's reaction against the mainstream parties, against mainstream politics.
This is why, from the perspective of the British political class – that is, the professional class of politicians, pundits and think-tankers – UKIP is a problem for it to solve, a 'wake-up call', a demand, as Tory MP Sarah Wollaston puts it, for 'all parties… to meet the wider challenge of political reform'. In the words of a Guardian editorial, the by-election results reveal 'in England the same rage against Westminster already laid bare in the Scottish referendum'. In other words, people aren't really voting for UKIP, they're voting against the political establishment. And once the old, traditional parties have responded to this wake-up call, be it the Tories finding a common touch to transcend their privilege, or Labour re-engaging with its pre-New Labour core vote of the callous-handed working class, then all will be as it was. Which, for those who believe this tale, is as it should be.
But this attempt to mind-read UKIP voters, to reduce their support to a temporary mental state massively misrepresents the depth of the crisis facing the political class and, crucially, wilfully misunderstands why people vote for UKIP.
It's not surprising that few seem willing to acknowledge the depth of the problems facing the party-political establishment. Not only would that be painful, but at a formal level, things still look the same. The two-main parties of the past century still exist, the Lib Dems persist, and the Greens add a bit of planetary conscience to the broth. The institutions of governance look the same, too, from regular General Elections to the to-and-fro of Commons debate. Yet, as spiked has long noted, peer a little deeper, and the hollowness of it all quickly becomes apparent. The parties are shells, their memberships are tiny fractions of their postwar two-million-plus highs. They no longer represent the ideas and aspirations of any discernible social constituency struggling for ascendancy. Rather, they are cut-off, aloof, without moorings. The Tory party's roots in church, Union and empire have long since withered, and Labour, like its institutional crutch, the trade-union movement, is a shadow of what it used to be, as devoid of members as it is of ideas. So, bereft of the social conflicts which provided them with their ideological substance, the parties are left to articulate variations of the middle-class, metropolitan consensus of their professionalised cadre, replete with liberal-ish pieties and a paternalist loathing for the lifestyles and habits of those outside their elite circle. They do respond to the promptings of the media, but that is about as close to the public as they ever come.
And yet Britain's party-political establishment hasn't really been motivated to address its own evisceration. That is, despite the steady drop in turnouts at General Elections over the past two or three decades (from nearer 80 per cent to just about 60 per cent), despite the growing lack of public interest in party politics, despite, in short, the withdrawal of political parties from the public, the party-political establishment has at points looked as if it is content to live with this profound problem, this drawn-out crisis of legitimacy.
And this is why UKIP's emergence is so potentially significant. The withdrawal of the party-political establishment from the public, its separation from the people it is meant to represent, has finally been seized upon. The emperor is wearing deeply unpopular clothes. Or to put it another way, UKIP is effectively confronting the political class with its own estrangement from vast swathes of British society. To those who have long been condescended to, whose views and lifestyles have been dismissed as backward or unhealthy, UKIP offers a voice. To those whose sense of dislocation amid so much politically championed social change have been ignored, UKIP offers a bulwark. And to those who have found little to vote for from the mainstream political melange, UKIP offers an opportunity. (It's no surprise that a survey of UKIP voters at last year's Eastleigh by-election revealed that over 20 per cent had not voted at previous General Elections.)
And here's the rub: the growing number of people voting for UKIP are therefore not all simply protesting, or giving vent to anti-politics sentiment, or intent on negating the Westminster elite, although of course some of them might be. Rather, many of them are affirming something, too. This, as we have argued before at spiked, might not be clearly defined, but it is there. It's there in the focus on immigration, in the desire to leave the European Union, and in the more general resistance to a stiflingly paternalist PC culture, where everything from one's language to one's boozing is the object of official concern. In short, UKIP fastens on to a desire on the part of many to assert a bit more control over their lives, a chance to resist those anonymous forces, be it immigration or Europe-based policy- and law-making, that are perceived to be upturning their world.
Some of UKIP's arguments, especially its focus on immigration controls, are certainly not ones we at spiked would support. But it's equally important to note amid the talk of protest votes, of rages against the party machine, of anger and disillusionment, that many of the people voting for UKIP are not doing so simply for negative reasons. There is a positive kernel there, too; they are voting for something. And that something is not, as the political-class perspective has it, racist or bigoted or backward or just plain-old xenophobic. It is a chance to affirm and assert the value of a way of life blithely denigrated and disregarded for so long.
Tim Black is deputy editor of spiked. He will be speaking at the debate Election 2015: what next? at the Battle of Ideas festival, held at the Barbican in London on 18-19 October. Get tickets here.
Picture by: Wikimedia Commons
To enquire about republishing spiked's content, a right to reply or to request a correction, please contact the managing editor, Viv Regan.