Larkin wasn't as prickly as you think
Philip Larkin's private prejudices shouldn't matter a jot to admirers of his poetry.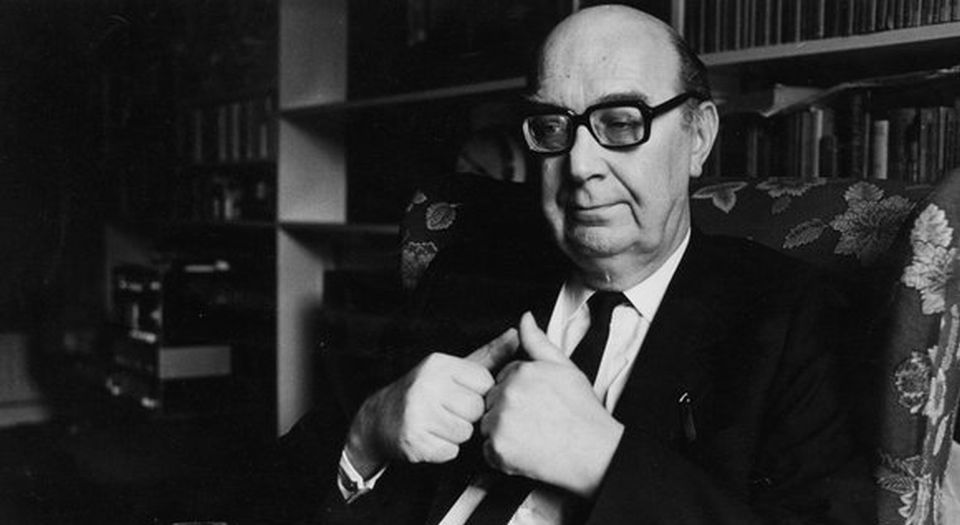 Since his death in 1985, Philip Larkin's reputation has taken a battering, especially from commentators on the left. The controversial 1988 edition of his Collected Poems dented his professional reputation due to misguided editorial decisions. Then there was the publication of Selected Letters in 1992, followed the next year by Andrew Motion's biography. The droll and disarming letters shocked some with the poet's cutting comments about fellow writers and his casual racism. The biography seemed to cast its subject in a poor light, making him appear deceitful towards women, politically reactionary and unjustifiably negative in outlook.
In recent years there seems to have been a concerted push to repair Larkin's reputation. A collection of love letters to Monica Jones appeared in 2010, which showed the poet in playful and affectionate mood (while not concealing his manoeuvrings to conceal his infidelity). An excellently edited Complete Poems has appeared, replacing the inadequate earlier collections, and unpublished early writing has been added to the corpus. Now we have this biography from James Booth, a former colleague of Larkin's at Hull University.
Booth traces the life of Larkin, adding new colour in places. Born in 1922, Larkin grew up in Coventry, studied English at Oxford (where he became friends with Kingsley Amis), spent periods in Shropshire and Ulster before taking the position of head librarian at Hull University in 1955, where he stayed until his death. He never married and was reluctant to make public appearances (he virtually never gave readings of his poems). He published only four (slim) collections of poetry during his mature period and wrote increasingly little in later years. His poems are some of the most adroit and acerbic in English literature, covering loss, absence and yearning, as well as capturing scenes of everyday life in mid-century Britain: the boarding house, the county fair, the race ground. His language is idiomatic and vocabulary is rarely obscure; the tone is wry or scornful when it is not elegiac.
Booth draws on unpublished family correspondence to provide us with glimpses of Larkin as a son. Larkin and his mother wrote to each other at least weekly. His part in the correspondence totals about 4,000 letters and cards, all unpublished. Larkin loved his mother, was deeply attentive to her welfare and often visited her at the weekends; at the same time, he found her company draining and boring. Frequent and time-consuming letter-writing was preferable to geographic proximity.
Larkin's major romantic attachment was to Monica Jones, a lecturer in English literature at Leicester University, whom he met in 1946. She was a highly cultured but narrow and vociferous in her tastes. Her hot-tempered and opinionated character sometimes exasperated Larkin, but he loved her and made many allowances for her behaviour, conceding that he was sometimes to blame for her vexation.
To describe Larkin's private life as a failure – as some have done, in part taking up Larkin's gloomy comments – is mistaken. By maintaining two or even three relationships (not all of them sexual in nature) simultaneously, Larkin's multiple commitments allowed him to prevaricate. Monica's bookishness was balanced by the romantic naivety of Maeve and the straightforward sexual warmth of Betty. The relationships fulfilled a variety of needs, sexual, practical and emotional. From their testimonies, it seems that the women in his life greatly valued Larkin's attention and friendship, though Monica Jones' commitment to Larkin did cost her the chance to experience motherhood and marriage. Only in his final years of illness did Larkin share a house with Monica.
The common accusations of misogyny seem difficult to pin on Larkin. Replying to an inquiry about why he had not made more amorous progress with an acquaintance, Larkin wrote to Amis: 'It seems to me that while pocking Miss Jane Exall is infinitely desirable, preparing Miss Jane Exall to be pocked and dealing with Miss Jane Exall after pocking is not at all desirable – and that pocks do not exist in the void.' This seems to be not an expression of bigotry but an unvarnished (albeit reductive) bit of self-interest. If anything, Larkin seems too idealistic – too much in the thrall of romantic friendship – for his own wellbeing. One could argue that Larkin's resentment of women stemmed from his very dependence on the company of women.
The friendship with Amis cooled after the success of Lucky Jim, not so much out of envy but due to Amis's neglect of Larkin. Larkin sardonically caricatured a successful writer as a 'shit in a shuttered chateau / who does his five hundred words / then parts out the rest of the day / between bathing and booze and birds'. Yet grants, visiting lectureships and after-dinner speaking could have funded such a life for Larkin had he wanted it. He did not want it. He proved hardworking and conscientious as a librarian and won the respect even of colleagues who were at odds with him politically.
Booth analyses the major poems illuminatingly and with not too much jargon. He puts forward a strong argument to suggest that Larkin was – at least from the 1950s onwards – aiming to cover all of the major themes and poetic forms in his output. Larkin wrote only one major poem ('Aubade', 1977) following the publication of his last collection, High Windows, in 1974, though Booth takes time to examine the minor poems of his last years. He declined the offer of the poet laureateship after John Betjeman's death, prompted by reticence. Not least, Larkin knew he was no longer able to write.
Any biographer has to take into account the criticism Larkin has faced for racist comments made in private letters. Those who are quick to apply the label 'racist' are usually unwilling (and unable) to distinguish causes and types of racism. Racism is a spectrum of views, ranging from the pseudoscientific conviction that certain groups are genetically superior/inferior to a dislike of certain cultural manifestations. The causes of racist sentiment can be anything from displaced dissatisfaction, cultural prejudice, political partisanship, religious conditioning and nationalist sentiment in time of war right up to paranoid delusion. Dyspeptic misanthropes often express disgust in racist form when their frustration is of a general unfocused kind.
There is no suggestion that Larkin ever uttered a racial insult to a person's face or engaged in any discriminatory behaviour (indeed, Booth presents examples of where Larkin supported the careers of non-white authors). Booth points out that Larkin only voiced racist opinions to receptive individuals (Amis, Monica, etc) in private and often undercutting epithets with irony or self-mockery. While true, this does not make Larkin's racist expressions false. It would be surprising if a culturally conservative white Englishman with mild nationalist sentiments did not resent some of the cultural changes of Britain from the 1950s onwards, just as it is equally unsurprising that he felt somewhat ashamed of his prejudices and unwilling to hurt anyone directly. Booth has no need to excuse Larkin's prejudices, just as we should have no reason to require excuses. HP Lovecraft's racist view on life is an essential part of his writing; Larkin's racist comments about West Indian cricketers and Indian doctors are peripheral and irrelevant to understanding his poetry.
The biographer is on firmer ground when he contends that Larkin had many leftist sympathies. Larkin was largely apolitical, having developed an aversion to forthright political commitment following the embarrassing exposure to his father's fascist sympathies as a youth. Though he admired Margaret Thatcher, he was dismayed at cuts to the library budget and was scathing about the environmental degradation caused by industry. He had a typical middle-class mixture of competitive contempt and idealistic veneration towards the working class: his sour-sweet descriptions of holidaymakers and bridesmaids in gaudy fashions are sharpened by misanthropy and mellowed by affection.
Larkin's poetry remains as poignant and rich as it ever was and no one needs to be ashamed of admiring it, however much they might have mixed feelings about the private life of the writer. This is a readable, intelligent and even-handed treatment of one of the most important writers of the last century. It would benefit us all if this Larkin version 2.0 remained the balanced and reasonable reading for a while yet.
Alexander Adams is a writer and art critic based in Berlin. He writes for Apollo, the Art Newspaper and the Jackdaw. His book The Crows of Berlin is published by Pig Ear Press. (Order this book from Pig Ear Press bookshop.)
Philip Larkin: Life, Art and Love, by James Booth, is published by Bloomsbury. (Buy this book from Amazon(UK).)
To enquire about republishing spiked's content, a right to reply or to request a correction, please contact the managing editor, Viv Regan.