We're all pervs now
The explosion of sexting reveals the crisis of intimacy today.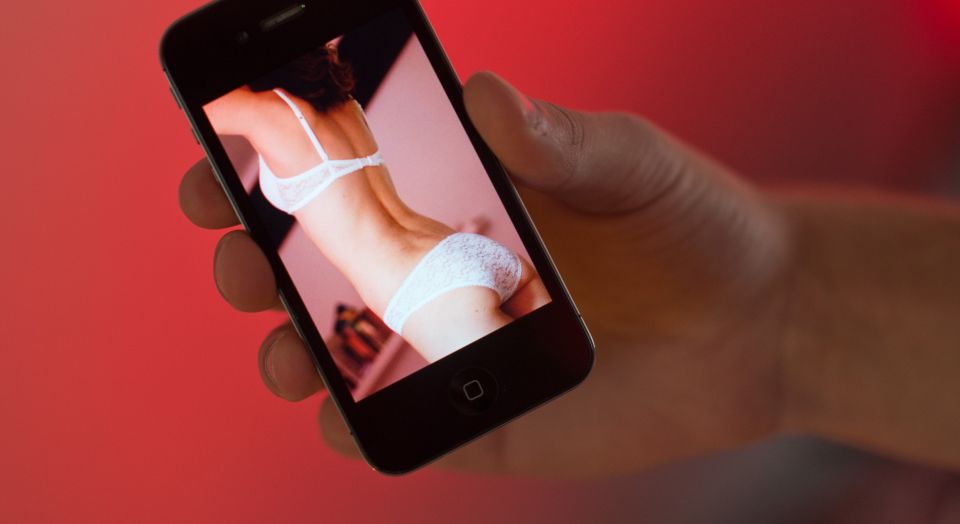 In the past week, two events have convinced me that something is amiss with modern culture today: Tory MP Brooks Newmark's exposure in a Sunday Mirror splash for sending lewd photos of himself to an imaginary tweeter, and the YouTube of porn, Pornhub, launching its own record label. The two might seem disparate, but look closer. For in Newmark's humiliation and the inevitable annexing of the music biz by the porn industry, something became clear. Sex today is everywhere, it's seeping into all corners of public and cultural life, and it's pretty messed up.
While Newmark's sexting was undoubtedly humiliating, he's managed to avoid the scorn of the commentariat. As Tim Black noted on spiked yesterday, most broadsheet journos decided to shrug off his indiscretion as a 'private matter' and use the story as another reason to bash the grubby tabloids. However, outside of the conference-season bubble, a debate about sexting is raging.
After hundreds of nude celebrity shots were leaked last month by a group of hackers, people clearly as lacking in morals as they are in vitamin D, the subject of 'revenge porn' has jumped back to the top of the agenda. The hacker group have just released another batch of shots in the third wave of the so-called 'fappening', and this has reignited concerns that young people are finding themselves being similarly humiliated.
Shocking cases in which teenagers are finding explicit shots of themselves – either in-the-act snaps taken with their pimpled other half or solo 'nudes' – posted online as a form of revenge or blackmail have rocked the child-protection industry. A bill to formally criminalise revenge porn will have its report stage in the House of Lords later this month.
However, while most people are rightly shocked and appalled by the spectre of revenge porn, there is still some confusion as to why sexting, nude selfies or, as Zoe Williams has aptly described it, 'citizen porn' has become so mainstream.
Depending on which poll you trust, anything from 33 to 49 per cent of adults have admitted to sending at least one nude selfie to a partner or suitor. Meanwhile, the explosion of hook-up apps, such as Tinder and Grindr, has made trading crotch shots a veritable courtship practice. Of course, not all of this DIY filth makes it on to the 30-odd revenge-porn websites that, the authorities say, are regularly visited by people in the UK. But the bizarre fact remains that more and more grown men and women – forget impressionable teens – are becoming accustomed to snapping porno-esque shots of their nethers for the delectation of others.
In some quarters, this has validated old arguments that we live in a 'pornified' world. The porn aesthetic has infected the common imagination, they say. Celebrities are at it. Kids are at it. Tory MPs are at it! From this perspective, it's as if the fappening hackers were performing an unseemly public service – spewing out the sort of lascivious muck we have all been conditioned to crave.
When it comes to assigning blame for this new trend, politicians and handwringing commentators trot out the usual blue-rinse prejudices: they tell us it's pop music, lewd fashion trends and, of course, porn that is warping our morals. But blaming Nicki Minaj's 'Anaconda'-luring posterior, 'juicy' tracksuit bottoms or Pornhub's cornucopia of filth for our new culture of sexualisation gets things the wrong way round. Yes, a seedy aesthetic has become the wallpaper of modern life. But this culture isn't self-creating, or cooked up by some conspiracy of retailers, porn magnates and pervs. The problem runs much deeper.
Our voyeuristic, baby-oiled culture springs out of a crisis of intimacy and the collapse of the public and private spheres. In the midst of abuse scandals and state prodding into our private and family lives, private relationships have become hollowed out – our sex lives in particular earmarked as potential wellsprings of abuse and degradation. This has been exacerbated by a more subtle process through which our let-it-all-hangout culture has encouraged us to constantly dwell on, discuss and evaluate our sex lives. (Sexual liberation is one thing, but being free to pursue your own sexual appetites needn't mean telling everyone about the grisly details.)
When you make what is a deeply private act a topic for public consumption and official meddling, you strip it of its more personal and intimate meaning. Sex, then, becomes something mechanical and individuated. It becomes something that can only be understood as a means of pursuing sexual gratification and, indeed, self esteem: one expert told the NY Daily News that snapping a nude can serve as a great ego-boost; it's an opportunity, he said, 'to create an idealised, sexy version of yourself'.
As Susan Sontag wrote in her 1977 volume On Photography, the explosion of personal photography in the Sixties and Seventies went hand-in-hand with a new 'chronically voyeuristic relation to the world'. The sudden urge to capture every holiday, landmark and precious moment for posterity was, Sontag argued, a process of converting human experience into a 'museum-without-walls in which every subject is depreciated into an article of consumption, promoted into an item for aesthetic appreciation'.
With the rise of smartphones, nude selfies, and the parallel degredation of the private sphere, Sontag's words ring all the more true. Unlike Newmark's dick pics or Jennifer Lawrence's coquettish poses, most people's snaps won't be broadcast to all and sundry. Sexting is still, for most people, a private act. And, indeed, a few cheeky snaps shared between a couple isn't anything to get worked up about. But it is the mainstreaming of nudes that suggests we are becoming alienated from sex itself. Sex has become something that is consumed rather than experienced.
You needn't be a Home Counties prude to be concerned about this culture of voyeurism. It's ruining sex for everyone. The now infamous 'mamading' video, in which a 18-year-old Brit was shown felating two-dozen men as part of a lurid sex game, makes for unpleasant viewing. And, in the video, many of the young men can even be seen filming themselves being briefly serviced on their smartphones. It's an extreme example, but it goes some way to showing how sexless and grim sex becomes when you truly let it all hang out.
Sex doesn't need to happen in a loving, committed relationship to be meaningful, let alone enjoyable. People should be free to experiment if they so please. But without any boundaries, without any sense of privacy or propriety, sex quickly becomes, well, pretty unsexy.
Tom Slater is assistant editor at spiked. He is chairing the session Do films warp minds? at the Battle of Ideas festival, held at the Barbican in London on 18-19 October. Get tickets here.
To enquire about republishing spiked's content, a right to reply or to request a correction, please contact the managing editor, Viv Regan.