Vote for the invisible zombie parties!
Could 2015 break records for the most anti-democratic UK election?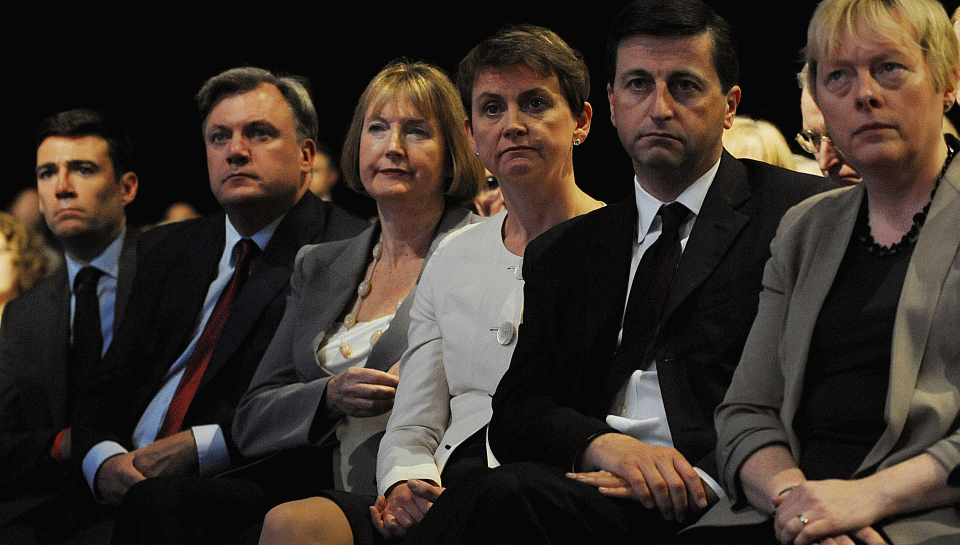 War, as a wise man once said, is the continuation of politics by other means. Which might help to explain why, just as the UK government is pretending to wage war on the Islamic State in Iraq, so Britain's party leaders have been pretending to hold political conferences at home.
Unaware that the Conservative, Labour and Liberal Democrats have been holding their big annual conferences over the past three weeks, to set out their stalls for next year's General Election? You are far from alone. Vaguely aware that these supposedly Important Events have been happening, but know little and care less about what might have gone on there? You are in the voting majority. And right is on your side.
Britain's party-political conference season has become increasingly irrelevant in recent years. This year it has become virtually invisible. The major parties have for some time effectively been zombie organisations – dead in terms of political principles and mass support, but still staggering around in their old shells. Now these bodies seem to have transmogrified further into invisible zombies, only noticeable to other members of the walking-dead political class quarantined within the conference centres.
The rare occasions when this conference season has made any impact on the world outside have involved Labour cock-ups (party leader Ed Miliband forgetting to mention the government deficit or the economy in his prime-minister-in-waiting speech) and Tory fall-outs (the bitter recriminations over a couple of previously unnoticed MPs defecting to UKIP, and a government minister nobody had heard of resigning after texting explicit selfies to an undercover reporter). These are the sort of petty, personal messes that make for reality TV rather than real political debate.
Many observers focus obsessively on these conference carry-ons, yet seem unable to admit that the problems are symptoms of something far more profound. The reason the party-political conference season has become such a hollow farce is that the organisations involved no longer really qualify as either political or parties. They are elitist cliques of managerial mannequins, trying to get elected through media-centred PR campaigns rather than anything resembling mass movements. That is why party delegates at the conferences are now deemed less important than corporate lobbyists.
Of course, there is no need to get nostalgic about the party conferences of the past. They were never models of democracy in action. Even when they showed signs of political life, such as the famous occasion in 1976 when Labour delegates booed their own chancellor, Denis Healey, it made no difference to the Labour government's commitment to public-spending cuts. For its part, the Tory Party conference was always more of a tame leadership rally than a policy debate, but was still capable of having its blue-rinsed passions genuinely roused by a speech from a Thatcher, a Heseltine or (hard as it may seem to credit now) a Portillo.
Yet as the parties have withered and died, so the conference season has become a bloodless affair. Many former party activists and even MPs see little point in attending. Things have reached the point where no less a Tory grandee than Lord Tebbit complains that the Conservative conference no longer has 'anything to do with party members'. Or, indeed, with the Conservative politics which that ageing membership signed up to support.
These moribund conferences are microcosms of the state of mainstream politics. They appear at best irrelevant and at worst invisible to normal people outside because the parties have no politics that can connect with or move a wider constituency.
In this sense, Miliband's don't-mention-the-deficit gaffe in his set-piece Labour conference speech might be seen as quite revealing. Anybody can forget a line from a pre-planned speech, especially when they are trying to show off without notes. But the fact that a Labour leader could 'forget' to talk about the dire state of the UK economy and public finances seemed a telling sign that he had nothing meaningful to say about that huge political issue. The Tories, meanwhile, would also love to forget about the public-spending deficit this week, as they attempt to shove the government's promise to get rid of it before the next election under the conference-hall carpet, along with the news that the UK's credit rating has just been symbolically downgraded for the first time since 1978.
In effect the question of the economy and how to run it, the dominant political question of the past century, has been removed from the political agenda altogether and handed over to committees of bankers and accountants. If the politicians have nothing new of import to add about such a momentous issue, even among themselves, it is little wonder that so few outside are listening to a word they say.
This conference season marks the real start of the run-up to the 2015 General Election, and may somebody have mercy on our souls. Current polls confirm that no party can command support above 35 per cent and that the shallowness of the major parties' support makes the final result look quite arbitrary and unpredictable, especially with the likes of UKIP to stir the pot.
Something of which we can be certain is that the election campaign will be a dire and degraded excuse for democracy. And that the losers are likely to be the electorate. Democracy has to mean more than the ability to tick a box on a ballot paper. It ought to involve a genuine choice between alternative substantial visions for society. By that standard, the evidence of the major parties' performance over the past three weeks suggests that we are in for the most anti-democratic UK election in memory. The only 'clear electoral message' many voters are likely to have picked up from the Tory, Labour and Lib Dem conferences is 'None of the above' – or better/worse yet, 'Vote UKIP!'.
spiked has often criticised the authorities' current proclivity for turning private matters into public issues. Now it seems our political leaders have also managed to reverse the trick – they have converted what should be big issues of public concern into private affairs to be kept within the elite. The zombie parties have long since turned politics into a passive spectator sport for most people. Their party-conference season suggests that the public are now not only on the outside, but can see little reason to bother looking inside the tent.
Mick Hume is the editor-at-large of spiked.
Picture by: PA images.
To enquire about republishing spiked's content, a right to reply or to request a correction, please contact the managing editor, Viv Regan.