Nick Cave: grit in the teeth of London's luvvies
20,000 Days on Earth is an engrossing film about an unlikely hero of Britain's middle class.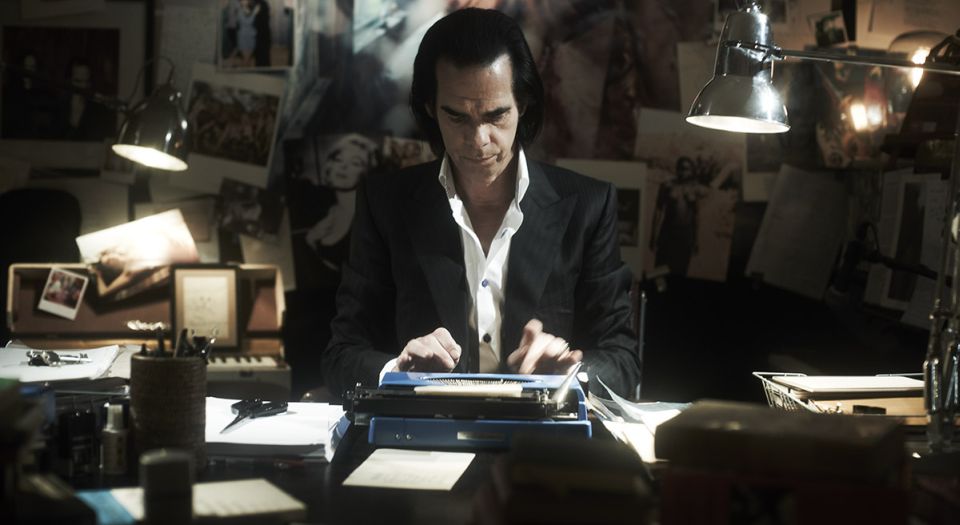 Nick Cave is a striking and singular artist in many respects, but it's his conscious attempt to never rest on past glories that marks him out from his Eighties peers. This year is the thirtieth anniversary of Nick Cave and the Bad Seeds' debut album, From Her To Eternity, but you wouldn't know it. There are no expansive editions of that album being released to mark the occasion; no plans to perform the album in full around Britain's salubrious concert halls. And there are no mentions of that punchdrunk, coruscating debut album in the new surreal documentary about Cave, 20, 000 Days on Earth. Instead, the film prefers to focus on Push the Sky Away, the fifteenth Bad Seeds album that was released last year. This hypnotic and absorbing film mirrors that album's spectral, dreamlike quality.
Indeed, the journey that Nick Cave has taken, from the days of his chaotic post-punk band The Birthday Party to the Bad Seeds' Americana and a new, respectable and middle-class audience, is only gestured to in the film. His newfound fame among the well-to-do coffee-house set is much more evident in the promotion and release of the film itself. The UK gala screening was held at the Barbican arts centre in London, with Cave, along with bandmates Warren Ellis and Barry Adamson, being interviewed after the film was screened.
The culture clash between Cave and the setting for the event could have made for an awkward evening, but the Australian frontman displayed none of his trademark prickliness or passive aggressiveness when he was lightly grilled by Radio 1's Edith Bowman. His only moment of irritation came with a 'thank God for that' when he was asked to play a few songs on stage. The film and the live Q&A were also beamed to over a hundred arthouse cinemas across the UK: places of fruit-juice-and-salad respectability that are a million miles from Cave's past, spent taking heroin in squats. The film doesn't explore this journey from reprobate rock star to middle-class respectability, but the fact that he's the subject of a film aimed at tiny cinemas in posh north London says it all.
For a long time, Cave wasn't a subject fit for a Guardian Weekend interview. Although critically acclaimed by the music weeklies throughout the Eighties, by the early Nineties he'd become a minority interest even for NME and Melody Maker readers. A duet with Kylie Minogue on 'Where the Wild Roses Grow' provided a hit single, but it was the release of the piano-ballad-heavy The Boatman's Call in 1997 that took him closer to a well-heeled audience. Since then, his popularity has grown and grown. In 2005 he sold out the enormous Alexandra Palace for the first time. He's been quickly selling out UK tours ever since. Cave's change in commercial fortune and appeal has nothing to do with him mellowing with age or becoming more accessible; rather, it serves British liberals' appetite for authentic grit and brooding darkness. It's the reason why US programmes such as The Sopranos, The Wire and Breaking Bad are venerated by a similar audience: forms of popular culture that dwell on the dark side of the human condition are seen as more substantial and worthy than those that don't.
Since their inception, Nick Cave and the Bad Seeds have used a blend of blues, gospel and Americana as the backdrop to Cave's tales of violence and murder, full of apocalyptic-religious imagery. Some people seem to live vicariously through the dark fictional worldviews of people like Cave. For some, Cave is a Johnny Cash-style figure, a fearless and foreboding individual who they wish they had the nerve to be. In more recent years, Cave's extensive creative portfolio – prolific musician, filmmaker and acclaimed novelist – has turned him into the Renaissance man that many wish they had the same self-discipline and talent to become. Cave's ability for genuine self-expression is what makes 20,000 Days on Earth such an engaging film.
Beautifully shot around his adopted hometown of Brighton, Cave's literary narration provides a woozy insight into his life, thoughts and observations. He is also self-aware enough to rein in any pomposity through a quick turn of self-deprecating wit. The conversations he has with a therapist about growing up in Australia, or his off-the-cuff chats with Bad Seed Warren Ellis about music and cooking, are a sly delight. There's a fantastic scene where Cave drives Kylie Minogue around Brighton in a taxi to talk philosophically about the tension between fame and privacy. Cave has often gravitated to other famous Australian ex-pats and has often surprised Brits with his palpable fondness for the down-to-earth, spit-'n'-sawdust repute of his homeland. After all, it's not often that PJ Harvey, Cave's former girlfriend, has been referred to as 'some fucking Sheila' – as Cave did when describing the breakup that inspired The Boatman's Call.
With its biting wit, anecdotes and one imaginary conversation scene with actor Ray Winstone, 20,000 Days on Earth shows Cave's more humorous side. However, it never makes light of the seriousness with which he approaches his music. He's also candid and open about his heroin use in the late Eighties and other open wounds from a life lived in public. For Cave devotees, some may wish that his past – and especially his explosive live performances – was explored in more detail, but by focusing on Cave's current album and current life, directors Iain Forsyth and Jane Pollard get the measure of Cave absolutely right.
Neil Davenport is a writer and teacher based in London.
Watch the trailer for 20,000 Days on Earth:
To enquire about republishing spiked's content, a right to reply or to request a correction, please contact the managing editor, Viv Regan.