Boswell's postcards from a hanging
A new collection of James Boswell's writings reveals the enduring humanity of a man obsessed with public executions.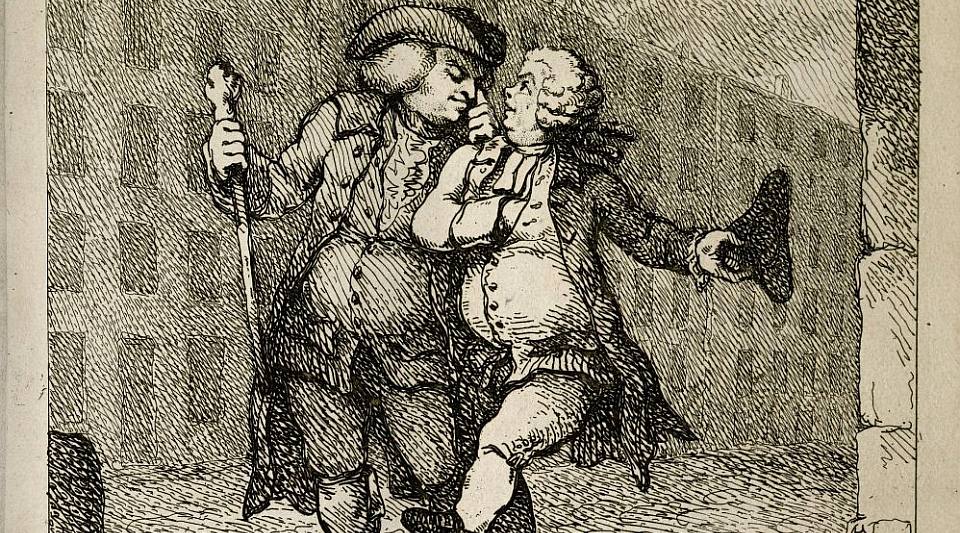 Today when we think of James Boswell (1740-95), later Lord Auchinleck, we think of his biography of Dr Samuel Johnson or the revealing diary he kept as a young man. During his lifetime, Boswell was principally known as a journalist-cum-commentator. This volume contains articles, essays, reportage, satirical columns and letters to the press dealing with matters of justice, politics, high society, traveller's tales and literary disputes.
While not the microcosm of his age that his diaries are, Facts and Inventions: Selections from the Journalism of James Boswell sheds light on the period and the author's main concerns, namely law, politics, the Corsican struggle for independence from France, and the life of Dr Johnson. The facts and inventions in the title refer to Boswell's categorisation of cuttings he preserved in scrapbooks. He divided them into reportage of actual facts and diverting inventions. The inventions are humorous tales, barbs directed at rivals and snippets designed to maintain the public's attention on his books.
The 133 pieces run from brief paragraphs to full articles, and span the period 1758-1794. Most have never been reprinted since their appearance in magazines and journals. The contents are divided either thematically (interviews, execution reports, Johnson) or by format (letters, political essays). The longest section is political journalism, consisting of satires, allegories, mock epics in verse form and acerbic squibs. Editor Paul Tankard provides a glossary of pseudonyms for figures of note – necessary assistance for decoding Boswell's invective. Footnotes explaining social events, political circumstances and literary allusions rise perilously high on the page, threatening to extinguish the text itself. Only specialist readers and academics will find this section engaging; most readers are likely to skip it.
The most compelling texts are those detailing execution intelligence. Here we find the practising barrister, who regularly defended individuals against capital charges, reporting executions. Boswell had an unsavoury reputation as an inveterate execution goer in an age when such activity was considered prurient for a gentleman. He was not only a lawyer and man of letters; he was also a journalist in an age when reports of executions were hard news. During this period, public executions in London were carried out at Tyburn and Newgate, with as many as 15 convicts meeting their fate at the same time. Boswell diligently noted the names and crimes of the condemned: robbery, theft, escaping a prison hulk, forgery and murder. He describes a brother and sister convicted of burglary who met their deaths holding hands, only to be separated when they were cut down from the gallows.
The deaths were not always quick and Boswell confessed in his diary that executions gave him nightmares for nights afterwards and plunged him into bouts of depression. So why did he attend at least 21 public hangings? He explained it thus: 'Dying publicly at Tyburn, and dying privately in one's Bed, are only different Modes of the same Thing. They are both Death; they are both that wondrous, that alarming Scene of quitting all that we have ever seen, heard and known, and at once passing into a State of being totally unknown to us, and in which we cannot tell what may be our Situation: Therefore it is that I feel an irresistible Impulse to be present at every Execution, as I there behold the various Effects of the near Approach of Death, according to the various Tempers of the unhappy Sufferers: and by studying them, I learn to quiet and fortify my own Mind.'
Aside from the salutary nature of the experience, executions held an almost pornographic appeal for Boswell. He promised not to attend more executions but ultimately always gave in to his morbid compulsion.
Boswell's frequenting of executions despite foreswearing them, his philandering and his heavy drinking – along with myriad minor faults, such as impulsive acquisitiveness and chronic laziness – all indicate an underlying weakness of will (or 'weakness of character', as it would have been put in the past). That combination of failure of resolution coupled with genuine (but shortlived) remorse is one reason why Boswell has enduring appeal for modern readers and why his London journal (published posthumously, in 1950) was a bestseller. We recognise our own failings in him – or at least we see a commonly shared, ardent desire to be better along with the lack of continued resolve to make good that aspiration.
Boswell's great achievement was not to elevate the lairds of Auchinleck, achieve high political office or gain renown as a brilliant jurist; it was through writing the biography of Dr Samuel Johnson, pre-eminent man of letters of the Georgian era, that Boswell was in his own time recognised as exceptional. Boswell had cultivated Johnson's friendship ever since his early years in London and, although he admired Johnson's essays, deficits in acumen, application and ability prevented him producing essays as distinguished as Johnson's.
As soon as Dr Johnson died in 1784, publishers were hunting potential biographers, and Boswell was at the head of the list. For years it had been known Boswell collected papers relating to Johnson and he was cast in the role of semi-authorised biographer. Boswell peremptorily announced his biography within weeks of the subject's death, yet so great was the task and so dilatory was Boswell that half a dozen competitors published biographies, memoirs and letter collections concerning Johnson before Boswell's Life of Samuel Johnson was ready for the press seven years later (in 1791).
This volume includes Boswell's digs at his biographical rivals, both directly and anonymously. There is also an amusing series of anonymous paragraphs puffing his biography, which a PR man or spindoctor would be proud of. These paragraphs in a daily public forum of contemporary newspapers have the form and character of blog entries or postings in an internet chatroom. Boswell would have been at home with the catty banter and searing putdowns of the internet age.
Alexander Adams is a writer and art critic based in Berlin. He writes for Apollo, the Art Newspaper and the Jackdaw. His book The Crows of Berlin is published by Pig Ear Press. (Order this book from Pig Ear Press bookshop.)
Facts and Inventions: Selections from the Journalism of James Boswell, by James Boswell, is published by Yale University Press. (Buy this book from Amazon(UK).)
To enquire about republishing spiked's content, a right to reply or to request a correction, please contact the managing editor, Viv Regan.