The Inbetweeners 2: filthy fun Down Under
The Brit-com is back, and it's funnier, and warmer, than ever.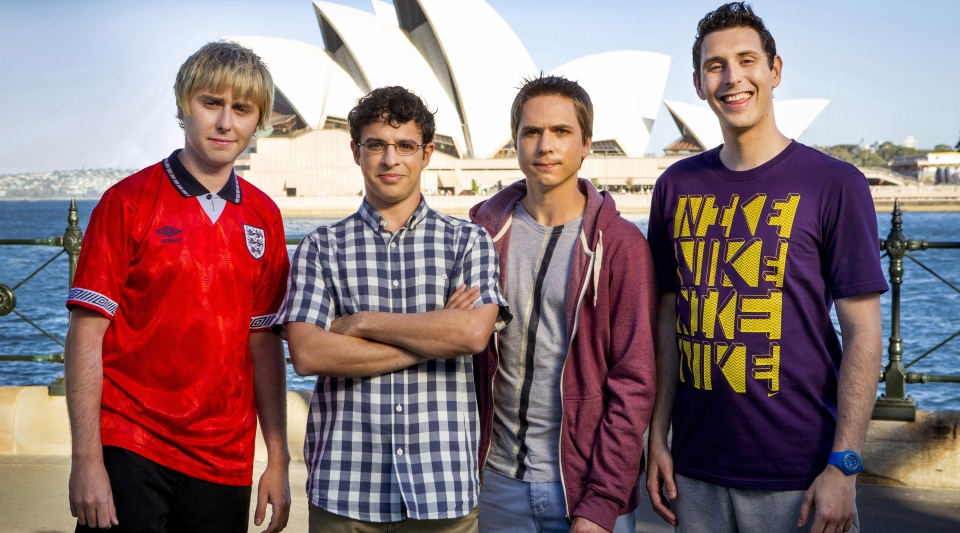 The Inbetweeners, Jay, Will, Simon and Neil, the four amigos we first met in 2008 as luckless, feckless and largely sexless schoolboys, are back. And, although they're now either at university or sort-of working, things haven't really moved on. Simon, his low-rent angst hair-gelled to perfection by Joe Thomas, has been ensnared by an attractive fellow student who, having run out of bunnies to boil, has taken to cutting up Simon's hoodies. Will, filled out by Simon Bird, remains prissy and friendless, and now living in Bristol. Blake Harrison's Neil is still oblivious. And Jay, played to frothing perfection by James Buckley, the potty-mouthed, clunge-seeking star of the show, is still lying in the gutter, looking at the stars. Or, more accurately, working in a Sydney nightclub's toilets, dreaming of a three-way with the Minogue sisters. And so, in want of anything better to do, Will, Simon and Neil head out to Sydney to reunite with Jay.
And thank the Lord they do, because The Inbetweeners 2 is a comic godsend. It isn't just the TV sitcom version dragged out to three times its length. More than its predecessor, it feels like a film. The writers and now directors, Damon Beesley and Iain Morris, seem now to have the confidence to make use of filmic sequences, be it the striking three-minute visual pastiche of Scorsese's The Wolf of Wall Street, with Jay as a koala-punching, model-shagging Jordan Belfort, to the delightful flume sequence in which Will is pursued down a water slide by the produce of Neil's 'irritating bowels'.
Yes, it's puerile at points. Yes, at others it's downright filthy, as Jay would say. But it is also food-snorting-out-of-your-nose funny. Even the most tightly wound prig would struggle to stifle the laughter as Neil attempts to sate Simon's thirst, or as Jay celebrates Will's nearby sexual congress with a hand shandy. Slapstick has rarely come coated in so many different bodily fluids.
Yet, while those scenes will undoubtedly receive the plaudits (and brickbats), the beating heart of The Inbetweeners has always been the machine-gunned dialogue, with insults and crudities exchanged at memory-defying speed. There's an exquisite mockery of 'banter' at one point; there are the throwaway lines about Neil's absent mum and his 'bumming' dad; and there are the brutal exchanges with Jay's Australian uncle, a man determined to ram what remains of Jay's esteem into the suspiciously holed ground.
It's between the four stars that the dialogue is at its keenest, though. Relentlessly cruel, with no insecurity left unexploited, it is often ferociously un-PC – especially when it comes to sex. One vein that was only occasionally mined in the TV series is the accusation of paedophilia, which, thanks to Jay, ends up with Simon being duffed-up in Splashland. It's not clever, but it is funny. And, in today's child-abuse obsessed climate, it does involve a certain amount of risk-taking.
But more than that, the putdowns and piss-taking of mate-dom do two things. First, they capture something of the essential un-PCness of groups of mates, their willingness to leave nothing unmocked. Offensiveness is the currency of young male friendships. And what makes it work is that among mates, there is trust that despite the unparalleled cruelty of the jibes, that person is still your friend. Plus it's a spur to take the piss back. What The Inbetweeners has always done is to lend such exchanges a hyperactive intensity, to inflate the boasts, and the cruelty of the insults, to a gleefully absurd degree. And second, mate-dom as a setting allows the writers to exploit the implicit irony of friends taking the piss out of each other, the implicit sense that the cruel words are not really meant, to write a really un-PC and apparently offensive script. For those who don't understand the nature of piss-taking among friends, The Inbetweeners 2 will just appear as another species of 'misogyny' and so on, a product of our supposedly hate-filled times. But for those who do understand, those who know that friends negotiate their own informal rules of engagement, the movie provides one of the warmest, most human portraits of friendship going.
And right at its heart is Jay, the foul-mouthed, sex-obsessed probable virgin. All sorts spills from this Porn Quixote's mouth, most of it untrue. And yet despite the bragging, despite what must sound like the 'objectification of women' to fourth-wave feminist ears, Jay, as his wobbly lip suggests, really just wants to love and be loved.
Don't worry though: The Inbetweeners 2 remains resolutely unsentimental. Like all great sitcoms, the characters aspire to escape from their present situation, an aspiration curdled with snobbery in Will's case. But even when things look like they might work out, and the boy might get the girl, the music abruptly stops, and our heroes are thwarted. But it's not bleak. This is less Steptoe and Son and more early Only Fools and Horses. Jay, Will, Simon and Neil will always be with each other. And while we hope they grow up, we dearly hope they won't grow apart.
Tim Black is deputy editor of spiked.
To enquire about republishing spiked's content, a right to reply or to request a correction, please contact the managing editor, Viv Regan.