The Great War: the first global jihad ?
100 years on: How many saw the war as a means to spiritual salvation.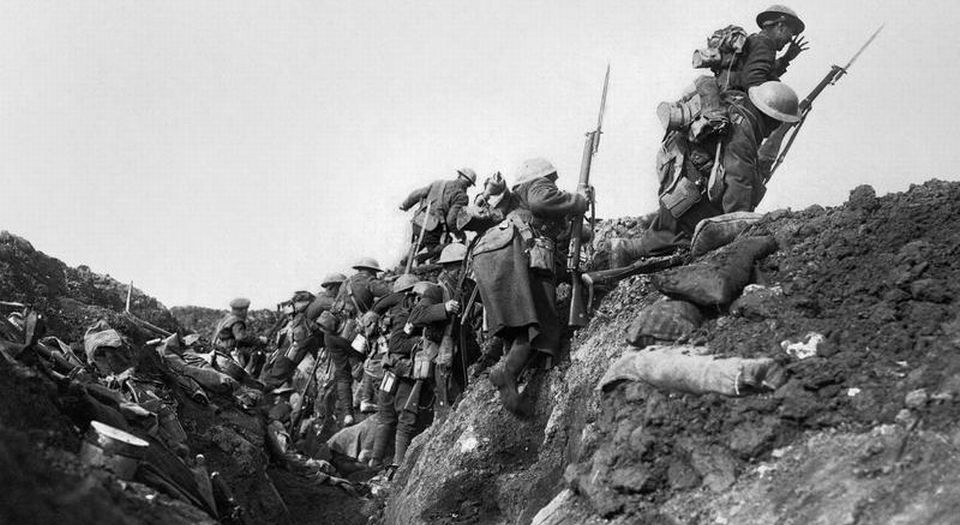 On the 100th anniversary of the start of the Great War, Frank Furedi discusses the role of religion and spiritualism in the battles of 1914-1918.
It is September 1914. The Great War is in full swing. A group of 29 German church leaders and theologians issue an appeal to foreign Protestants. They demand support for the right of Germany to defend itself against 'Asian barbarianism'. Karl Barth, a young pastor in neutral Switzerland, is horrified when he discovers that so many of Germany's leading liberal Protestant theologians had signed this call to arms. Barth was to become one of the leading Protestant theologians of the twentieth century, but in October 1914 he was in despair, and very much on his own. His realisation that almost all of his theological teachers whom he 'greatly venerated' had embraced the culture of militarism led him to conclude that 'nineteenth-century theology no longer held any future'.
Christian theologians – of all denominations – appeared to regard the promotion of the war as their sacred duty. Their appeal for sacrifice and martyrdom was communicated in a language that makes some contemporary jihadists appear moderate by comparison. In 1915, Arthur F Winnington-Ingram, the Anglican bishop of London, declared that it was the nation's duty to mobilise for 'a holy war'. In one of his sermons he urged British soldiers to 'kill Germans – do kill them; not for the sake of killing, but to save the world, to kill the good as well as the bad, to kill the young as well as the old, to kill those who have shown kindness to our wounded as well as those fiends… As I have said a thousand times, I look upon it as a war for purity, I look upon everyone who died in it as a martyr.'
British clerics did not have a monopoly on crusading zeal: theologians on all sides of the war voiced similar sentiments. The representation of this conflict as a holy war was widely promoted by Christian religious leaders. Moreover, the identification of the war with a religious duty was also evident among Muslim and Jewish leaders
Philip Jenkins' The Great And Holy War offers a compelling account of the influence of religion on the conduct of the war and of the impact of war on religion. He maintains that the First World War was a 'thoroughly religious event in the sense that overwhelmingly Christian nations fought each other in what many viewed as a holy war, a spiritual conflict'. Jenkins develops his argument through an exploration of the inter-meshing of theology and militarism during the conflict. He says clerical leaders provided a religious justification for the war aims of their governments. War propaganda frequently drew on religious themes and symbols to sanctify its objectives. And, in turn, soldiers and their families on the homefront frequently drew on religious narratives to cope with the trials and tragedy that befell them. Jenkins claims that, in light of this, the Great War should have the status of a 'holy war'.
From the holy-war perspective, the Armenian genocide of 1915 represented the most extreme and destructive manifestation of the lethal synthesis of religion and militarism during this epoch. This was a global conflict where all the main protagonists claimed that their nations were destined to realise God's will. Optimistic sightings of angels and of apparitions on the field of battle were not uncommon. They fuelled rumours that supernatural forces were actively assisting the brave soldiers fighting the forces of evil. For many, the language of sacrifice, martyrdom, resurrection and apocalypse gave meaning to the colossal slaughter on the battlefield, and the smallpox pandemic of 1918-1919.
Jenkins' account is of a war which 'began with angels' and 'ended with Armageddon'. All the dreams and expectations invested in this sacred conflict were thwarted, prompting what Jenkins characterises as a 'spiritual meltdown'. He argues, however, that the moral disorientation that emerged after the years of futile sacrifice and slaughter did not exhaust the search for spiritual meaning. He claims that in Germany and Russia, secular messianic prophets advocating radical ideologies actually benefited from the realisation that Germany had lost a holy war. He argues that despite the spiritual crisis of the interwar era, interest in religion retained its vitality. New cults proliferated alongside an esoteric and revivalist movement, and millenarian hopes coexisted with attempts to modernise religious institutions.
But at least in the Christian context, the close association between religion and militarism gradually eroded. There was little that was holy about the Second World War. Jenkins notes that it 'produced no overtly religious manifestations vaguely comparable with those of the first'. Though the quest for spiritual fulfilment continues to excite the human imagination, it now often lacks a coherent narrative through which it can be expressed. In his conclusion, Jenkins observes that apocalyptic thinking survives to the present era, except that the warnings today about the End of the World are rarely followed by a story of redemption.
Hunger for spirituality
The key question raised by Jenkins' book is: why was religion so effortlessly assimilated into the culture of militarism during the Great War?
According to Jenkins, the outbreak of the war created an unprecedented level of 'spiritual excitement' during which it appeared that the 'hunger for spirituality was limitless'. The main reason for this response was the pre-existing mood of spiritual unrest then prevalent in many Western societies. In the decades leading up to the war, there was a growing interest in vitalist philosophies and in mystical, messianic and New Age ideals.
The hunger for spirituality should be conceptualised as a response to what the German sociologist Max Weber characterised as the 'disenchantment of the world'. Modern capitalist society had succeeded in rationalising everyday life to the point where the domain of values seemed to be dominated by economic calculation alone. In such circumstances, finding a language to express the human spirit preoccupied groups of influential artists and intellectuals, as well as religious figures. Not all were touched by this mood of estrangement, but it was widely noted that material security coexisted with spiritual and moral confusion. During the late nineteenth and early twentieth centuries, the themes of fragmentation, estrangement and alienation acquired significant influence over the Western cultural imagination. To many young people it seemed as if bourgeois society 'had lost its spirit'.
For many artists, intellectuals and religious leaders, the war appeared to provide an opportunity to recover something of this lost spirit. As Jenkins notes, numerous church leaders embraced the war as an instrument of religious revival, a 'cure for individualism'. Weber, too, was attracted by the promise of solidarity achieved through the experience of war. Writing in 1915, he describes how 'calculating politics' empty political life of passion and emotion; war, however, provides 'pathos and a sentiment of community': 'War thereby makes for an unconditionally devoted and sacrificial community among the combatants and releases an active mass compassion and love for those who are in need.' (1)
Writing in the early stages of the First World War, Weber argued that a community of solidarity created on the battlefield provided meaning and motivation comparable to the experience of religious brotherhood. He stated that a 'war does something to a warrior which, in its concrete meaning, is unique', because 'it makes him experience a consecrated meaning of death which is characteristic only of death in war'. Unlike normal death, which in a rationalised world has no special meaning, in war and 'only in war, the individual can believe that he knows he is dying "for" something' (2). In a language that twenty-first-century jihadists would readily understand, Weber claimed that the sacralisation of an individual's self-sacrifice has implications for the community as a whole, as it gives meaning not just to death but to life.
The moral rehabilitation of community through war is ultimately inconsistent with the religion of brotherliness. But as Weber suggests, 'the very extraordinary quality of brotherliness of war, and of death in war', which is 'shared with sacred charisma and the experience of communion with God', is an important component of the legitimation of force: 'The location of death within a series of meaningful and consecrated events ultimately lies at the base of all endeavours to support the autonomous dignity of the polity resting on force.' (3) But of course, the attempt to endow with meaning the sacrifices made by millions of people didn't come off. Arguably, all the existential questions that led many to pursue their spiritual quest through the 'holy war' of 1914-1918 still remain unanswered. For that reason, the Great War is far more than just history.
Certainly, developments such as the radicalisation and politicisation of Islam, the emergence of Zionist identity as a significant component of Judaism and the divergent trajectories of modernist and fundamentalist Christianity are integral to the chain of events unleashed by the Great War. Approaching this conflict from the perspective of a holy war yields important insights into its historical significance. It also reminds us that the battle for our souls may yet again acquire unpleasant and destructive dimensions.
Frank Furedi's First World War: Still No End in Sight is published by Bloomsbury. (Order this book from Amazon (UK).)
The Great and Holy War: How World War 1 Changed Religion for Ever, by Philip Jenkins, is published by Lion Books. (Buy this book from Amazon(UK).)
(1) p335, 'Religious Rejections of the World and their Directions', by Max Weber, included in From Max Weber: Essays in Sociology, H Gerth & C Wright Mills (eds), Galaxy Books, 1958
(2) p335, 'Religious Rejections of the World and their Directions', by Max Weber, included in From Max Weber: Essays in Sociology, H Gerth & C Wright Mills (eds), Galaxy Books, 1958
(3) p336, 'Religious Rejections of the World and their Directions', by Max Weber, included in From Max Weber: Essays in Sociology, H Gerth & C Wright Mills (eds), Galaxy Books, 1958
To enquire about republishing spiked's content, a right to reply or to request a correction, please contact the managing editor, Viv Regan.