Unempathetic Ed's problems are not in the head
The Labour leader's use of a neuroscientist to help him engage with the public is a mental approach to politics.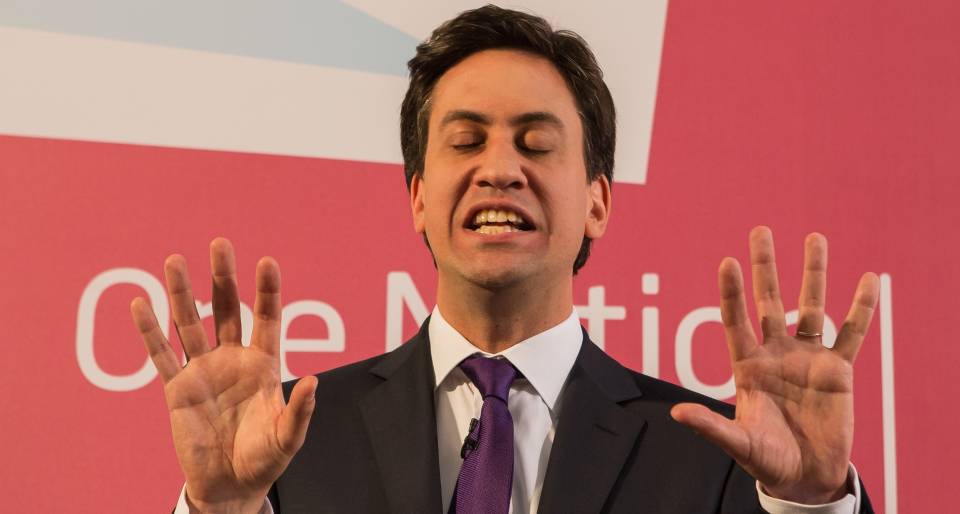 Labour Party leader Ed Miliband, it's fair to say, is not the most popular of politicians, something many attribute to his incredible inability to connect with people. So, in a way, it came as little surprise when The Sunday Times revealed that Miliband has been seeking advice on how to connect with the public from one of the UK's leading experts on autism.
Neuroscientist Simon Baron-Cohen, who is professor of developmental psychopathology at the University of Cambridge, has written a number of books on autism and empathy and is now trying to apply his ideas to improve politics. He has been advising Miliband for over a year now on improving his 'political empathy', and says that he is willing to offer similar advice to any other political figure who wants it.
Baron-Cohen told BBC's Newsnight that the problem with politics is that it is too 'adversarial'. Everything from Miliband's failure to capture the public imagination to the crisis in Gaza and the 9/11 attacks are down to people not taking enough time to consider how others feel. His simplistic analysis and proposed solutions to the world's problems may sound wishy-washy and harmless, but they belie a now common belief that politics is incapable of enacting any positive change in the world. Baron-Cohen also told Newsnight that political ideology is entirely at odds with empathy, because it causes rifts between people who would otherwise work well together.
These ideas resonated with Miliband, who after reading Baron-Cohen's book, Zero Degrees of Empathy, wanted to explore its potential in politics and went to him for help. Baron-Cohen tells us that Miliband had always resisted using the term empathy publicly because up until now he had been attempting to project the image of a tough politician, a projection few people picked up on. Baron-Cohen says that Miliband wanted to model his leadership on strength and decisiveness, but this was 'the old way of doing politics'. Instead, Baron-Cohen said, Miliband must give way to what he calls the 'e-word': empathy.
The result of Baron-Cohen's mentoring was a self-deprecating speech delivered by Miliband last week where he poked fun at his resemblance to animated character Wallace (of Wallace and Gromit fame) and laughed at the pictures of him awkwardly munching a bacon sarnie which went viral. In the speech, Miliband rejected what he called 'photo-op politics' and admitted that he could not compete with prime minister David Cameron in the image stakes. Instead, Miliband claimed that he offered 'the leadership that Britain needs, the leadership that you need, one that has big ideas to change things'. If nothing else, the speech may have been the slickest photo-op Miliband has ever managed to pull off.
Miliband did not elaborate much on what his 'big ideas' were, apart from mentioning empathy a lot. Still, Labour's shadow chancellor, Ed Balls, and shadow home secretary, Yvette Cooper, are to lay out the 'big ideas' in the Commons this week. But it's difficult to believe that they will mark a radical departure from Labour's ideas-lite politics.
Of course, empathy has a part to play in all human interactions, not least politics. But the attempt to pathologise Miliband's failure to engage voters by calling in a neuroscientist only serves to further debase politics. Far from being a radical new idea, Baron-Cohen's e-word politics is an attempt to justify scientifically the politics of consensus, which is already embedded in the political establishment.
While the idea of everyone just getting along in politics may appeal to some, democracy has really always been based on vigorous debate and politicians ferociously fighting for what they believe is right. Political ideas must always be subjected to rigorous examination and criticism by one's political opponents – an atmosphere of consensus kills this important impulse.
For decades, none of the major UK parties have been able to articulate a coherent vision of how they think society ought to be. This is because of the death of political ideologies, something that has had a profoundly damaging effect on political discourse.
Diagnosing Miliband's inability to connect with people as a kind political autism lets him off the hook. Politicians with a reputation for being distant and aloof are not the problem. If they had ideas that actually appealed to the public, people could, as they have done in the past, overlook such personality traits.
Miliband's distance from the public is measured in a lack of anything meaningful to say, not by a lack of empathy. His image problem, and all the unflattering tabloid snaps and piss-take 'odd Miliband' Twitter accounts that come with it, are a symptom of his disconnection, not the cause. Ideology means a system of ideas, and, by shunning it as a concept, we turn our backs on the idea of politics itself. And it is this lack of ideology which guarantees that Miliband will never have any ideas that matter, and that is his true weakness.
To enquire about republishing spiked's content, a right to reply or to request a correction, please contact the managing editor, Viv Regan.