Ed Miliband: desperately seeking authority
In Weird Ed, the Labour Party has the leader it deserves.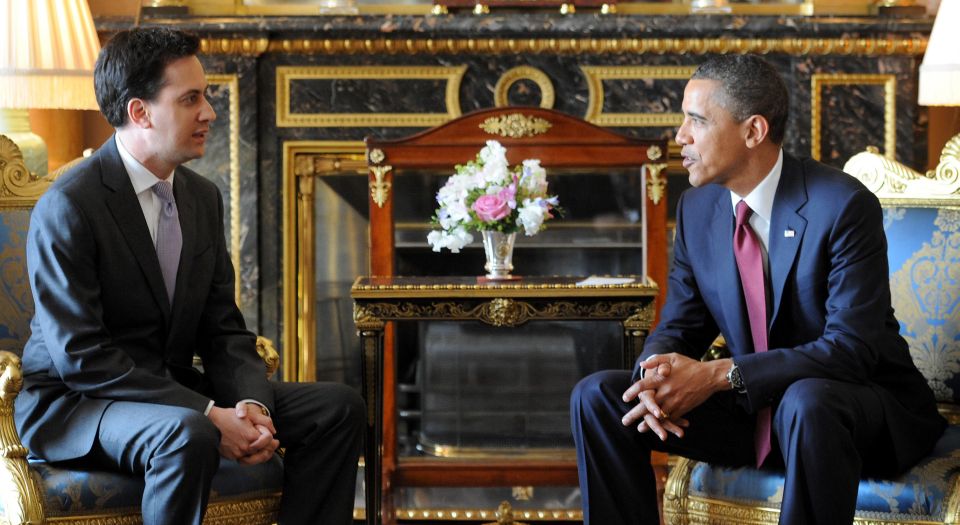 So Labour leader Ed Miliband has finally been touched, or rather brushed, by the hand of US president Barack Obama. This is clearly great news for Team Ed. After weeks pushing for a photo-op with what to them must seem a grown-up politician, it finally happened. Ed went to Washington, on the pretext of a meeting with national security adviser Susan Rice, and during the course of this inconsequential confab, Obama popped over for 20-or-so minutes, and, as if by political magic, Miliband's image as a very funny fish long out of water was instantly made over. He was now a statesman, an individual emanating authority, a figure capable of standing toe-to-toe with a US president. He was, in short, prime ministerial material.
That, at least, seems to have been the embarrassingly desperate logic behind Miliband's transatlantic photo-op. It didn't matter that, as the Washington Post noted, 'Few in Washington are even aware of who Miliband is and the meeting is barely on the radar of even the most ardent Obama observers'. It didn't matter that what was said was of no great consequence, as is to be expected from a 20-minute-long meet-and-greet. No, what mattered was appearances. What mattered for Labour was the image of Miliband sat opposite Obama, supposedly showing once and for all that Miliband is a politician to be taken seriously. As Important Ed himself said: 'This is about saying that I'm determined to engage with the United States at all levels, at all levels of the administration. And… I think that's what the British people would expect of me, as I seek the highest office in the land, of being prime minister.'
It doesn't take great political insight to view Miliband's selfie with Obama as a piece of shallow, PR-driven political gimmickry. In one respect, that's certainly what it is. But it also speaks of a deeper malaise. Miliband's pilgrimage to Washington was an attempt to generate authority, an attempt to make him appear authoritative. This had nothing to do with bedwetting Miliband himself, of course. Rather, it was an attempt to gain authority by proxy, to become authoritative through the sheer association with a US president. Yes, Obama himself may be enjoying his lowest poll ratings since he became president six years ago, but in Britain, which, after all, was the only real audience for Miliband's and Obama's prolonged handshake, Obama still has a certain lustre. So, by being pictured alongside Obama, the idea was that Miliband would somehow acquire some of his presidential gleam.
All of which touches upon the real problem: that the traditional sources of authority for the leader of a political party have dried up. He is no longer a leader of a mass movement; his role is no longer informed by the interests and aspirations of a large social constituency; and he no longer really has anything like a political mandate. Rather, he is isolated and rootless. He is little more than the front person for a political brand, the pushiest member of an odd clique. His decision-making, aside from endless consultations and focus groups, is groundless; his political vision underdetermined. This is why Miliband has gone looking for authority, for that ineffable prime ministerialness 3,000 miles away – because it can no longer be developed at home.
So the countless criticisms of Miliband's trip to Washington, as right as they are to lambast its shallow, PR-driven motives, are wrong to present it simply as the Problem With Ed. Yes, admittedly, Miliband does seem show-stoppingly weird. There are even Twitter and Tumblr accounts dedicated to recording his bizarre facial expressions and all-too-palpable weaknesses, with names like '@Odd_Miliband' or 'Awkward Ed Miliband moments'. And, as a YouGov poll earlier this year revealed, 41 per cent of the electorate think Miliband is either 'very weird' or 'somewhat weird' (although it's worth pointing out that prime minister David Cameron, who did best, still polled 27 per cent in the weirdness stakes).
But to see Miliband's trip to the US as a mission born of his unique weirdness, his unique inability to connect with the public here in the UK, his unique failure to marshall the resources necessary to become a serious political leader, misses the point. 'These aren't the actions of a grown-up politician', writes one critic. And he's right – they're not. But Miliband's credibility problem, his 'weirdness', is not Miliband's alone. It is that of the political class's, too. And, in particular, given its advanced stage of decay, it is the Labour Party's problem in particular. Unable to talk to people, unable to be taken seriously, and incapable of acting authoritatively – this is the Labour Party today. If its leader is weird and unstatesmanlike, then that's because this grouping of the professionally political is weird and unstatesmanlike. If its leader seems hopelessly estranged from the public, then that's because his party is, too.
Miliband's Washington odyssey, in search of the substance domestic party politics denies, is the odyssey of British political parties as a whole. It is also destined to end in defeat. No matter how close one stands to a figure of perceived authority, no transferral will ever take place.
Tim Black is deputy editor of spiked.
Picture: PA
To enquire about republishing spiked's content, a right to reply or to request a correction, please contact the managing editor, Viv Regan.