The maddest reshuffle in living memory
In Cameron's new Cabinet, biology counts for more than conviction.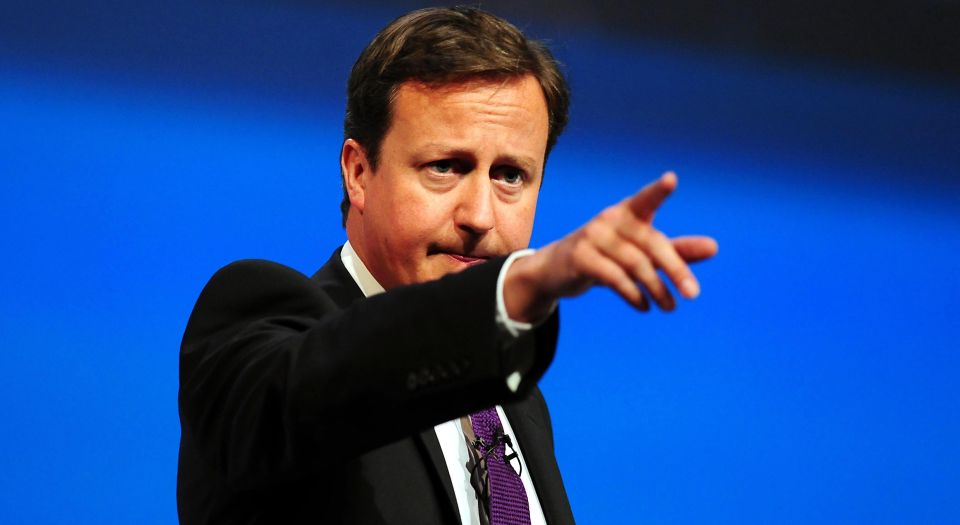 Given the big-name repute of the various political carcasses UK prime minister David Cameron has been either unceremoniously chucking out of the Cabinet or casting down the ministerial food chain, many observers have been quick to christen it Cameron's 'night of the long knives'. (A reference not to the murderous Nazi purge of 1934, but to Tory prime minister Harold Macmillan's sudden decision in 1962 to replace a third of his cabinet, including chancellor Selwyn Lloyd, his friend and one-time confidant.)
So out have gone perma-leadership candidate Kenneth Clarke; Damian Green, the policing minister; Dominic Grieve, the attorney general; and David Willetts, the universities and science minister. And, more striking still, down have gone William Hague, demoted from foreign secretary to leader of the Commons, and Michael Gove, shunted from education secretary to chief whip. In the place of these 'old lags', as Tory sources described them to one broadsheet, stand Cameron's new(ish) guard – a mixture of men whose main appeal is that no one really knows them yet, and, far more PR-worthy in government eyes, some women whose main appeal, apart from the fact that no one really knows them yet (sometime TV presenter Esther McVey excepted), is that they are, well, women.
But this was not another night of the long knives. The historical analogies do not do Cameron's Cabinet reshuffle the justice it deserves. For this kicking out of might-as-well-be-dead white men in favour of slightly younger men, and a few women whose main selling point thus far seems to be what's between their legs, is historically unprecedented. It's unprecedented in its fatuousness; it's unprecedented in its superficiality; and it's unprecedented in its cowardly kowtowing to the prevailing wind of commentariat sentiment.
Previous Cabinet reshuffles, as baffling as they might have appeared to those outside the Palace of Westminster, were at least motivated by a degree of political principle. Macmillan rid himself of his old lags because he felt they lacked 'fire in their bellies'. Tory prime minister Margaret Thatcher was in perpetual conflict with the 'wets' in her cabinet, who felt, in the words of the sacked Ian Gilmour, that Thatcher's 'economic liberalism', 'because of its starkness and its failure to create a sense of community', was likely to 'repel' people. Even the mind-numbing ministerial churn of the New Labour years was by and large driven by the imperatives of office politics – of who was in favour, and who was out.
But Cameron's decision, less than a year before the next General Election, is almost entirely devoid of any party-political principle, indeed of any principle at all. Instead, this new, flashier, leggier cabinet was motivated by little more than a desire to appease liberal media opinion. Cameron and his cronies have, effectively, caved in. So to the countless commentators who have lined up to lambast the Conservatives for creating a government composed of privately educated men – or 'Etonian toffs', as today's class-war-lite perception has it, Cameron has bowed down. Out went some old-ish poshos, and in came some younger men and women, a couple of whom, we are told a little too keenly, even went to state school.
And, in a move as spectacularly shallow as any this most skin-deep of politicians has made, Cameron has even taken on board the hyped-up loathing of education secretary Michael Gove and got rid. It didn't matter that Gove had been in the post for four, committed years; it didn't matter that the supposed animosity towards Gove emanated from what Gove himself called the blob – a coagulation of unions, teacher trainers and bien pensant commentators – and not from the public at large. It didn't matter that Cameron no doubt thought, somewhere in the recesses of his mind untouched by the imperatives of PR, that what Gove was doing was probably right. The bad vibes coming Gove's way were too much. So, just like that, Cameron got rid of him. Today's papers are even suggesting that Gove was shunted into the parliamentary shadows on the basis of advice from Lynton Crosby, the Tories' election campaign director, who apparently has been doing some polling. Which is more than many thought he was doing.
What's interesting about the demotion of Gove is that Gove himself is that rare thing among contemporary politicians. He actually believes in something beyond the needs of the party-political machine. For Gove, it really did look as if the end of party politics is not to be elected (or re-elected); that is merely the means to change something. Politics here was, incredibly, more of a vocation than a career. He had a vision of how things ought to be, and in his role as education secretary, he sought to realise that vision. He wanted to put a bit of subject-based knowledge back into education; he wanted to restore to exams a little bit of credibility; he wanted, in short, to improve the lives of the nation's young. Whether you agree with him or not, there is no doubting the depth of his commitment.
And yet, in a near comic inversion of the way things ought to be, Gove's commitment to his brief, his willingness to put his political beliefs above the parapet, is precisely what has cost him his job. Cameron couldn't stand the moderate heat of the media kitchen, so he whipped Gove out and plonked someone called Nicky Morgan in his place. It's a profoundly telling switch. Gove was demoted because he represented 'ideas'; Morgan has been promoted because she represents something non-ideological. That is, she represents her gender. She is not being heralded as a great believer in the importance of teaching chronological history or of getting to grips with difficult literature; she is being heralded because of something she had no control over – her biology.
In this, one can glimpse the debasement of the concept of political representation, of what it means, in a democracy, for elected politicians to represent something. It used to mean that a politician represented people's aspirations and interests. In the words of that old Tory Edmund Burke, it used to mean that '[the people's] wishes ought to have great weight with [the politician]; their opinion, high respect; their business, unremitted attention. It is his duty to sacrifice his repose, his pleasures, his satisfactions, to theirs; and above all, ever, and in all cases, to prefer their interest to his own.' It used to mean that a politician represented the ideas of conscious social constituency. But, as this most bizarre of Cabinet reshuffles reveals, political representation no longer refers to the intentional representation of ideas in the work of government; no, it now means the representation of the mere facts of one's life, from one's gender to one's ethnicity. In the dread words of Cameron, 'Parliament needs to be more representative of our country – so we need more women in parliament'.
Cameron's Cabinet reshuffle is nothing short of the triumph of identity politics over a politics of ideas.
Tim Black is deputy editor of spiked.
Picture: PA
To enquire about republishing spiked's content, a right to reply or to request a correction, please contact the managing editor, Viv Regan.