Plastic bags: harbingers of eco-doom?
There is zero evidence that plastic bags kill fish, birds or the planet.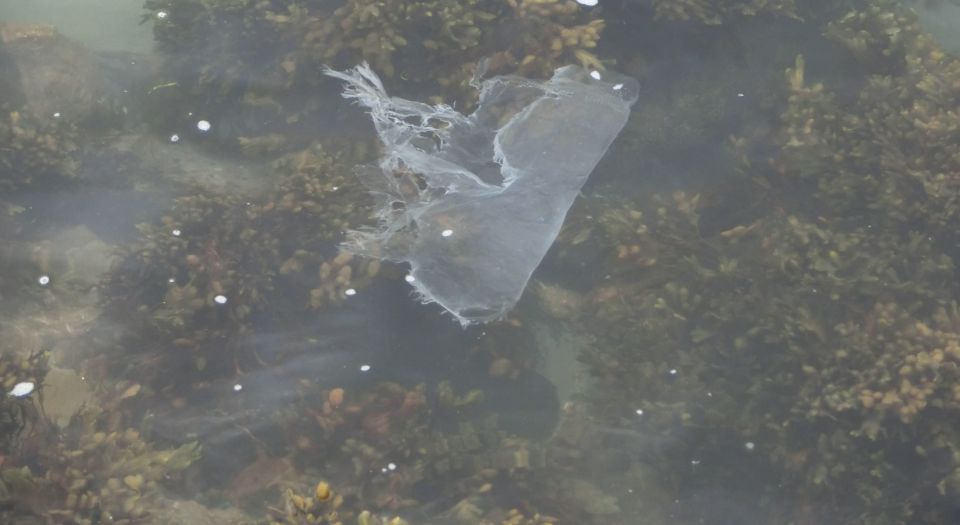 The British government should be ashamed of itself, says Jill Bell, of the Marine Conservation Society, for letting supermarket chain Tesco hand out plastic bags for free.
Prime minister David Cameron has apparently heeded the message since he now proposes to use some of his limited remaining time in power passing a law that will oblige customers to pay five pence per bag.
Why? Because 'animals are dying from ingesting plastic and it is entering the food chain', Bell told the Daily Mail, a newspaper that has become an evangelist for the bob-a-bag cause. Seabirds and marine mammals have died from ingesting and being entangled in disposable shopping bags, we are told.
The number of creatures polished off by plastic in, say, the last 12 months is impossible to establish, so environmental campaigners are obliged to make up the stats. The fatalities are 'countless', says Greenpeace, 'numerous' in fact. 'An increasing number', says the United Nations Environmental Programme; 'thousands', reports the Center for Biological Diversity. 'Between 100,000 and 500,000', says the Winterlife Cooperative in Seattle. The death toll for seabirds alone is 'around one million', according to the Australian Marine Conservation Society (AMCS), plus '100,000 marine animals'.
Chris Davies MEP, the environment spokesman for the UK Liberal Democrats, confidently assures the Mail that 'discarded plastic bags are killing millions of marine animals each year', which is why the European Parliament has declared jihad, or as they prefer to call it, a 'Binding European Union Target' on plastic bags. Shoppers in Britain face the prospect of a five-pence polybag tax because 'it's become a massive problem across Europe', says Davies, 'one we must deal with together'.
The phantasmal qualities of discarded plastic pouches have become part of modern folklore. Plastic bags are seen as the harbinger of wider eco-calamity that strikes fear into our hearts, much like the dreaded medieval Welsh king Gwynn ap Nudd, the Lord of the Dead, with his powers to summon the souls of unbaptised children. 'We must change our habits', say the sages at the AMCS, 'and break the deadly cycle'.
For advice on matters of impending doom, the ancient Assyrians turned to the soothsayer, 'the frenzied woman from whose lips the god speaks'. Her prophecies were self-evidently beyond question; to deny her word was tantamount to apostasy. Today we ascribe environmentalists with the omniscient virtues of the soothsayer. Their wild claims on the deleterious qualities of plastic, like their wild long-term weather forecasts, are seldom questioned.
Plastic sceptics are assumed to be in the pay of Big Checkout and lacking in compassion for our suffering airborne and aquatic friends. When Tesco says it has reduced the number of bags it gives away, its claims are regarded as dubious, since it has a 'vested interest' in lining its own pocket. Not-for-profit campaigners, on the other hand, are afforded great respect in media interviews. As valiant campaigners against callous slaughter, they are immune to baser motives, like raising money for a cause that allows them to pay their mortgage.
Curiously for a newspaper that has shown admirable scepticism towards climate claims, the Mail appears to have swallowed the checkout catastrophe theory hook, line and sinker. The tabloid and its readers are understandably fed up with Eurocrats who presume to impose national law, yet Westminster's craven response to this particularly moral crusade is treated with indifference. The Mail, an organ that presents itself as a supporter of consumer rights, seems unconcerned at this regressive impost on supermarket shoppers. Five pence a bag will be of little, if any, consequence to the average merchant banker; it is a tenth of the price of Waitrose gourmet pork sausages with black pepper and nutmeg. For the price-conscious shoppers in Morrisons, however, a shilling is half the cost of a banger.
Those who make a virtue of their compassion for the poor and vulnerable have been notably silent on this point, for turtles trump people in the ecological hierarchy of concerns. Looking for logic or consistency in the arguments of the bob-a-bag vigilantes, however, is a futile exercise. This is public policy based on gut instinct rather than evidence.
The Productivity Commission, the Australian government's independent policy research body, considered the case for regulating plastic bags in 2006 and concluded: 'The case for proceeding with the phase out of plastic bags appears particularly weak.' Plastic bags accounted for a mere 0.2 per cent of solid waste in landfill disposal. The inert nature of plastic meant its environmental impact was low and there was some evidence that it helped stabilise landfill and reduce leaching and greenhouse gas emissions. An Australian government report in 2002 concluded: 'Actual numbers of animals injured or killed annually by plastic-bag litter is obviously nearly impossible to determine.'
The most commonly-quoted death toll – 100,000 – came from a 20-year-old Canadian study on fishing nets and tackle. 'A more cost-effective approach to addressing the underlying issues of concern would be to target plastic-bag litter directly', the Productivity Commission recommended. Anti-littering and anti-dumping laws should be enforced. Community education and action schemes should be encouraged. Tidy-town awards and volunteer clean-up days have a double benefit; they produce a healthier environment and healthier communities.
Under Australia's federal system, the state of South Australia is the equivalent of the crash-test dummy when it comes to appraising the efficacy of nanny-state legislation. It is the state that banned smoking in mental hospitals to 'provide a clear message to the community' but still allows smoking in prisons. It is the state that set up a Cat and Dog Management Board to lecture citizens about responsible pet ownership and gives free surfing lessons to graffiti vandals to try to wean them off aerosols. And it is home to the parliament that passed the Plastic Shopping Bags (Waste Avoidance) Act 2008 because it could not trust its citizens to throw them in the bin.
Under the legislation, a South Australian shopkeeper who fails to charge for a lightweight plastic bag, 'as a means of carrying goods purchased, or to be purchased, from the retailer', faces a $5,000 fine. The retailer can gain exemption if 'he or she believed on reasonable grounds that the bag was not a plastic shopping bag'. The law comes down hard, however, on a person who attempts to present a plastic shopping bag as something other than a plastic shopping bag. Section 6 of the 2008 Act is clear: 'If a person sells, supplies or provides a bag to another knowing that it is a plastic shopping bag; and… represents to the other that the bag is not a plastic shopping bag, the person is guilty of an offence. Maximum penalty: $20,000.'
The South Australian government claims that it 'leads the nation' in the crusade against lightweight, single-use, disposable bags, and that there will be 40million fewer of them as a result. That figure, like every other statistic in this field, is dubious to say the least.
The inconvenience to customers has been considerable and there are unintended consequences; householders are running out of bags to line the bin. Zero Waste SA, one of South Australia's many statutory authorities, has stepped in with a handy factsheet titled 'The Bin-Liner Dilemma'. It notes that abandoning the bin liner altogether would reduce the volume of solid waste entering landfill, but would introduce other problems. Water use increases, since bins require washing more frequently. The use of bin-cleaning products has increased, along with the associated environmental impacts.
Plastic bags, it transpires, have their good points after all. Plastic-lined dustbins are odourless and discourage vermin. Naked bins, on the other hand, pose health risks for garbage collectors, and burden them with additional work. The risk of accidental littering increases, the factsheet notes, particularly 'if waste is collected in windy conditions'. Zero Waste concludes: 'There remains no clear "environmental impact-free" solution to the bin-liner dilemma.'
And in any case, is the consumption of plastic bags really that bad, or is our aversion to them just another food fad? It may seem a flippant question, but a recent report in the Mail suggests it is not. 'Man addicted to eating plastic bags', reads the headline. 'They're delicious', says Robert, 23, from Oakland, Tennessee, who claims to have been eating plastic bags since he was seven years old. We are led to believe he has eaten 60,000 in his lifetime and cruises the neighbourhood when he gets peckish in search of a discarded bag. His fiance persuaded him to see a doctor, but 'even though eating plastic can cause liver damage and intestinal blockages, Robert's tests come back OK'.
It's a story that just about sums up everything the Mail has published about plastic bags. Hard to swallow.
Nick Cater is the author of The Lucky Culture (and the rise of an Australian Ruling Class), published by HarperCollins Australia.
To enquire about republishing spiked's content, a right to reply or to request a correction, please contact the managing editor, Viv Regan.