Hey, teachers, leave those parents alone
Working-class kids' low grades should not be an excuse to bash their parents.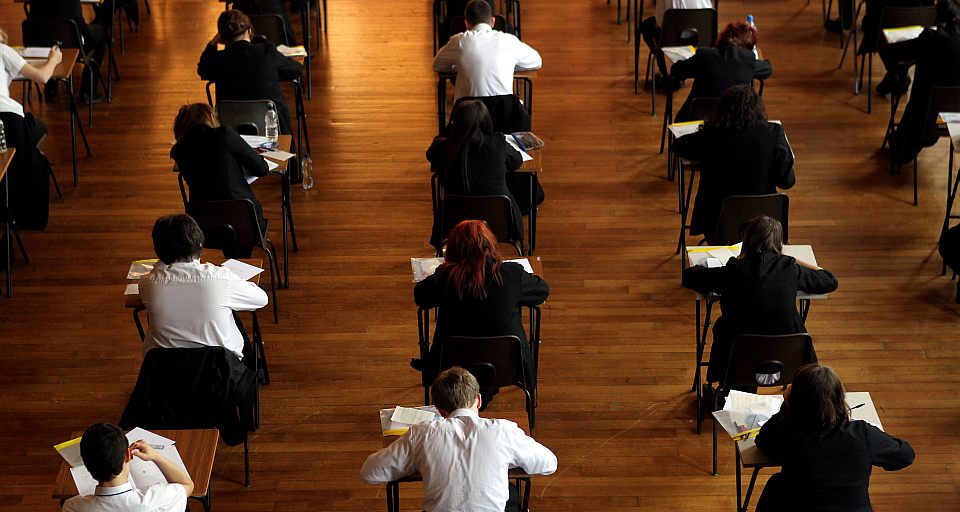 The extent to which white children from poor families are being let down by the British state-education sector was revealed last week with the publication of a parliamentary report, Underachievement in Education by White Working Class Children. The findings show that white children on free school meals (an indicator of economic disadvantage) are 'consistently the lowest performing group in the country' with only 32 per cent achieving five or more good GCSEs, compared with 64.5 per cent of white British children not on free school meals. This attainment 'gap' is wider for white British children than any other ethnic group.
That close to 70 per cent of children eligible for free school meals will not meet the bare minimum of academic expectations after 12 years in formal education is truly appalling. Yet there is some good news buried in this latest report: schools make a difference. If poor children go to a school considered to be outstanding, they are twice as likely to do well at GCSE level than they would do otherwise. As the report spells out: 'A good school and good teaching can have a significantly positive effect on the educational attainment of [free school meals] children.'
Unfortunately, the important role schools can play in overcoming economic disadvantage is lost in the litany of excuses for the attainment gap provided by the headteachers, union leaders, campaigning groups and academics who contributed to the report. More shocking than the poor performance of the children is the abdication of responsibility and the apportioning of blame practised by these esteemed members of the educational establishment. The Association of School and College Leaders (ASCL) has the gall to argue that the problem of educational failure is simply 'not of schools' making' and that 'they cannot solve it by themselves'.
The easiest target for buck-passing is, of course, parents. The Sutton Trust, a charity that aims to improve social mobility through education, makes the preposterous and unsubstantiated claim that 40 per cent of children miss out on 'the parenting needed to succeed in life'. Working-class parents are accused of not talking to their children enough and not using a suitably wide vocabulary. They are blamed for being insufficiently 'sharp elbowed' and not choosing the right school for their child. They are condemned for condoning truancy and lateness, for sending children to school without the approved amount of sleep or an officially sanctioned breakfast.
The point is made repeatedly that children spend the majority of their time outside of school so therefore the blame for educational failure lies squarely with the parents. Headteacher Vic Goddard, of Educating Essex fame, is one of many who argue that children 'spend four times as long at home… as they do in school'. This is undoubtedly true, but it doesn't take into account the need for children to sleep, eat, wash and dress, as well as physically get to and from school. Nor does it recognise that the reason for the existence of schools is the education of children: it's what teachers are trained and paid to do.
Ironically, the financial disadvantage that puts foreign holidays, private tuition and theatre trips beyond the reach of children on free school meals is hardly commented on. Instead, Sir Michael Wilshaw, the chief inspector of schools, prefers to blame parents for a 'poverty of expectation'. His proposed solution – to fine parents who don't read to their children, attend parents' evenings or monitor homework – suggests parents are right to expect little from schools.
Schools can make a huge difference to the lives of poor children. Providing an intellectually challenging, knowledge-based education will not only open up all kinds of future opportunities; it will also expose them to a world of ideas beyond their everyday circumstances. If teachers are driven to do more than this for the children in their school community, they could use the additional government funds children on free school meals attract to arrange museum and art-gallery visits, foreign exchanges, and even fund well-stocked, preferably quiet, libraries.
Yet none of this occurs to those clearly all too content to despair at the failings of working-class parents. Rather, one solution is hammered home with all the subtlety of the bright yellow free-school-meal token that, as a child, I picked up from the school office each morning: increase parental engagement in schools. Schools are urged to employ additional staff members, but in order to liaise with families, not to reduce class sizes. The Social Mobility and Child Poverty Commission bemoans the fact that 'not enough is being done to help parents to parent'; the ASCL argues that there's a need to 'intervene at an earlier stage in a child's development to encourage and support parents to value their child's education'. This leads to the suggestion that schools, failing to get pupils through a handful of GCSEs, should focus efforts on teaching children future parenting skills.
A poverty of expectations is indeed to blame for the academic underachievement of poor children. It's found in the contempt members of the educational establishment have for working-class parents and it's there in the assumption that financially deprived children can't cope with a curriculum derided as irrelevant to their immediate needs. Schools are encouraged to interfere in the minutiae of their pupils' home lives, from bedtimes to diet, at the same time as parents are corralled into engaging with schools. We need to keep parents out of schools and enable teachers to concentrate on providing all pupils with a first-class education. At the same time, let's also keep the state out of the home and leave parents to get on with parenting.
Joanna Williams is education editor at spiked. She is also a lecturer in higher education at the University of Kent and the author of Consuming Higher Education: Why Learning Can't Be Bought. (Buy this book from Amazon(UK).)
To enquire about republishing spiked's content, a right to reply or to request a correction, please contact the managing editor, Viv Regan.