General Sisi and the death of democracy
Everyone's democratic rights are threatened by the tyranny in Egypt.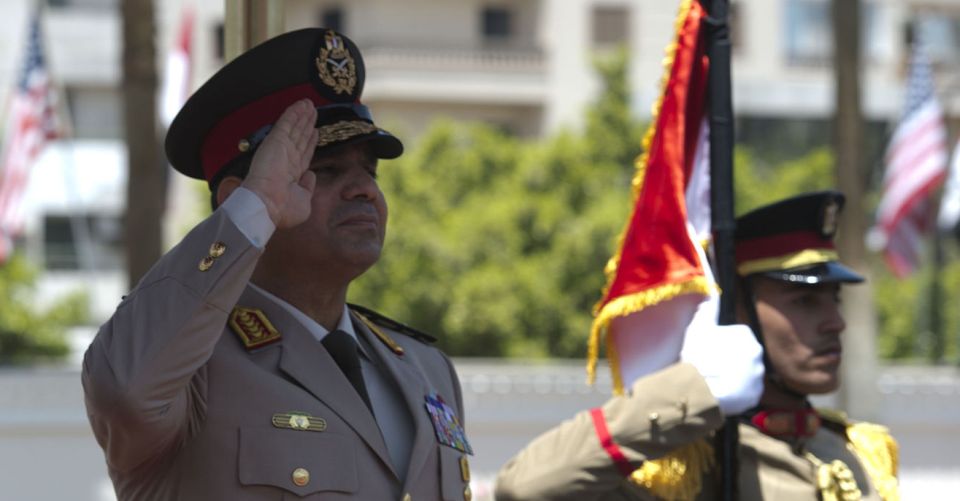 Last Wednesday, 4 June, the Obama administration did two notable things. First, it being the twenty-fifth anniversary of the Tiananmen Square massacres, it paid tribute to those Chinese activists who struggled for 'basic freedoms… including the freedom of expression, the freedom of the press, and the freedoms of association and assembly'. Then, a few hours later, it congratulated the victor in the presidential elections in Egypt: General Abdel Fattah al-Sisi. A man whose electoral victory has been built on the suppression of his opponents' freedom of expression, freedom of the press, and freedoms of association and assembly. A man whose forces massacred more protesters in Cairo last August than the Chinese did in Tiananmen Square in June 1989. A man whose regime didn't simply drag away and imprison individuals who bravely stood in front of its tanks, as the Chinese Army infamously did in 1989, but, as this footage shows, shot them where they stood.
That Washington can in the same day tut-tut over Tiananmen Square and declare that it is 'looking forward to working with' a military ruler who massacred thousands of protesters last year shows how confident it is that no awkward questions will be asked of its current policy on Egypt. It is right to feel confident. For Egypt is one issue on which the human-rights industry – all those observers, international lawyers and NGOs who normally love telling anyone who will listen how outraged they are by foreign tyrants – are at worst silent and at best sheepishly critical. If Putin imprisons a punk band, they go into overdrive; if Russia so much as flies a helicopter over Ukraine, they pen irate columns asking when the West will do something about this new Nazism; if an African terror group kidnaps schoolgirls, they galvanise every celebrity on Earth to demand that the UN brand it a crime against humanity. But Sisi? He can massacre thousands, ban political parties, imprison critical journalists and win an election through fraud and violence, and the West's so-called guardians of human rights won't lose much sleep.
The double standards of Western leaders in relation to foreign authoritarianism have been thrown into sharp relief by Sisi's election victory. Sisi came to power in a coup d'état in July 2013 when, as defence minister in the democratically elected government of President Mohamed Morsi, who is linked with the Muslim Brotherhood, he and his military forces swept President Morsi aside, put him in prison, and suspended the Egyptian constitution. Just a couple of weeks after pontificating against the wickedness of strongman Putin in relation to Ukraine – whose actions have consisted largely of trying to preserve Russian interests without causing too much regional instability – both the Obama administration and the UK Foreign Office sent their congrats to the genuinely unforgiving strongman Sisi as he won last week's elections and was sworn in this week. Obama officials said they were looking forward to developing a 'strategic partnership' with Sisi's Egypt. UK foreign secretary William Hague congratulated Sisi and said the UK 'looks forward to working with the Egyptian government'.
And how did this Sisi government so warmly congratulated by Western officials come into existence? Through terror. Sisi won 96.91 per cent of the vote in last week's presidential elections. If that sounds suspicious – remember all the Western mocking that would greet news that Saddam Hussein had won 97 per cent of the vote in Iraq? – that's because it is. Sisi won by effectively banning any serious force from standing against him. First the National Democratic Party – the party of Hosni Mubarak, the tyrannical president ousted by an uprising in 2011 – was banned from 'running in any presidential, parliamentary or council elections'. Then the Muslim Brotherhood was banned 'from taking part in presidential and legislative elections'. The Brotherhood had already been branded a terrorist organisation by the Sisi regime and was banned from gathering in public. With big hitters like Mubarak and MB forced aside, the vast majority of the other candidates for the presidency took the repressive hint and withdrew. In the end there were only two candidates: Sisi and a leftist named Hamdeen Sabahi. Sabahi actually came third, if you count spoiled ballots as a voting bloc. Most Egyptians, in particular MB-supporting Islamists, boycotted the elections, and on a turnout of 46 per cent, Sisi won nearly every vote.
In the months preceding the elections, Sisi had created a situation in which criticism of his regime, never mind organised electoral opposition to it, became a criminal offence. His opponents ran the risk of arrest, imprisonment and even death merely for expressing their political views. Last August, following Sisi's military coup against Morsi, Islamists who had voted for Morsi took to the streets to demand his reinstatement. They were massacred in their hundreds. It is estimated that at least 1,000 were killed, 'probably more than the number killed in Beijing's Tiananmen Square', says one report. In the most shocking incident, soldiers surrounded a pro-Morsi camp and 'fired into it for several hours'. Strangely, this didn't cause much consternation among leftists in the West, who save their outrage for far milder instances of police meddling in square-based protest camps in the US and Europe. In the 10 months since the August massacres, hundreds more pro-Morsi protesters have been killed by the police and army.
Those lucky enough not to be killed have found themselves in jail. Currently 16,000 anti-Sisi dissidents are in prison. Many are being sentenced to death in mass trials. In March, a court in southern Egypt took just one hour to sentence to death 529 Morsi supporters for the crime of taking part in violent protests. In April, another court sentenced to death 683 pro-Morsi activists, in what one Egyptian activist called 'the largest batch of simultaneous death sentences in the world in living memory'. Some of these pro-Morsi men have since had their sentences commuted to 25 years in jail; the rest face being hanged. In November last year, a court sentenced 21 women, seven of them under the age of 18, to 11 years in jail for taking part in a pro-Morsi protest. Their punishment was eventually reduced to one-year suspended prison sentences. They didn't become cause celebres here in the West, probably because they wear veils and don't sing punkish songs about pussies and Putin.
It isn't only supporters of Morsi who have found themselves silenced or suppressed by Sisi. So have journalists and even comedians who have dared to criticise him. Journalists have been imprisoned for making comments 'supportive of Morsi'. A political scientist was charged with 'insulting the judiciary' over a tweet he wrote. A newscaster was dismissed for using the c-word – coup – to describe what Sisi did to Morsi. Bassem Youssef, a TV political satirist described as Egypt's Jon Stewart, has been forced off air for mocking Sisi. Under Sisi, Egypt has risen to become the world's 'ninth most prolific jailer of journalists'.
These are the foundations on which Sisi's victory in the presidential elections were built. He assumed the presidency through banning his opponents, killing or imprisoning his most active critics, dismissing journalists who criticise him, and creating a political climate in which saying anything against his regime is a genuinely dangerous thing to do. And yet political leaders here in the West, who normally make a big, press-released deal of slamming dodgy elections in Africa and frowning on the execution of people for their political views, have congratulated Sisi and expressed their keenness to work with him. Rarely have the double standards of Western foreign policy, the hollowness of the human-rights mantras uttered by every modern leader, stood so starkly exposed.
But Western politicians and observers and NGOs haven't only turned a blind eye to Sisi's rise to tyrannical dominance – they have assisted it, either explicitly or implicitly. They have helped to provide him with both the moral authority and media savvy to pursue his clampdown on his political critics and to enforce a new illiberal and intolerant era. Even as Sisi's soldiers were massacring protesters last year, US secretary of state John Kerry congratulated him for 'restoring democracy'. Baroness Ashton, the European Union's chief of foreign affairs, visited Egypt at the end of July last year, after Sisi's forces had imprisoned the democratically elected Morsi and massacred hundreds of his supporters, and talked with Sisi about taking Egypt on a 'journey [towards] a stable, prosperous and democratic [future]'. Former British PM Tony Blair became a kind of unofficial media spokesman for Sisi, congratulating him for taking 'some very tough, even unpopular decisions' – that is, carrying out a coup and follow-up massacres. At the weekend, the Mail on Sunday revealed that both Blair and his former Labour spindoctor, Alastair Campbell, have recently visited Egypt to offer media tips to Sisi's regime. They have reportedly advised him on 'how to defend the coup and its bloody aftermath in the international media'. From posing as a humanitarian slayer of tyrants in the 1990s to doing PR work for tyrants in the 2010s – who can ever take Blair seriously again?
Western politicians' backing of Sisi's coup and his post-coup brutality has had the effect of emboldening his tyranny. It has provided him with the moral authority to continue suppressing his critics in the name of, as Kerry put it, 'restoring democracy'. Even human-rights groups have unwittingly assisted Sisi. Last August, as Sisi's forces mowed down a pro-Morsi protest camp and killed everyone inside it, Sisi's foreign minister Nabil Fahmy cited Amnesty reports as a justification for the horrific massacre. Amnesty had claimed that the inhabitants of the camp were involved in terrorism and torture, and Fahmy told the world media to 'consider Amnesty's reports' before criticising the regime for its obliteration of the camp. In the words of USA Today, Amnesty had 'provided the allegations to support the government's claims'.
From Kerry and Ashton's use of the word 'democracy' to describe Sisi's coup, to Blair's offers of media training to Sisi's regime, to Amnesty's provision of moral authority to Sisi's worst massacres, every Western force that usually makes great play of condemning foreign despots has either openly or unwittingly assisted Sisi's assumption of a pharaoh-like power over Egypt. This means it isn't only the bodies of thousands of pro-Morsi protesters or the memories of the Arab Spring that lie in the rubble of Sisi-ruled Egypt – so does the entire human-rights script of the modern era, the pretensions of the human-rights industry, the assumed authority of Western politicians and activists who speak in the language of human rights, all of whom have either fallen silent over Sisi or have green-lighted his destruction of liberty, democracy and rights in modern Egypt.
The fuel to these Western apologetics for Sisi is a profound ambivalence towards democracy and the rule of the people. Western politicians and observers saw in the election of Morsi, a religiously minded politician they didn't like, what they consider to be a massive downside to the Arab Spring: the fact that it granted once-repressed and politically policed masses a greater say over their government's make-up and their nation's destiny. A writer for the New York Times said the election of Morsi in 2012 showed that the Egyptian masses 'lack the mental equipment to govern'. A writer for the UK Daily Mail said Morsi's victory confirmed that 'elections merely empower tyrannical regimes'. A columnist for USA Today said it would be better to have 'a return to dynastic rule in Egypt' than to have one unpredictable election after another. One observer slammed the 'electoral authoritarianism' of the Egyptian people, who have proven that majority rule is a 'primitive concept of democracy' after all. In short, the people spoke, and we didn't like what they said, so their choice had to be overridden and their right to govern their futures severely curtailed.
'Democracy is an issue that is relative', said a Sisi official recently. Many in the West completely agree, now viewing democracy as a negotiable commodity that can be withdrawn if the 'wrong' choice is made by the mentally ill-equipped, authoritarian electorate – which is not only how Egyptian voters are talked about these days; so are Western ones, too. Democracy itself is at stake in Egypt, for if Western politicians, observers and NGOs feel it is legitimate to push aside and suppress the democratic choices of the Egyptian people, what electorate will be next? Who will be the next group of voters to find their political preferences trampled underfoot in the name of restoring a real and better form of 'democracy' as defined by a cut-off political clerisy? In Egypt, the battle isn't merely between the Sisi regime and Morsi supporters – it is between those in both Egypt and the West who view democracy as relative and those who think that when a people speaks, their word should be final.
Brendan O'Neill is the editor of spiked.
To enquire about republishing spiked's content, a right to reply or to request a correction, please contact the managing editor, Viv Regan.