Why Western radicals loved Sup Marcos
Wilfully incoherent and politically uncertain, the Zapatistas leader was the perfect embodiment of anti-globalisation activism.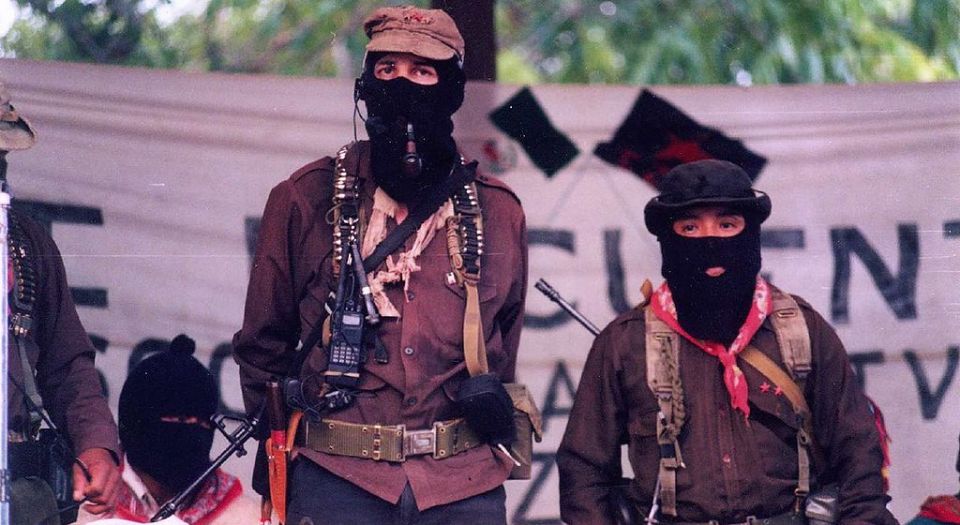 On 25 May, in one of the autonomous communities in the Chiapas region in Mexico, a large group gathered to mark the death of a recently killed member of the anti-globalisation Zapatistas movement. Yet, for the Zapatistas, which, ever since 1994, have been fighting an odd post-guerilla war for the rights of the indigenous communities of Chiapas, the event was overshadowed by a speech from their de facto leader, the ski-mask-wearing Subcomandante Insurgente Marcos (also known as Sup Marcos). He said: 'We believe that one of us must die, so that Galeano may live on. So we have decided that Marcos must die today[…] The one known as Subcomandante Insurgente Marcos no longer exists.' Later, he added: 'Comrades, my name is Galeano… Insurgente Galeano.'
News outlets reported that, in effect, Marcos had stepped down. But had he? Predictably, Marcos' statement is more than a little cryptic. Plus, no one knows for sure who the man behind the mask is. According to the various rumours, Marcos is actually a university philosophy professor who, before retreating to the jungle, was really into the work of French thinkers Louis Althusser, Jacques Derrida and Michel Foucault (this might explain Marcos's pompous language).
More importantly, even if Marcos, whoever he is, has stepped down, it is of very little practical importance. From the moment he burst upon the political scene in the mid-1990s, he was heralded by anti-globalisation protesters and Western Leftists less for what he actually did than for what was projected on to him by activists around the world desperately needing a hero for a post-Cold War left. Marcos was perfect for this role. He embodied an era of relativism and weak political convictions, where political sovereignty and democratic representation are happily put aside.
Marcos had quickly realised that these are times when taking big political ideas seriously is not considered a virtue. Naomi Klein, who was another influential figure in the anti-globalisation movement, once wrote that Marcos became a leading figure in the Zapatistas 'not through swaggering certainty, but by coming to terms with political uncertainty, by learning to follow' (1). According to Klein, Marcos left Mexico City and Marxism behind to 'immerse himself in Mayan culture', before adding: 'The more he learned, the less he knew.'
Now, there is nothing wrong with someone changing his political convictions when persuaded that they are false or inadequate. But it was never clear what Marcos' new ideas actually were, besides vague pleas for 'respect', 'freedom' and 'dignity' for the marginalised in Chiapas and beyond. Instead of a coherent political vision, Marcos preferred an incoherent mixture of mysticism, sensationalism and irrationalism. His stories, complete with a Mayan veneer, were more fun than dry post-structuralist jargon. But the result was the same: slippery language and wilful incoherence that shielded his thinking from any form of criticism. Without a programme, objectives or clear concepts, Marcos was very difficult to hold to account.
Why was emotive language and political uncertainty so appealing for Marcos and the anti-globalisation movement in general? Because they were not political actors; they did not represent anyone, and they were not accountable to anyone. Marcos was famously quoted for being 'a gay in San Francisco, a black in South Africa, an Asian in Europe, a Chicano in San Ysidro, an anarchist in Spain, a Palestinian in Israel… a pacifist in Bosnia, a single woman on the Metro at 10pm, a peasant without land, a gang member in the slums, an unemployed worker, an unhappy student'. Equally, anti-globalisation activists claimed to represent the oppressed of this world, the peasants of developing countries and even the unborn children and the sea turtles or the Amazon forests. But, as David Chandler has noted, no one summoned them to be their representatives (2). If Marcos messes up with his politics, no poor Bangladeshi farmer (let alone a tree) outside the circle of his comrades in the Zapatista communities can hold him accountable, as one could do with an elected leader.
In that, it is also possible to see why the anti-globalisation movement was so popular in the early 2000s: it was a chance for activists, usually irrelevant in their own countries or communities, to operate in an imagined 'global civil society'. There they didn't have to win the support of people, let alone be answerable to them. Despite the best intentions, anti-globalisation activism was a mark of political disengagement, masked as its opposite.
Another motto of Marcos also celebrated on the post-modern Left is the idea of creating autonomous spaces, or, as he puts it, worlds where every world fits. Creating an autonomous space for the indigenous communities in Chiapas, where they defend themselves against the harassment of the Mexican state and paramilitary gangs, does perhaps make sense. But this idea of creating 'isles of freedom' is actually far more popular in the West than in the developing world. Take Occupy London or the assorted so-called climate camps, for example. These were marked by an acceptance that the world 'out there' is beyond our reach, as people are too alienated to understand us and the powers that be are too strong. And if we cannot change the world 'out there', went the thinking, we can retreat into our autonomous space 'in here'.
A similar 'stop the world, I want to get off' sentiment is present in Marcos' discomfort with modernity, an attitude shared by most radicals in the West today. The historian Eric Hobsbawm had a point when he noted that socialism was popular among Third World peasants in the twentieth century because it promised a rapid leap from pre-modernity to modernity. Today, the postmodern Left seems to be promising the opposite: a bulwark against the encroachment of modernity. Marcos' celebration of Mexico's indigenous civilisation, without any aspiration to push the wheel of history forward, is a testament to this tendency to want to freeze time.
Marcos claimed he was asking for recognition of indigenous people's rights. As his famous motto goes, 'we wear masks so that you can see us'. But recognition alone cannot feed a community, nor build roads, schools and power stations. Basically, Marcos promised more of the same, minus 'neoliberalism'.
There is no doubt that Marcos and the Zapatistas have defended indigenous communities in the Lacandona jungle from state oppression. However, Marcos' legacy and celebrity status in the West has little to do with what's happening in Chiapas. The fact that Marcos never showed his face was perfect for the twenty-first-century self-styled radicals in the West: Marcos, the enigma of whom nothing was certain, provided a blank screen on to which the contemporary left's shallowness and confusion was projected.
Marcos might have stepped down, but the basis for his popularity, from postmodern relativism to the disillusionment with modernity, is still with us.
Nikos Sotirakopoulos is an assistant lecturer in sociology at the University of Kent.
(1) 'The Unknown Icon', by Naomi Klein, in Ya Basta!: Ten Years of the Zapatista Uprising, Oakland, 2004
(2) 'Deconstructing sovereignty: constructing global civil society', by David Chandler, in Politics Without Sovereignty: A Critique of Contemporary International Relations, UCL Press, 2007
To enquire about republishing spiked's content, a right to reply or to request a correction, please contact the managing editor, Viv Regan.