Recycling: eco-penance for wasteful humans
Recycling isn't about saving the planet - it's about inducing guilt.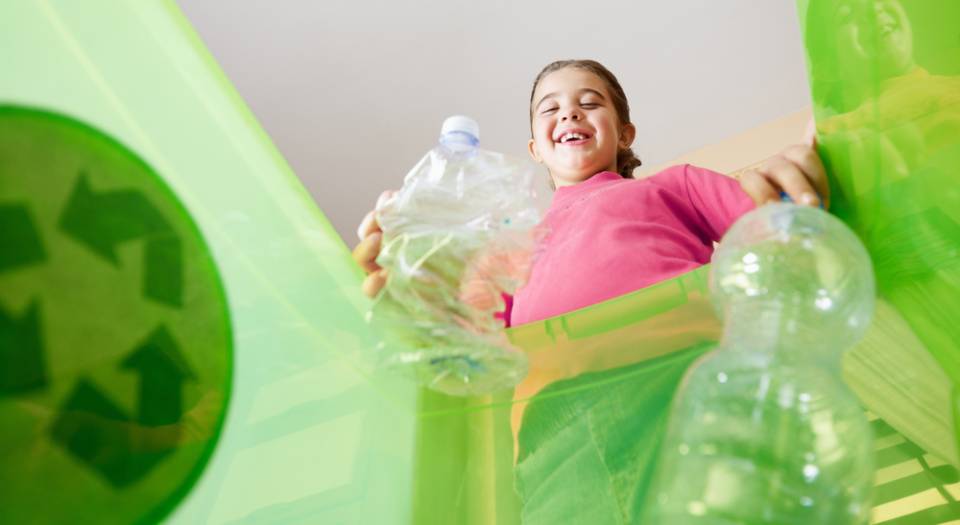 It's World Environment Day! Happy planet, everyone! And don't worry, the eco-fun doesn't stop there. Monday 16 June marks the start of Recycle Week 2014 in the UK. No doubt spiked readers will be desperate for their employers to 'cascade information about recycling services at team meetings, through the intranet, internal newsletters and e-zines, as well as verbally and by using posters' and won't be irritated at all to see their under-desk bins disappear to remove 'the temptation for people to "easily" throw away' their rubbish. Schoolteachers and parents will surely be keen as mustard to organise 'a fashion show by pupils' with 'clothing made from recycled materials'. And just remember: 'Every can counts.'
For all the evangelical enthusiasm of Recycle Week's propaganda, there's trouble at t'mill. SITA, one of Britain's biggest waste disposal companies, is warning that recycling rates are falling. According to the Daily Telegraph, while recycling rates leapt from 11 per cent in 2000/01 to 43 per cent in 2011/12, the rate of recycling effectively stalled last year, and SITA now estimates that rates will fall by two per cent when the next figures are produced. There is, it seems, a degree of 'green fatigue' when it comes to separating our waste, especially with cash-strapped local authorities easing up on promotion and enforcement of recycling.
This may all be a blip, of course. And there is no doubt that the EU, the UK government and local authorities will find more ways to ratchet up the pressure to recycle to boost the figures in the future.
What is absent is any serious discussion about the merits of recycling – or more precisely, the benefits of householders separating their rubbish. Recycling itself has been going on for thousands of years and it makes perfect sense when eking out every drop of value from a material is vital. There aren't many more upsetting things than watching impoverished children in poor countries picking rubbish from a tip, but at least it makes sense from the point of view of sheer necessity. In a modern, developed society, however, the gains to be had from recycling paper, plastic and food tins are minimal, particularly once all the extra effort of separate waste collections is taken into account. Recent figures from the UK environment ministry, Defra, also suggest that a small but growing proportion of waste is too contaminated for recycling and must be sent to landfill or burned in incinerators. When even the minister for local government, Brandon Lewis, is confused about what can and cannot be recycled, it shows just what an enormous waste of accumulated effort is going on here.
Even committed eco-worriers must realise that the benefits of all that effort seem even punier set against the sheer scale of global economic development. To take just one example: according to research published last year, there are currently plans to build 1,199 coal-fired power stations around the world. In 2012, China alone had plans to build 363 plants in coming years. Then there are all the extra cars, airports, food, manufacturing and so on that will be required as the developing world finally gets somewhere close to being developed. The UK's total greenhouse-gas emissions account for just 1.5 per cent of global emissions, and that proportion will keep on falling. Any emissions saved by recycling will be just a small fraction of that. As the comedian Sean Lock put it while joking about cleaning out his Marmite jars for recycling: 'It's like turning up at an earthquake with a dustpan and brush.'
When pushed, even the most right-on green will admit that separating our rubbish makes a minimal impact in terms of 'saving' resources or slowing down global warming. The real reason for the ritual of recycling has always been the same: to give us all a chance to 'do our bit', to remind us how wasteful we all are. It's a latter-day act of penance for the sin of living in (relative) material luxury.
So household recycling is a waste of time – but it is actually worse than that, too. It is an attempt to indoctrinate everyone – particularly children – into the reactionary worldview that humans are a parasite on the planet and that we should feel guilty for our very existence. But in reality, the existence of waste is in many ways a good sign, a progressive thing. It shows that we have the money to spend on improving our standard of living. The freedom to throw stuff away is a sign that we have moved beyond the bare necessity of the tip-pickers; pleasure, convenience and variety are ours to enjoy. There is no reason to be apologetic for that.
Rob Lyons is associate editor at spiked.
To enquire about republishing spiked's content, a right to reply or to request a correction, please contact the managing editor, Viv Regan.