Damon Albarn's life is still rubbish
The ex-Blur frontman's first solo LP is a wearing groan about soulless modernity.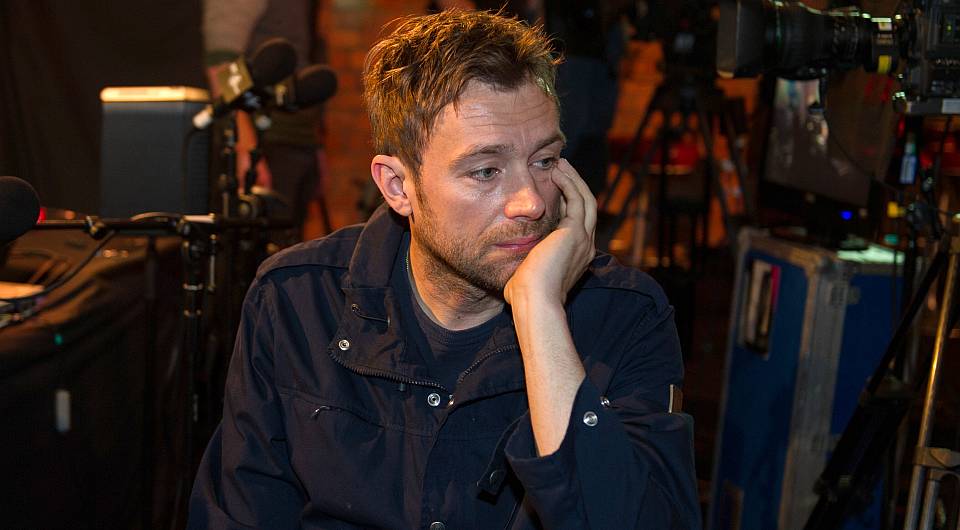 Everyday Robots, the first solo LP from Britpop poster boy, cartoon neo-popster and part-time opera buff, Damon Albarn, has been billed as a rare moment of candour in his multi-moniker career. It's his Blood On The Tracks according to the album's producer and XL label boss Richard Russell. This, we are told, is the album in which Albarn has thrown off his Blur-era mockney affectations, peeled his pretensions away and set about the task of crafting something more heartfelt, personal and raw.
Slumped on a stool on the album's grayscale cover, it seems 'the real' Damon isn't the happiest chap. The snatches of 'personal' insights offered up here are all dirgey and downbeat. His love life? Not so good: 'It's hard to be a lover while the TV's on', he sings on the brooding track, 'The Selfish Giant'. His family life? Even worse: 'Hostiles', inspired by playing video games with his daughter one bleary Christmas, turns a pretty innocent activity into a source of overwhelming existential angst, mercilessly dropping the computerised baddies sending him into a reverie about the meaninglessness of it all.
The truth is, aside from his titillating references on the brooding 'You and Me' to his past flirtations with heroin, he is as opaque as ever on Everyday Robots. Each moment of sincerity or confession is merely the starting point for another maudlin rumination on modern life. But while it may not be his most personal record, it's certainly his most forthright. When it comes to spouting his half-cocked musings, he's not holding back.
Everyday Robots finds Albarn bemused and vaguely disgusted by twenty-first-century life. The album's opening lyric, 'We're everyday robots on our phones', is the first of many cack-handed reflections on what Albarn sees as our atomised, Instagram-scrolling society, in which people can only relate to one another by means of some manner of Apple appendage. With his mournful vocals and plaintive piano chords eking out from beneath layers of synthetic bleeps, clicks and thuds, he sets himself up as one sincere voice calling out from beneath the clatter of our supposedly soul-sapping age.
A snobby disdain for petty consumerism is nothing new for Albarn. In his mop-topped Blur years he launched a sarcy war of words on the crass mores of middle England: from the banal chipboard-furniture suburbanites to the oiks marching herd-like on piss-up package hols. Blur's second album was tentatively titled Modern Life is Rubbish. But there's something more retiring, middle-aged and semi-delusional about this LP. The trad ballad 'Hollow Ponds' is about the natural beauty of Albarn's childhood stomping ground being ruined as motorways and shopping centres create fissures in the glorious landscape. Thing is, when you realise he's talking about Leytonstone, not the Lake District, it's hard to keep a straight face.
Everyday Robots is shored up by some gorgeous tunes. After the cock-sure bluster of Blur, Albarn's output has become increasingly meticulous, layered and eclectic. The instrumentals here are delicate marvels of restraint, with a few instruments and a handful of programmed ephemera providing the backdrop for Albarn's not-without-its-charm vocal. But it's not enough to sustain what is, essentially, an extended world-weary groan. Only 'Mr Tembo', a lame, Jack Johnson-esque tune about an elephant Albarn met in Tanzania, provides some reprieve from the brooding gloom.
It's a testament to Albarn's undimmed talent that he's managed to remain such an enduring presence in British music. He's always been a complete pillock, but his musical wanderlust, his hunger for new characters and concepts, has meant his own, cloying, snobby self has always been kept one step removed from the music he makes. He's the sort of musician you're happy to listen to but would never want to be mates with. Everyday Robots may not be Albarn's tell-all LP, but it is his most candid, and about as enjoyable, and enlightening, as spending a long weekend with him.
Tom Slater is assistant editor at spiked.
Picture: PA
To enquire about republishing spiked's content, a right to reply or to request a correction, please contact the managing editor, Viv Regan.