Calvary: the sins of the fathers
A black comedy about a good priest battling cynicism comes to confused and troubling conclusions.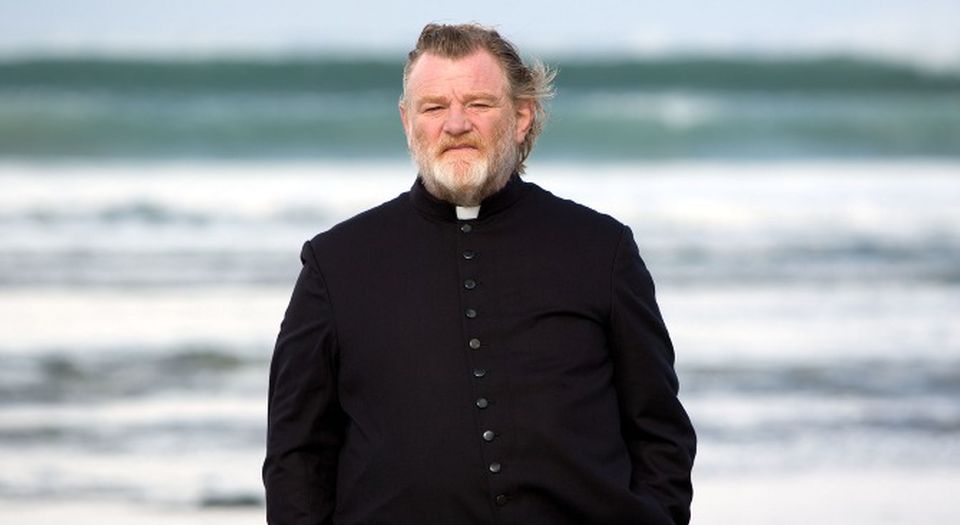 For those in any doubt whether Calvary, John Michael McDonagh's black comedy about a 'good priest' in rural west Ireland, was going to dodge the proverbial elephant-in-the-plot, the first line puts you straight: 'I first tasted semen at the age of eight', says an out-of-shot parishioner in the confessional. 'That's quite an opening line', says Brendan Gleeson's Father James, resisting a little wink-nod to the audience.
From behind the grille, the unseen parishioner tells Father James of the abuse he suffered at the hands of another clergyman. He can't seek direct revenge – the priest in question is long dead. Instead, he arranges to meet the 'good priest' James on the beach the following Sunday, and kill him in atonement for the sins of the Catholic Church.
McDonagh explained his motives in making the film: 'There are probably films in development about priests which involve abuse. My remit is to do the opposite of what other people do, and I wanted to make a film about a good priest.' It's a worthy aim, and Calvary does set out to confront the mordant cynicism which the abuse scandal left in its wake as much as it does the abhorrent behaviour of the clergy. But in that initial exchange in the confessional, a tension appears that never quite gets resolved.
Whose side is McDonagh really on? Is the magnanimity of Father James enough to balance out the crimes of his colleague? Is this a film about the evils of flagrant, new-Atheist cynicism, as embodied in the figure of an abuse-sufferer-turned-vigilante, or is it, more plainly, about the wrongs of religion itself? In the ensuing tug-of-war, Calvary comes undone.
In the week before he's set to meet his fate, Father James goes about his business as usual. As he does his rounds, his idyllic country parish is shown to be beset by a kind of hedonism-cum-misanthropy – sex, cocaine, wife beating and church bashing are a burgeoning local industry. His parishioners seem to attend mass purely as a form of mockery – half of them talk quite openly about their disdain for the church, not to mention their murderous impulses. Dylan Moran plays a banker and, in a grating dig at that most hated folk villain of our times, he invites James round to show off his expensive things and how little they mean to him, taking a priceless Holbein down from the wall just to piss on it.
Gleeson's bitter-sweet performance offers a thread of humanity to hold on to. He floats above the baseness of his parishioners, not because of his ordained superiority but because he remains firm in the belief that, religion aside, people are capable of being more than self-interested coke hoovers and life can mean more than just crawling through the meaningless sludge of postmodernity. And it's not an untested optimism, either; a visit from his troubled daughter alludes to a difficult life before he joined the clergy.
Father James' values are pitted against the depravity of his parishioners in a sequence of dialogues, but it's never clear who's come out on top. James' faith and, more broadly, his optimism, is mocked, but so, too, are the caustic views of the malcontents that surround him. Aiden Gillen plays a dead-eyed doctor with a back pocket full of morbid stories about past patients he regales as proof of the all-round pointlessness of existence. He's easily the most cynical character, but even his declarations are glossed with a certain irony: 'The atheistic doctor; it's a cliched role… There aren't that many good lines.'
Pegged by McDonagh as the concluding film of his 'glorified suicide trilogy', the stoic way with which James faces his fate – heading down to the beach, cassock-clad and rosary beads in hand – seems to be the film's ultimate indictment of dogma. His belief in the sanctity of the confessional dissuades him from going to the police, and instead he confronts his death as the sacrificial lamb. The good man is ultimately undone not by his good intentions, but by his slavish belief in ritual.
This detail offers little succour in the film's confused final moments. In the end, the cynics win. And, in that, McDonagh serves up a satire almost just as grim as the gory, exploitative dramas about the abusive priesthood that he first set out to challenge.
Tom Slater is assistant editor at spiked.
Watch the trailer for Calvary:
To enquire about republishing spiked's content, a right to reply or to request a correction, please contact the managing editor, Viv Regan.