Nymphomaniac: sex stripped of meaning
Lars von Trier's unwitting insights into the mechanicalisation of sex.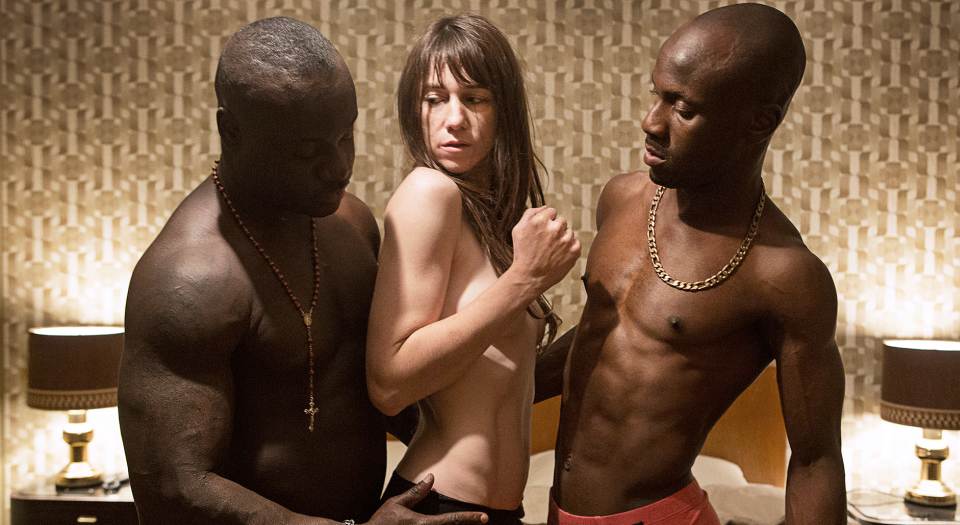 Nymphomaniac – split into two 'volumes' for its initial, soft-core release – forms the third part of the 'depression' trilogy crafted by the not-so-merry prankster of the European arthouse, Lars von Trier.
Each part of the trilogy has explored an age-old religious concept through the prism of our modern moral malaise: Antichrist took on evil; Melancholia, annihilation; and now we have Nymphomaniac, a gloomy epic about carnal lust. The story is told mainly in flashbacks, as self-proclaimed nymphomaniac Joe (longtime von Trier muse Charlotte Gainsbourg) regales her 50-year sexual odyssey to kindly, monkish bachelor Seligman (Stellan Skarsgård), who finds her beaten and bloodied in the alleyway outside of his flat.
Despite the promise of rampant graphic sex, a cum-face strewn ad campaign and the inclusion of Hollywood walking joke of the moment, Shia LaBeouf (playing Joe's mockney sweetheart Jerome), Nymphomaniac is easily the least saucy and most downbeat of the three. It's easy to see why. The discussion around sex today is as confused as it is depressing. Sex, one of humanity's most private and intimate acts, is constantly dragged out into the public square. The poking and prodding of professional 'sexperts', which it depresses me to say is now a genuine profession, have turned sex into a skill, a hobby, a tool to mental wellbeing – an object stripped of its intimately ascribed meaning. Meanwhile, the gains of sexual liberation are constantly being called into question. Quack doctors nowadays are trying to rebrand promiscuity as a pitiable addiction, while reactionary moralisers insist that the revelations about supposedly rampant paedophilia in the 1970s are the malevolent legacy of the 60s summer of love.
The early chapters of Joe's story are the stuff of banal, pulp fantasy. We see the teenage Joe stalk train cars in hotpants, competing with her best friend 'B' to see who can cajole the most men into shagging them in the carriage lav, all set to the tune of 'Born to be Wild'. Starting a kind of pseudo-Satanic secret society with a few friends, they set out to reject the 'bourgeois' and 'sentimental' notions of love and relationships.
Brought up in a fractious family by an unfeeling, solitaire-playing mother (Connie Nielson) and her wistful gynaecologist father (Christian Slater), Joe revels in her insatiable lusts as a kind of lame rakish rebellion against buttoned-up society. Unfortunately, even as Joe grows up, falls in love, and has a child, this viewpoint never really evolves. Forced by a later employer to attend a sex-addiction self-help group, she storms out, refusing to accept the self-pitying category foisted upon her. It could be read as a valiant stand against modern-day white-coated moralisers who try to insist, like the Victorian moralisers of old, that promiscuity is some kind of disorder, a lurking dark propensity or, in today's language, 'addiction', which renders people helpless to their passions. But it isn't. The director, who had the word 'FUCK' tattooed across his knuckles at the tender age of 54, seems surprisingly content to wallow in a decidedly immature perspective.
Embracing her rampant sexuality, Joe goes in search of greater, darker thrills. Eventually, she finds herself frequenting the office of K (chillily played by Jamie Bell), who, like some kind of BDSM GP, has a queue of bored housewives hanging about in the waiting room of his white-wash underground office to be slapped, punched and whipped for their own satisfaction. It all makes for stark viewing. Gainsbourg is a revelation, managing to wring out a little humanity from the role even as Joe's incessant search for new experiences becomes more and more mechanical – leading her, with clanging inevitability, to a life of crime. But, in the end, the thesis of the film is as depressingly deterministic as that spouted by Joe's sanctimonious counsellor. 'Sexuality is the strongest force in human beings', remarks Joe; in this grim vision, you're either tethered to polite society's notions of propriety or you surrender yourself to your animal urges.
Despite the manifest gloom of the second volume, the overall tone is strangely uneven. It fluctuates between the grim, the tender, the absurd and the comic. Uma Thurman's cameo as the bizarrely courteous wife of one of Joe's lovers, who shows up at Joe's flat, asking politely to show her children the 'whoring bed', makes for one hilarious, if ill-fitting, vignette. Meanwhile the interjections of the bookish Seligman throughout the telling of Joe's story adds to this veneer of absurdity, delighting in drawing parallels between scenes from Joe's life and a string of cultural touchstones, from fly-fishing to Fibonacci numbers.
Of course, von Trier is known for toying with his audience – you're never quite sure if he's making some profound point or just chuckling at your expense. But, in Nymphomaniac, the oscillation between the seemingly profound and the outright ridiculous feels like more of a last resort – as if, unable to wring anything more transcendent, let alone positive, out of his subject, von Trier descends into an easy, nihilistic space, where even the need to find meaning or succour in the story is trampled as mere bourgeois folly.
In a way, the inherent confusion at the heart of Nymphomaniac is fitting. Given how sex is discussed today – as something pathological, mechanical and ultimately beyond our control – it seems there's no room in it anymore for humanity, intimacy or even pleasure. Seeing as all humans are supposedly caught between either fusty bourgeois respectability or self-destructive thrill-seeking, it seems right that von Trier doesn't know whether to laugh or cry.
Tom Slater is assistant editor at spiked.
Watch the trailer for Nymphomaniac:
To enquire about republishing spiked's content, a right to reply or to request a correction, please contact the managing editor, Viv Regan.