Campus censorship: the fightback starts here
It's time for students to throw off the censors' shackles.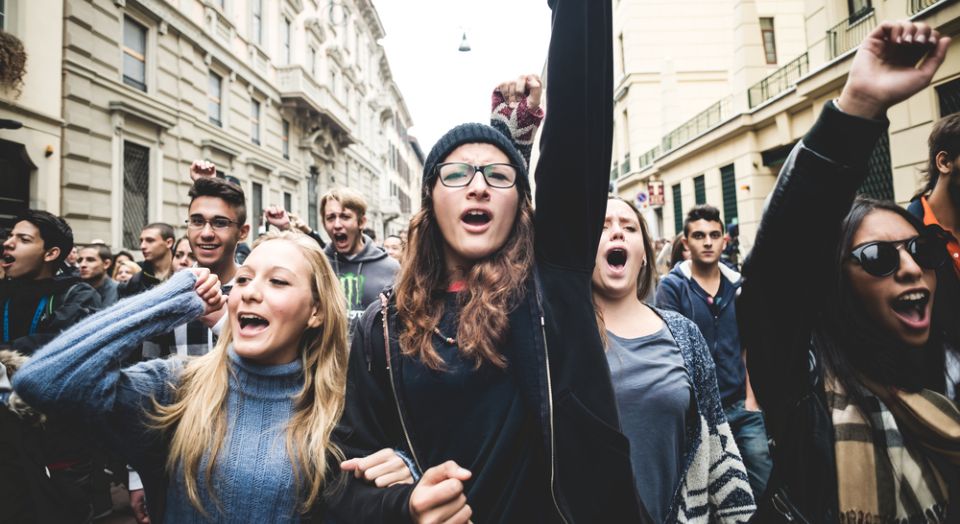 There's an irony to student life today, and it doesn't just come from those taking degrees in stand-up comedy. Speak to most students and they'll claim to be all for free speech. Yet at the same time, student unions are more ban-happy than ever before.
Of course, universities have rarely really been bastions of liberty, tolerance or free expression; student unions no-platforming speakers with contentious views has a long and ignoble history. But recently, this urge to censor anything considered offensive to the sensibilities of elected union officials has stepped up a gear, and bans on everything from newspapers and pop songs to posters and bottled water have been implemented at universities throughout the UK.
Despite students paying lip service to the idea of free speech, there have been few serious challenges to this censor-happy climate – until now. This week, spiked is launching a campaign against campus censorship in all its forms. At a time when there appears to be a great deal of confusion over what free speech means and why it is important, spiked will be uncompromising in calling out bans and challenging censorship. spiked will expose attacks on free speech that come from student unions, institutional managers and campaigning feminists alike.
This campaign is necessary because, although many students claim to support free speech, this often only goes as far as views they agree with; anything that can be labelled 'a bit rapey', or deemed to be 'objectifying women', or 'offensive to Muslims', is seemingly fair game for censorship. Others argue that the imposition of bans isn't a free-speech issue: students involved in campaigns such as No More Page 3 and Lose the Lads Mags argue that removing papers and magazines from university shops is not censorship as the Sun can still be bought off-campus, just as students can listen to 'Blurred Lines' in their bedrooms. (The regret that what students get up to in private can't be controlled is almost audible.) But, clearly, banning songs from being played in the union bar is censorship, just as preventing people buying certain newspapers in the university shop is a free-speech issue. Such bans go beyond simply sending a message of moral condemnation; students' choices are actively limited and their behaviour on campus restricted.
Perhaps more worrying is that some students assume that censorship is necessary to protect free speech. Often this argument is made by the bright, confident and articulate young female campaigners who argue that images of topless models in newspapers or on magazine covers objectify women and rob them of a voice in public debates. According to campaigners, banning topless models in newspapers will give women the confidence to speak out and enable them to exercise their free speech. This reveals the fundamental confusion that exists about what free speech actually means. Censoring particular ideas can't possibly promote more free speech for others; it simply restricts the terrain of discussion for everyone.
In fact, arguing that censorship promotes free speech is to turn reality on its head. Banning a song, or a fancy-dress costume, or a poster, is not a radical statement of the censor's politically correct credentials. It's censorship. And it restricts free speech on campus. Those in charge of student unions may appear to champion the rights of the oppressed, but what their support for censorship really betrays is a contempt for students. That's because the use of censorship suggests there are some ideas that are too dangerous for students to be allowed to engage with, that listening to 'Blurred Lines', for instance, may incite someone to rape, or that looking at a picture of a half-naked woman may lead male students to treat their female peers in a derogatory way. Students are not as stupid as the censors make out.
Unfortunately, students are unlikely to gain a better understanding of what free speech means and why it is important from their time in the classroom. Institutional speech codes, often reinforced by posters encouraging students to report anonymously incidents of bullying or harassment, formalise the view that there are some things that just can't be said. Academics and students alike guard against speaking out of turn or acting in a way that might inadvertently cause offence. Students are not taught to be sensitive to the intellectual nuances of a particular line of thought, but rather to be sensitive to perceived offence. Instead of welcoming opportunities to learn from different views, students are encouraged to demand someone steps in to protect them from views they see as distasteful.
Free speech is vital for students. It takes them out of their intellectual comfort-zone and makes them confront different opinions, including those they may find offensive. Only through doing this can students broaden their horizons, hone their own arguments, and, most important of all, actually learn something. When universities ride roughshod over free speech, they deny students the opportunity to grow up and learn. By dressing censorship up as a radical act, student unions reinforce a culture of intolerance, infantilisation and conformity on campus.
For spiked, the right to free speech means the right to be offensive, to think the unthinkable, and to argue the toss without fear of consequence. A university should be the ideal place for such intellectual experimentation to take place. To promote free speech and wage war against censorship at your university, get involved with the spiked campaign today.
Joanna Williams is education editor at spiked. She is also a lecturer in higher education at the University of Kent and the author of Consuming Higher Education: Why Learning Can't Be Bought. (Buy this book from Amazon(UK).)
Read about and join the Down with Campus Censorship! campaign here.
To enquire about republishing spiked's content, a right to reply or to request a correction, please contact the managing editor, Viv Regan.