Boris v Islamist parents: it's PC gone mainstream!
The mayor's war on Islamist families exposes his right-on authoritarianism.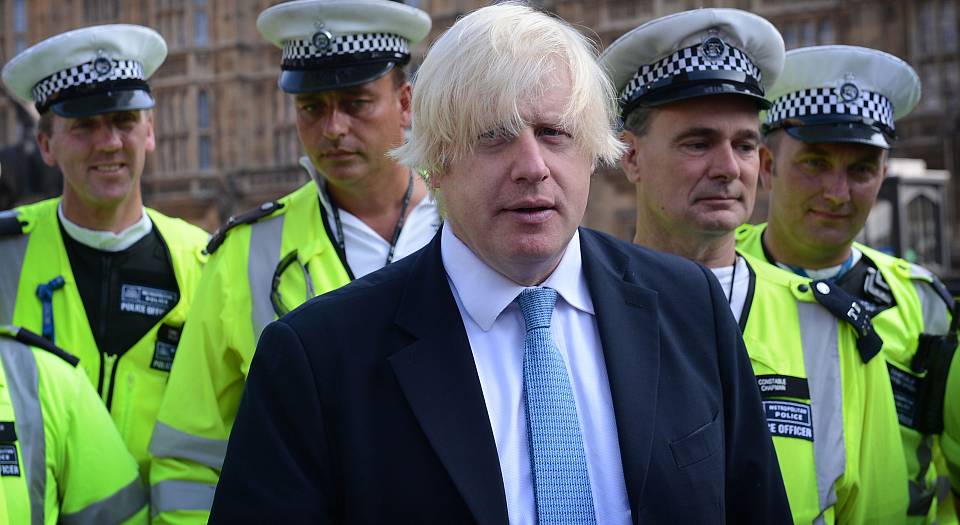 The trial of UK Drummer Lee Rigby's two Islamist killers, Michael Adebolajo and Michael Adebowale, has got London mayor Boris Johnson hot under the bouffant. According to his latest column in the Daily Telegraph, he doesn't think enough is being done to prevent future Islam-invoking murderers from emerging within our midst. And he knows that it's got something to do with political correctness gone a bit mental.
His principal problem is that there are 'thousands' of parents out there with really, really Islamist views. This means that their children are being inculcated with these really, really Islamist views, or, to use the current parlance, 'radicalised'. But unfortunately – and this is what is twisting Boris's blood – the authorities lack the clear legal backing to rescue these junior jihadists from their parents before placing them into care. (Quite what is a radicalising view is unclear but, for the sake of Guardian-reading parents, one hopes it amounts to more than thinking Western society is dispiritingly materialistic and that Tony Blair was fond of the odd white lie.)
As Johnson sees it, what is preventing the legislation that would enable social services and, presumably, counter-terrorism officials, to take kids away from parents deemed really, really Islamist is 'what I am obliged to call political correctness', that is, 'an unwillingness to be too judgemental about other cultures'. He goes on: 'We need to be less phobic of intrusion into the ways of minority groups and less nervous of passing judgment on other cultures. We can have a great, glorious, polychromatic society, but we must be firm to the point of ruthlessness in opposing behaviour that undermines our values. Paedophilia, FGM, Islamic radicalisation…'
It is in that closing three-word-long litany – paedophilia, FGM, Islamic radicalisation – that the core of Johnson's argument rests: he is trying to equate parents who hold Islamist views, and no doubt propagate these to their kids, with adults who either sexually abuse children or mutilate girls' genitalia. Hence, as Johnson puts it, he wants 'Islamic radicalisation' recognised as a 'form of child abuse'.
If 'Islamic radicalisation' really was 'a form of child abuse', then Johnson just might have a point. If holding views many might find disagreeable and relentlessly banging on about them to your own kids really was akin to sexually assaulting them, then, yes, Johnson might well have made an argument to justify the dismantling of thousands of families. As I say, if Islamic radicalisation really was 'a form of child abuse'.
But ask anyone who is capable of distinguishing between actually abusing or mutilating a child and haranguing them about Western foreign policy, and it should be clear that so-called Islamic radicalisation is not a form of child abuse. In fact, giving your kids your own views, or at least attempting to do so, is little more than an unavoidable aspect of parenting. Because whether Johnson chooses to believe it or not, that's what parents do: they tend to make their kids see the world as they see it – politically, culturally, socially. They may not mean to, but they do, as a well-known poet once put it. And sometimes those children become adults with their minds entirely forged in their parents' image, and sometimes they become adults with minds entirely forged in opposition to their parents. That's growing up for you.
Attempting to categorise this process of inculcation when it involves radical Islamist parents as child abuse is little more than a staggeringly unsubtle attempt to criminalise a set of views Johnson, understandably perhaps, finds objectionable. But as objectionable as radical Islam might be, it is not grounds for depriving parents of their children. After all, it doesn't take a doctorate in slippery slopes to work out that if you start breaking up families on the grounds of the non-mainstream views of the parents, then why stop with Islamists? What about the hardcore Catholics? What about the residual Stalinists? What about the shiny-eyed scientologists? There are plenty of parents out there immersing their children in their own particular ideological murk – why not 'rescue' their children, too?
Of course, it's easy to dismiss a Boris Johnson speech or utterance on the basis of Boris Johnson. Good old Boris, you say. Eccentric. Not to be taken seriously. Next leader of the Tories. Etc.
But sadly, as is often the case with Johnson, his views, far from being wonderfully odd, are often blustering riffs on the mainstream. After all, it's not a Bozza innovation to attempt to cast certain forms of parental behaviour as forms of child abuse. Over the past few years, we've also seen public-health bodies attempt to classify smoking in cars with children present as a 'form of child abuse'; we've seen assorted columnists try to pass off childhood obesity as a 'form of child abuse'; and we've even seen the old New Atheist priesthood liken religion to a form of child abuse. There are very few aspects of parental behaviour, it seems, that someone up high has taken objection to and not tried to demonise and criminalise as a 'form of child abuse'.
Indeed, there have also been previous cases in which the social services have taken children off parents because the parents' views have been considered beyond the pale. There was the case in 2012 of Rotherham local council, which decided to remove three children from a fostering couple because the couple were members of the decidedly un-PC UK Independence Party. And in 2011, Eunice and Owen Johns, a black Christian couple in their 60s living in Derby, were told that they were no longer suitable foster carers because of their views on homosexuality.
In the eyes of the authorities, there is a correct, decent type of parent, and then there are the incorrect, indecent parents who, increasingly, should be stopped from being parents at all. Johnson is not off-message; his views are entirely on trend. They represent part of the growing assault on parental autonomy – that is, the increasing willingness to support state intervention into family life, even when it involves the destruction of families. Despite his rather desperate anti-PC affectations, in his determination to let the state decide what views a parent should or shouldn't hold, Johnson shows himself to be profoundly PC in ethos. After all, how else is one meant to view the idea that there are some things parents can't say or think, if not as political correctness gone dangerously mainstream?
Tim Black is deputy editor of spiked.
Picture by: Stefan Rousseau/PA Archive/Press Association Images
To enquire about republishing spiked's content, a right to reply or to request a correction, please contact the managing editor, Viv Regan.