PMQs: MPs have nothing to shout about
'Testosterone-fuelled yobbery'? Politics is not ballsy or belligerent enough!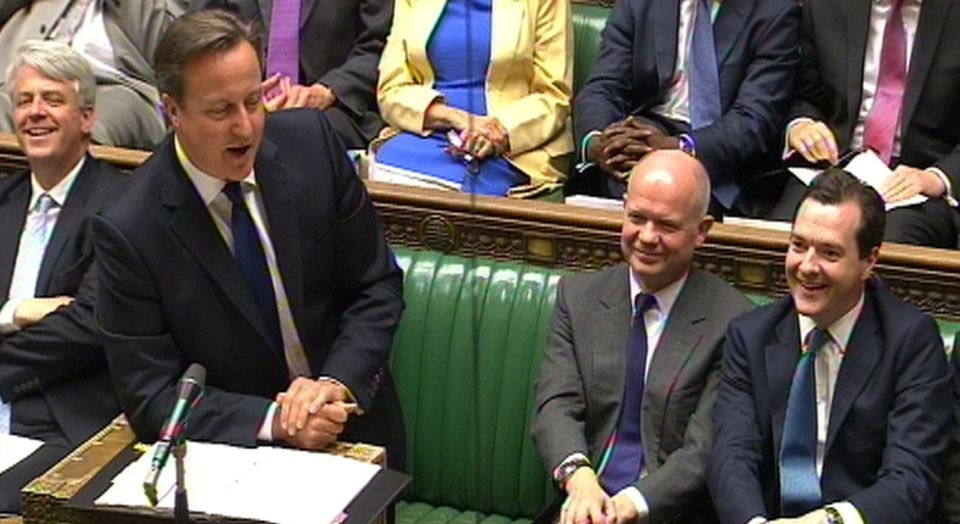 Contrary to recent reports, the problem with parliamentary politics in the UK (and elsewhere) is not that there is too much 'testosterone-fuelled screeching and shouting' by 'yob' MPs indulging in 'Punch and Judy' tactics. It is that there is not enough forceful or ballsy debate, too few heavyweight political punch-ups worth watching.
John Bercow, the speaker of the Commons who chairs parliamentary debates, put this old chestnut back in the fire this week. He said of the exchanges between party leaders at the weekly Prime Minister's Questions (PMQs) that 'there are people who think culturally the atmosphere is very male, very testosterone-fuelled and, in the worst cases, of yobbery and public-school twittishness'.
Bercow implied that this was what put the general public and especially women off politics. Noting with regret that 'some very good female members of parliament on both sides' are leaving the Commons at the next election, he suggested that women are generally 'less inclined to screech and shout'. No doubt Mr Speaker had in mind his famously non-shouty and publicity-shy wife, Sally.
Bercow is a widely derided buffoon, but on this issue at least he has struck something of a chord. His attack on 'testosterone-fuelled' PMQs was greeted with loud shouts of 'hear, hear' by pundits who have long complained about 'braying' MPs shouting 'hear, hear' after every intervention by their leaders. As Bercow says, the Tory prime minister, David Cameron, has previously called for less 'Punch and Judy' politics in parliament, while Labour leader Ed Miliband says he wants a 'more rational' PMQs. So Bercow has written to the party leaders, asking for their views on how PMQs might be toned down to make parliamentary debate more palatable to 'the next generation of voters'.
There are many profound problems with British politics and politicians today. Yet this incident confirms that the political-media class retains the ability to identify the wrong problem, and then propose a solution that is likely to make matters worse.
The desperate state of parliamentary debate is a problem of content, not style. It is not that MPs shout, but that they have nothing worth shouting about. The demise of the old politics of left and right, and the failure of anything else of substance to emerge as a replacement, has reduced party politics to an ideology-free, principle-lite affair of managerialism and 'personalities'.
Devoid of big ideas with which to do battle, the set-piece exchanges between politicians at PMQs have become little more than a swapping of toothless sound bites, bad jokes and petty insults. That does indeed present an unedifying spectacle to the public. But it is only a symptom of a far deeper sickness in the body politic. Swapping the loud boorish behaviour and 'public-school twittery' for the quiet boredom of accountancy seems unlikely to make politics more inspiring.
The focus on the weekly 30-minute ritual of Prime Minister's Questions as the be-all-and-end-all of political debate is itself a sign of the times. Although it is often talked about as an historical parliamentary tradition, the modern form of PMQs only dates from 1961. The stage-managed clash of personalities between the prime minister of the day and the leader of the opposition has grown in importance as the scale of political life has shrunk. Politics has become more about making a noise in the media than leading movements in society. And the bunfight at the PMQs corral, which was recorded from the Seventies and televised from the Eighties, has become the one aspect of parliamentary politics guaranteed to make the news. Little wonder that it was Tony Blair, New Labour premier and master of showbiz politics, who changed Prime Minister's Questions from a twice-weekly 15-minute debate to one 30-minute media-focused blockbuster.
Yet it would be wrong to imagine that loud 'testosterone-fuelled' arguments at PMQs are entirely new. In the past, they could often be heated affairs. The difference was that there were real political principles and differences at stake, which meant the debates could generate light as well as heat. Whether in opposition or in government from 1963 to 1976, Labour leader, grammar-school boy and political 'yob' Harold Wilson tore into the other side, ridiculing Tory grandee and public-school twit Sir Alec Douglas Home and hammering Home's successor as Conservative leader, Edward Heath (another grammar-school boy). Grammar-school-girl-turned-Tory-prime-minister Margaret Thatcher hardly fits Bercow's idea of the delicate female MP, often seeming at her sharpest and shrillest while exchanging fire across the Commons during PMQs.
Nor is there necessarily anything wrong with using barbed insults to drive home a political point with some wit and pith. Back in 1990, the political instability in the Tory government was famously captured when new leader John Major stood up to take his first-ever PMQs, and veteran Labour leftie Dennis Skinner immediately shouted 'Resign!'. The problem arises when the silly jokes and insults become a substitute for making a political argument rather than a means to that end.
No doubt there are plenty of 'public-school twits' in parliament today; Cameron is the first Tory prime minister in 50 years to have gone to public school, just as Blair was Labour's first public-schooled PM in half a century. But the problem is less where the political elite came from than where they sit now, as members of a self-serving technocratic cross-party oligarchy that has no political roots in society and stands for little more than in its own perpetuation. Hooting like overgrown schoolboys for half an hour a week during PMQs is the closest most of them ever get to having a debate.
As for the supposedly 'feminist' argument that 'testosterone-fuelled' PMQs put women off politics: what could be more demeaning to women MPs than the notion that they are pathetic and delicate flowers incapable of holding their own? Just as the idea of making public arenas more 'female-friendly' has been used as the excuse to sanitise football, so it seems Bercow and Co would now like to use it as a pretext further to sanitise parliamentary politics.
There are problems with the empty charade of mainstream politics so profound that it might seem the only possible solution would be to tear the House of Commons down and start again. But none of these problems are going to be addressed by ordering MPs to improve their etiquette and mind their PMQs.
Mick Hume is spiked's editor-at-large. His book, There is No Such Thing as a Free Press… And We Need One More Than Ever, is published by Societas. (Order this book from Amazon(UK).) Visit his website here.
Picture: PA
To enquire about republishing spiked's content, a right to reply or to request a correction, please contact the managing editor, Viv Regan.