Hollywood's ignorant crusade against fracking
Phelim McAleer's FrackNation drills into the myths promoted by Gasland and its celebrity fans.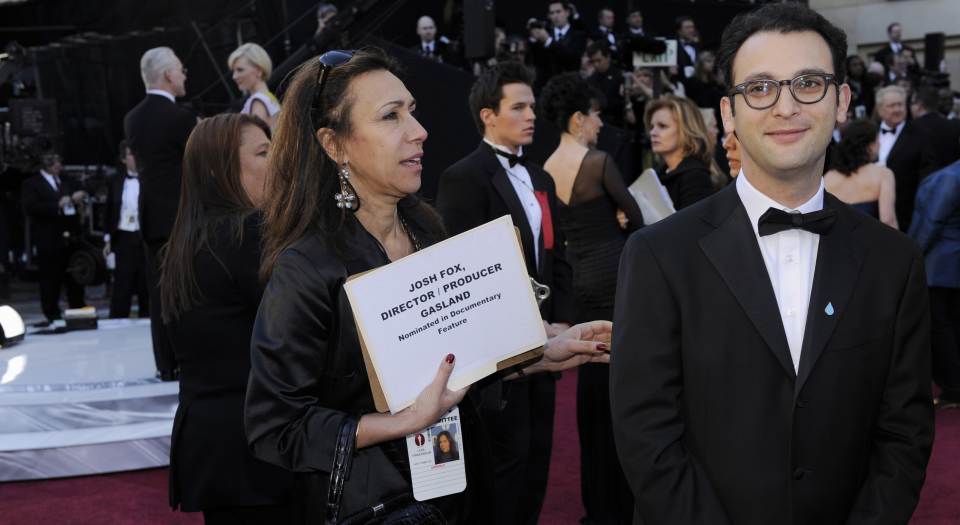 'I don't usually like the term, but with this the science really is settled', insisted Phelim McAleer during the Q&A which followed a special screening of his new film FrackNation in Westminster on Tuesday afternoon.
With a soft Northern Irish lilt, loose-knitted pullover and pork-pie hat, you could be forgiven for thinking McAleer had just stepped out from behind a bookie's board at Cheltenham racecourse. But flanked by event host David Davies, Conservative MP for Monmouth, he cut a calm yet assured figure on the hotly debated issue of shale-gas extraction in front of the formally dressed audience.
Similarly low-key is the way FrackNation reached this stage. Utilising crowd-sourcing website Kickstarter, the film was produced with the help of over 3,000 members of the public pledging an average of less than £40 each, with only one contributing more than £3,000.
This is in stark contrast to the unwitting star of McAleer's film, the flamboyant, rhetoric-heavy Josh Fox, director of the 2010 Oscar-nominated anti-fracking film Gasland and darling of Hollywood celebs and pop-music stars.
With Gasland as his guide, McAleer makes a trip to meet the residents of towns that Fox claims to have been contaminated by fracking. McAleer runs his photographic sword through the regularly discussed fears of poor water supply, earthquakes, environmental damage, cancer-causing agents and locals being pressurised by big industry.
In one early but central section, McAleer interviews Craig Sautner – the same figure at the heart of Gasland's most eye-catching scene of methane-fuelled flames bursting out of muddy brown water from a kitchen tap – to fact check the state of the water supply in Dimock, Pennsylvania. Sautner seems reluctant to allow a sample to be taken directly from the tap for analysis.
Instead he offers – Blue Peter-style – some that he tapped earlier. After being persuaded by his softly spoken Irish interviewer to provide what is being supplied to his home that day, the result is crystal clear and plainly uncontaminated. 'It changes from day to day; one day it will be clear, the next it won't', he nervously explains.
We also meet Sautner's wife later in the film stopping her car in a chance encounter with McAleer and – perhaps piqued by his interview with her husband – sinisterly making it clear she is carrying a gun, before calling the police and complaining of harassment. Later still, we see an Environmental Protection Agency film of the couple becoming strangely upset when it is revealed to them that their water has been thoroughly tested and declared safe.
One could find sympathy with a theory of state conspiracy with the backing of gas companies if it were not evident that Gasland's star turns are clearly dubious witnesses. Craig Sautner claims that of the chemicals found during independent testing of his water, there were 'three types of uranium, two of them weapons-grade', which must be deeply depressing for Iran and their sizeable investment in cultivating weapons-grade uranium. Clearly, all the Iranian government needed to do was to import supplies of groundwater from Pennsylvania!
Not that Sautner has ever revealed the test results to anyone, according to the other residents of Dimock, who are McAleer's next port of call. By contrast, Dimock's residents are supremely content with the issue of fracking in their community, and reject what they see as hyped-up scare stories.
So, too, are the residents of the Delaware river basin, another community where detractors of fracking don't live. FrackNation features interviews with half a dozen resident farmers who had signed agreements as part of a consortium of 1,100 land owners covering over 100,000 acres. As they describe how Josh Fox's anti-fracking campaign forced a moratorium on the industry, frustrating local hopes of economic revival, they are visibly moved almost to tears. More than one of these land owners declared that their business was in imminent danger of closing without the extra income derived from what they are convinced is unobtrusive shale-gas exploration on their land.
One by one, FrackNation challenges the claims made by Gasland and finds them to be fraudulent or exaggerated. Whether it be faked scientific studies, anecdotes presented as fact but later revealed to be fallacious, or environmental emotion replacing calm objective inspection of data, the film poses some pertinent questions.
McAleer's commentary encourages us to believe that the glamorous anti-fracking campaign is one which sees the hopes and dreams of thousands of people ruined by others who have no link to the land in question. Not so much NIMBYs as NITBYs (not in their back yard).
There are certainly plenty of questions raised by this film, but Josh Fox and his followers clearly don't have the appetite to answer them. McAleer himself attempts to interview Fox by telephone and in person, only to suffer his credentials being questioned, being cut off by Fox when called, and being forcibly thrown out of a glittery Los Angeles Hammer Museum event by security at Fox's request.
Why there is such reticence to debate rationally something so important to our future as fracking is difficult to understand. The landowners in FrackNation draw comparisons between Fox and his luvvie mates and a 'progressive' elite one per cent lording over the 99 per cent. Unfortunately, the 99 per cent, the farmers in this case, were excluded from Gasland Part II, which Fox released last April. If there is a debate to be held on fracking – and FrackNation suggests there should certainly be one – it appears we are to be made to wait until highly privileged ideologists decide they are ready for it. Instead, we are seeing a stateside aristocracy adopting the morals of Marie Antoinette without the courtesy to address valid complaints from the majority of the ordinary people they claim to be protecting.
I would disagree with McAleer that the science is settled; no science is ever settled until argued out in the public realm with full disclosure of the data on all sides. But when the detractors of fracking are a collection of loosely informed celebrities corralled by Josh Fox – entertained with champagne receptions, shielded from dissent, and in control of a media mesmerised by the cult of celebrity – the science will never be tested.
How can it be properly tested when a claim as patently false as 'three types of uranium, two of them weapons grade' doesn't raise so much as an eyebrow among journalists, filmstars and pop singers?
FrackNation is a film which should be viewed as a counterpoint to the emotional debate being played out to the world by those who should be more diligent. Every aspect of such a promising source of future energy supply should be discussed at length rather than be left to Hollywood's glitterati to decide on our behalf.
McAleer himself seems resigned to this marginalisation. Despite water burning from American springs since the eighteenth century – attested to by Burning Springs being a familiar town name well before shale gas had been discovered – his Q&A was circumspect about an outbreak of rationality when he posed a question without an obvious answer: 'Who can fight against a flaming faucet when Susan Sarandon is telling you about it?'
While HBO, the Academy of Motion Pictures and Fox's well-to-do pals lauded both Gasland and Gadland II, McAleer is more circumspect about his chances of being widely heard.
'My agents are working on selling the film', he says, calmly. 'I hope it will be available here soon.' For someone presumably being painted as an industry-backed Goliath who should be ignored, his small crowd-funded voice is – sadly for informed debate – currently more like David without a sling.
Martin Cullip is a columnist for the Free Society.
Watch clips from FrackNation:
Picture: Mike Groll/AP/Press Association Images
To enquire about republishing spiked's content, a right to reply or to request a correction, please contact the managing editor, Viv Regan.