Who's to blame for the floods? Maybe no one is
There's something backward about the hunt for the one thing or person who might be blamed for England's flooding.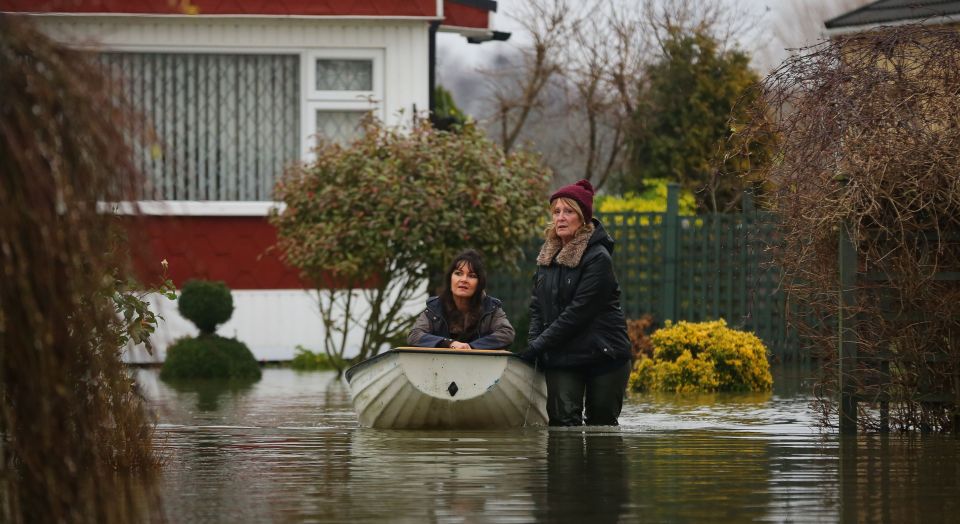 Floods in the UK are getting worse. There's not much we can do it about it. It's caused by climate change, which in turn is caused by human beings. It's payback time.
There you go. In one paragraph, I've saved you having to read British newspapers or watch British TV news for the next few days. Of course, the recent flooding is a nightmare for those affected. It's also a dream for lazy TV news editors who want to plonk their reporters in front of some interesting backdrop offering trite statements about a human-interest story. But the discussion about the causes of the floods and whether we can – or should – do anything about them is rather more worrying than TV's dumbed-down 'news values'.
The rainfall over the past two months certainly appears to have been exceptional. The jet stream, a band of winds six miles up, is currently flowing faster than usual. It is driven by the temperature difference between the areas north and south of it; this temperature difference has been particularly large this year. In North America, the oddities of the jet stream are bringing unusually cold weather. In Europe, it means stronger-than-usual storms and heavy precipitation – rain in relatively mild Britain, Ireland and France, snow further east. The centre of Ireland's second city, Cork, has been flooded and severe gales have battered France; tens of thousands of homes in Slovenia lost electricity after heavy snowfalls. In the UK, parts of the western county of Somerset have been flooded for weeks and now flooding is spreading east along the path of the river Thames to areas west and south of London.
A briefing published by the UK Met Office earlier this month highlights just how unusual the weather is at present. 'Although no individual storm can be regarded as exceptional, the clustering and persistence of the storms is highly unusual. December and January were exceptionally wet. For England and Wales this was one of, if not the most, exceptional periods of winter rainfall in at least 248 years. The two-month total (December + January) of 372.2mm for the south-east and central southern England region is the wettest any two-month period in the series from 1910.' It's the conveyor belt of stormy weather, rather than any particular individual event, which is causing the problems. The ground is already soaked and rivers are already high; further rainfall has nowhere to go but out on to the flood plains.
However, a quick look at the Met Office briefing shows that while rainfall in southern England in January was very exceptional, it is hard to glean any particular overall pattern – other than that rainfall is very variable.

January rainfall, southern England, 1910-2014
source: Met Office
Indeed, just two years ago, Britain was in drought. Consecutive winters of below-average rainfall had left water companies enforcing restrictions on supply. Then the heavens opened, and it seems to have barely stopped raining since. So how on earth did the head of the Met Office, Dame Julia Slingo, conclude that while there was 'no definitive answer' to what caused the storms, 'all the evidence suggests there is a link to climate change'? Indeed, Slingo is not alone in her assessment. The prime minister, David Cameron, said in January that he 'suspected' climate change was behind the floods. Labour leader Ed Miliband declared that climate change was sure to bring 'more flooding, more storms'. Yet less than a year ago, scientists were assuring us that climate change would lead to more droughts in the future in the UK.
As for actually doing anything about flooding, there seems to be considerable disagreement about what, if anything, can be done. Locals in Somerset seem pretty clear that the lack of dredging of rivers in recent years – reducing the carrying capacity of the rivers by half, meaning that the speed at which water is taken out to sea has been reduced – has been a contributory factor. Yet experts seem keen to pooh-pooh this idea. Some seem to think dredging is useless; others think it is not enough on its own (which seems more plausible). Some seem more concerned with the possible effect of dredging on biodiversity than any benefits from reduced flooding.
Indeed, claims were made at the weekend that it has been deliberate policy to allow areas like the Somerset Levels to flood precisely as a cheap way of creating interesting natural habitats. The Mail on Sunday quoted an Environment Agency report which suggested that water management policy should be to 'take action to increase the frequency of flooding to deliver benefits locally or elsewhere'. In other words, keeping floods off the area would be expensive and allowing them to flood would keep water away from other areas. I'll bet that notion was popular down in Somerset.
Others are happy to heap blame on developers and home owners for foolishly building houses and businesses on flood plains. But this is simply to focus on one level of the problem. We need more room to build affordable housing on. That means, among other things, building on flood plains. What is needed is joined-up thinking to enable such land to be safely built upon, whether that means better flood defences nearby, better drainage both locally and in the hills upstream, and better house design. The question is not should we build on flood plains. The question is how we can make use of more land without subjecting those who live there to regular flooding problems. In any event, there are plenty of older towns that have experienced flooding in recent years, too. It is not a problem exclusive to Barratt homes on previously undeveloped river banks. But the message about building on flood plains has a certain unpleasant connotation at the moment: those flooded-out people got what they deserved.
Ultimately, there is, at best, a bit of a general shrug in the corridors of power about development. Building stuff is simply regarded as 'unsustainable'. Mitigating greenhouse gas emissions – at great cost – has become the obsession, at the expense of improving our ability to cope with whatever the climate throws at us. At worst, extreme weather – drought, flood, heatwave and freeze – is regarded as penance for our temerity to put our muddy great eco-footprints on the face of the planet. The reactionary consequences of such thinking are there for us all to wade through now.
Rob Lyons is associate editor of spiked.
Picture: Gareth Fuller/PA Wire/Press Association Images
To enquire about republishing spiked's content, a right to reply or to request a correction, please contact the managing editor, Viv Regan.