The culture war against circumcision
What a terrible irony that this age-old Jewish practice is being attacked in the language of human rights.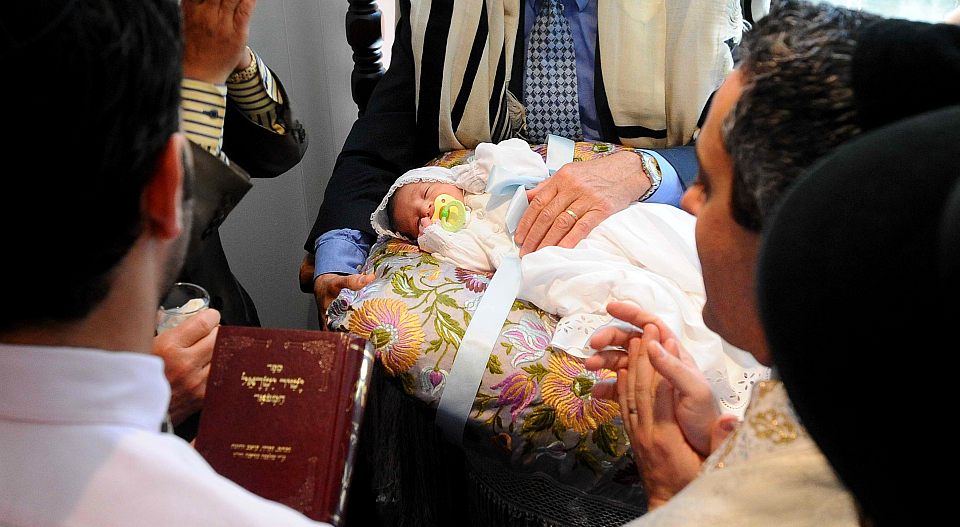 Of all the forms that the new, cultural anti-Semitism takes, the anti-circumcision movement might be the most pernicious. In the past year alone, several European countries have taken steps towards outlawing religious circumcision.
Last month, the ethics council of the Swedish Medical Association passed a resolution condemning the practice of male circumcision before the age of 12.
The Danish College of General Practitioners issued a statement condemning non-medical circumcision as 'abuse and mutilation'.
In 2012, and again in 2013, regional courts in Germany tried to ban or impose restrictions on religious circumcision.
In 2013, the Council of Europe called for states to 'promote further awareness of the risks of non-medically justified circumcision'.
In the United States, too, where routine circumcision is more common, groups of 'intactivists' – campaigners who think the male penis should remain 'intact' – argue that circumcision is a human-rights violation. They stage marches for 'genital rights' and recently picketed the home of Susan Blank MD, chairwoman of the American Academy of Paediatrics' Task Force on Circumcision.
In 2011, San Francisco-based intactivists narrowly failed to obtain a referendum on a law that would have made it illegal to 'circumcise, excise, cut or mutilate the whole or any part of the foreskin, testicles or penis of another person' under the age of 18, under penalty of a fine or imprisonment.
The most remarkable thing about these attacks is not that they effectively aim to end Judaism, by outlawing a practice that has been absolutely central to the Jewish faith since the time of Abraham. Nor is it that activists always seem to single out Jews, who circumcise their sons on the eighth day after their birth, smugly dismissing their religion as an 'excuse' for child abuse. It is not even the revival of grotesque caricatures of Jews lusting for the blood of innocent babes, which have appeared in respectable newspapers and in campaigners' literature.
No, the most disturbing and ironic aspect of these attacks is that that they are carried out in the name of human rights.
As Frank Furedi, has argued previously on spiked, this is not the first time that Jews have been rounded on for their practice of circumcision. But it is the first time that circumcision has been portrayed as a human-rights violation. It is deeply ironic that this aspect of contemporary cultural anti-Semitism should be couched in the language of human rights, because it was moral revulsion against the Holocaust, against that most terrible act of anti-Semitism, which gave rise to the modern notion of human rights and to the international human-rights movement.
From the 1970s onwards, but especially in the 1990s, the Holocaust has become increasingly important in Western societies, not just as an event to be commemorated but also as symbol of moral depravity. The suffering of the Jews has come to be seen as more than an expression of anti-Semitism – it is now treated as emblematic of an eternal truth about man's inhumanity to man, as a moral absolute.
Commemorations of the Holocaust have become ubiquitous in contemporary culture, with an explosion in the number of Holocaust museums, books and films. And yet, allowing the Holocaust to slip the bonds of history and become some eternal truth has created pressure to label other examples of large-scale suffering as genocide, too.
Events in Rwanda, Bosnia, Cambodia and Darfur have all been labelled genocides and there are more on the way, apparently. The human-rights organisation Genocide Watch has developed a helpful eight-stage theory to identify countries at risk of genocide. In its 2012 report, it identified nine countries engaged in genocide and said another 11 were teetering on the brink.
In this way, the extermination of the Jews in Europe has become just one genocide among many. Is it any wonder, then, that some people feel comfortable characterising the Israeli treatment of the Palestinians as being 'just like' what the Nazis did to the Jews?
If the Holocaust was pure evil, human rights has been presented as its moral opposite. The rhetoric of human rights is filled with references to the Holocaust and genocide. Former UN secretary-general Kofi Annan has gone so far as to claim that it was the Holocaust that was the driving force behind the Universal Declaration of Human Rights – even though consciousness of the Holocaust was not widespread in 1948, when the declaration was adopted.
Much in the same way that anything associated with genocide is unquestionably bad, today anything justified on the basis of human rights is presented as unquestionably good. Often, the authority of being horrified by the Holocaust is used to drive all sorts of human-rights campaigns, including the invasion of nations judged to be edging towards 'genocide'. And now, human rights, infused with anti-Holocaust rhetoric, are being turned, in a terrible irony, on a key Jewish practice.
Today's anti-circumcision campaigners genuinely don't see how their campaign could be construed as anti-Jewish. On the contrary, they are quick to argue that they aren't anti-Semitic and they will often point to the debates within Reform Judaism about the meaning and necessity of circumcision. Even Matthew Hess, the artist responsible for the intactivists' comic Foreskin Man, in which a muscular blonde superhero battles to save a baby boy from a sinister Orthodox rabbi known as 'Monster Mohel', insists: 'Foreskin Man is neither anti-Semitic nor anti-physician. But those who cut innocent children will be drawn like the villains that they are.' He says of his efforts to pass the Male Genital Mutilation Bill in San Francisco: 'We're not trying to be anti-Semitic. We're trying to be pro-human rights.'
That religious freedom can be trivialised in this way really shows how empty and degenerate the concept of human rights has become. We should never forget that it took years of struggle and the sacrifice of untold lives to win the right to worship as we choose. And above all, we should understand that for Jews, who are at once a people and those of a faith, the right to carry out circumcision represents nothing less than the right to exist.
This is the strange and worrying situation we have now ended up in: instead of serving as a warning of the consequences of anti-Semitism, the transformation of the Holocaust into an ahistorical moral absolute has created a rationale for indulging new forms of that prejudice today.
Nancy McDermott is a writer and mother based in New York.
Picture by: Noah Berger/AP/Press Association Images
To enquire about republishing spiked's content, a right to reply or to request a correction, please contact the managing editor, Viv Regan.