Well-off NGOs celebrating tribal poverty
Survival International's 'proud not primitive' campaign celebrates hardship and backwardness.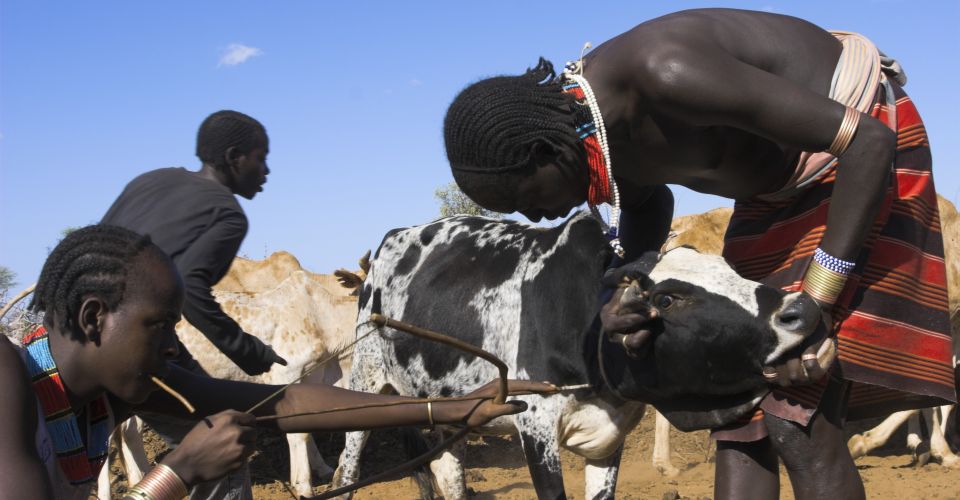 Last week, the president of India, Pranab Mukherjee, criticised what he saw as the failed attempts to assimilate tribal communities into mainstream society. The self-appointed global representative of indigenous populations, Survival International (SI), was quick to seize upon Mukherjee's speech. This was a chance, as SI saw it, to promote its 'proud not primitive' campaign. SI asserted that tribal peoples, including the specific object of Mukherjee's speech, the Jarawa community of the Andaman and Nicobar islands, should be viewed not as backward but as exemplary.
SI professes to support tribal peoples' right to live on their own terms, but that's not what's really going on. Instead, SI is treating tribal people as mere props in its own crusade against modern life. It is projecting its own present-day anxieties about obesity, consumption, wealth and the environment on to tribal peoples.
SI's 'proud not primitive' campaign was launched in India late last year to challenge prejudice against tribal peoples and their way of life. According to the campaign, 'tribal peoples are not stuck in the past but have every reason to be proud of the self-sufficient and sustainable ways of life they have developed over generations'. The aim of the campaign is to 'change the way tribal people are viewed' as backward or needing development. 'Is development possible by destroying the environment that provides us with food, water and dignity?', a tribal man is cited as saying. According to SI, 'studies have shown that tribal people on their own land are some of the happiest in the world'.
Despite making such claims, SI doesn't really tell us anything about tribal peoples. Rather, what the 'proud not primitive' campaign really showcases are the prejudices and preoccupations that underpin the work of various Western and Indian do-gooders, activists, advocacy groups and NGOs. SI is effectively peddling all the ideas that have become so fashionable in the past two decades: small-scale subsistence living, organic food, basic-needs thinking… It's all there, topped off, of course, by the 'poor but happy' argument that justifies keeping tribes in their impoverished place.
These ideas are now also enshrined in international development policy and practice – as one look at the websites and projects of the UK government's Department for International Development or charities such as Oxfam and Action Aid will tell you. So when SI uses terms such as 'sustainable' and 'self-sufficient' to describe tribal life, it is really attributing its own ideas of development to groups that happen to depend on nature for mere survival. For instance, tribal people living in forests directly depend on leaves, fruit and herbs to survive. It is not a conscious lifestyle choice arising from a desire to be healthy, or to live sustainably. Yet what is probably a boring and hard life for these groups is dressed up as 'healthy living' by SI. It even warns that a change in lifestyles and diet could cause obesity. Imagine the horror of switching from roots and berries to evil processed food!
SI's 'proud not primitive' campaign is not really about tribal people exercising a degree of choice; it's about SI advocating a romanticised vision of tribal life. When it declares that a nomadic Maasai tribe is as happy as the world's richest billionaire, it is really making a value judgement about Western society, and the value it attributes to wealth, entertainment, convenience and comfort. At least SI is clear in stating its worldview: 'progress kills', it says, ignoring the fact that material progress has provided Western NGOs with the means to exist.
Campaigns such as SI's are disingenuous and problematic. They often use complex Third World issues as a vehicle for furthering NGOs' and activists' own anti-development agendas. Hence the 'proud but primitive' campaign concludes that tribes are being displaced and having their land appropriated because they are viewed as primitive. In truth, acquiring land in the developing world involves a complex range of factors, from compensation, communication, governance and migration to the conflicting interests of various stakeholders.
But self-righteous NGOs, international and local, are happy to do away with the nuances and instead use tribal peoples as a stage army to obstruct all manner of projects, be they mining or forestry, within India and elsewhere – the NGO-backed opposition to the Narmada dam project in western India, which delayed construction for years, is a perfect example of this tactic.
Contrary to the image presented by Survival International and others, tribal people are not a homogeneous group of nature-loving noble savages. The Indian government has reserved spaces in higher education and government services for tribal groups, presumably because many aspire to a life outside of the forest. In Indonesia, too, many individuals identify themselves ethnically as 'indigenous' but run successful businesses or work as executives in cities.
The NGOs behind campaigns like 'proud not primitive' may claim to be campaigning for tribal and indigenous peoples to be able to make their own choices about how they live. But, in reality, they are effectively campaigning for a particular way of life. So while SI opportunistically cherry-picked aspects of the Indian president's speech to support its own views, it missed the context. The president was admitting that, historically, forced assimilation of very isolated tribes, like the Jarawa, had failed and that the government needed to rethink its policies. The government of India and the Andaman and Nicobar administration even announced they would jointly take steps to meet the health and medical requirements of the Jarawa.
The state should not force tribal peoples into mainstream society, but nor should policy be guided by a desire to preserve tribal lifestyles. After all, a tribe is not a rare animal or plant specimen that needs to be preserved. If, as SI argues, tribal peoples are dynamic groups, then it should stop patronising them. It certainly should not claim to speak for them in a language that describes its own agenda. SI thinks that it is a twenty-first-century prejudice to make a distinction between 'modern' and 'backward'. I would counter that it is a twenty-first-century disillusionment with modernity which makes a virtue out of a primitive way of life.
Sadhvi Sharma is a PhD student in the Rajaratnam School of International Studies (RSIS) at the Nanyang Technological University in Singapore.
To enquire about republishing spiked's content, a right to reply or to request a correction, please contact the managing editor, Viv Regan.