A war the Yid Army must win
Why all football fans should back the right of Spurs supporters to be Yiddos.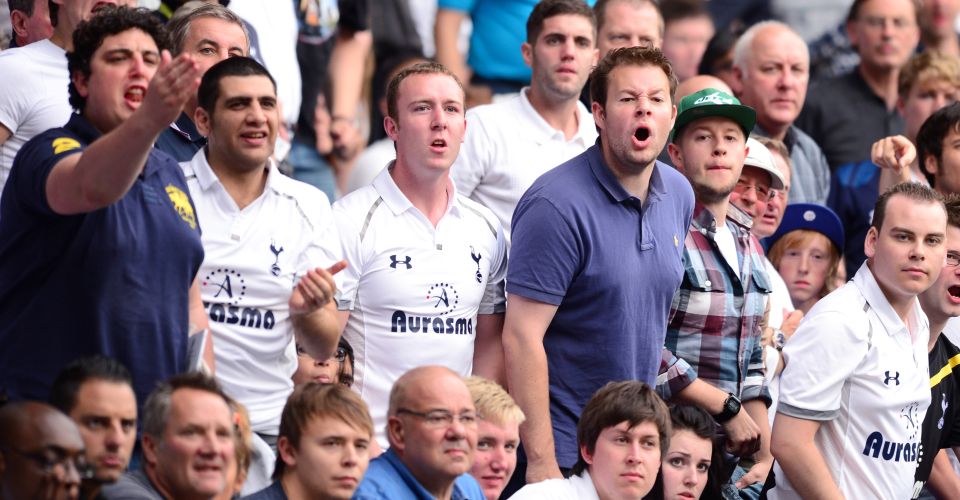 I'm going to make three quick points. The first is that when it comes to the meaning of words, context does matter. It matters who is using a word, the reasons for using a word, and the intent behind using the word. This applies to the word 'nigger', for instance – there's a difference in meaning between a black person using it with a friend, and a white racist using it. And it certainly applies to Spurs' fans use of the words 'Yid', 'Yiddo', 'Yid Army', and so on. It's been said before, but it's worth restating: Spurs fans use the word Yid as a positive form of self-identification, not as a term of anti-Semitic abuse. In the mouths of Spurs fans, Yid is an affirmative word, not a negative one. They greet their favourite players, from Glenn Hoddle to Les Ferdinand, with the chant 'Yiddo' – and the players, recognising that it means they're loved by the fans, embrace it. That's how positive a word it is. Players don't experience Yiddo as an insult; they want to be Yiddos.
Of course, Spurs fans are aware of the potential negative connotations of the word. During the 1960s and 1970s, Spurs, a club that historically had a large Jewish fanbase, were routinely taunted by opposition fans as 'Yids'. Their response was to take the taunt and adopt it as their own. They turned a term of terrace abuse into a term of terrace pride. For Spurs fans, there is something inspiring about the moment when they're all singing and chanting 'Yid Army'; it's that empowering, quasi-tribal moment that all football fans love, the moment when you feel part of a collective, something larger than yourself, something empowering – especially if your team's winning.
The second point is to concede that, yes, in the mouths of Chelsea fans or West Ham fans or Leeds United fans, Yid is a term of abuse. Likewise, the hissing which some fans have indulged in to evoke the gas chambers does play upon Spurs fans' self-identification as Yiddos. Like Liverpool fans singing and gesturing about the Munich air disaster to Manchester Utd fans, hissing at Spurs fans is meant to be offensive. It is meant to taunt and wind up the Yids. But here's the thing – when opposition fans use the Y-word and its various associations, they do so in the context of a footballing rivalry, not the context of a social conflict – it is 90-minute bigotry, not actual bigotry.
For campaigners against rude words at football matches this may seem hard to believe, but outside of the context of football, Spurs fans and Chelsea fans are also workmates and, yes, incredibly, friends. An Arsenal fan doesn't hiss at his Jewish mate at the pub, and a Spurs fan probably doesn't introduce himself to clients by saying, 'Pleased to meet you, I am a member of the Yid Army'. So, yes, in the context of football, I'm sure that Chelsea fans do hate Spurs fans. I'm sure that, as the Spurs-v-Hull City score is read out at the end of a game at Stamford Bridge, some fans do say 'I hate the fucking Jews'. But that doesn't make them anti-Semitic; it makes them anti-Spurs.
My final point is to call for an end to what this particular campaign against the use of the word Yid is part of: that is, a pompous, self-aggrandising crusade against football fans in general. This crusade may come dressed up in the moral-sounding language of anti-racism or anti-homophobia or whatever. But beneath the right-on veneer there lurks something else: a sort of middle-class incomprehension and even loathing of English football's traditional working-class playerbase and fanbase.
They just don't seem to get football. They just don't seem to understand what every football fan knows – that there is a difference between football and everyday life. A football match is a chance to throw oneself into something apart from the rest of one's life. It's a chance to become a Yiddo, a Gooner, a Villain or a Kopite. And in that role, as a fan, you don't really like other teams. You even hate some of them. And so at a match, people act and speak in a way they wouldn't in a lecture hall, say. They sing obscene songs, they shout abuse, and sometimes they question whether so-and-so's missus likes it up the bum. Nobody behaves like this normally, because the realm of football is not normal. It's a place apart from normality, a place where people can express a peculiarly football-framed passion, where everyday standards of etiquette don't apply. And that's what's so dispiriting about the demand for Spurs fans to watch their Ps and Qs: it forms part of a larger effort to suck the passion out of being a football fan.
Because that is the result of these campaigns to stop fans using certain words; they censor and inhibit fans' freedom to be foul-mouthed. Yes, this is free-speech issue. Stopping Spurs fans from using the word Yid on the grounds that it offends a few thin-skinned observers will only further sanitise the already over-policed domain of football. It will help to turn a once raucous, X-rated theatre into the kind of dull, family-oriented afternoon of organised fun most adults would be desperate to avoid. Especially if the football's on.
Tim Black is deputy editor at spiked. This is an edited version of a speech given at University College London's Union Debating Society on 13 January.
To enquire about republishing spiked's content, a right to reply or to request a correction, please contact the managing editor, Viv Regan.