2013: the space race goes East
While the West dismisses space exploration, India and China are making giant leaps for mankind.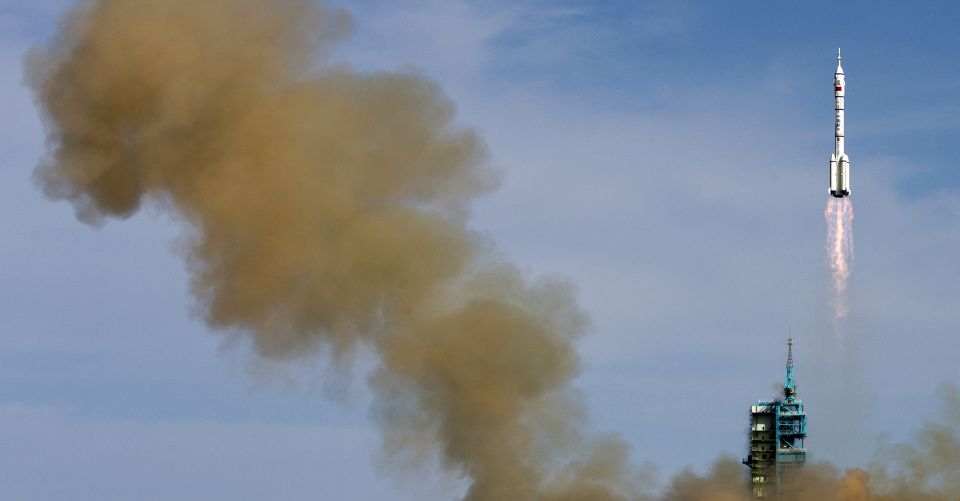 This month, one of the most significant events of 2013 took place: China achieved the first soft-landing on the moon for 37 years. That's right, for almost four decades no other country has considered putting anything so much as a wheel on Earth's nearest neighbour. But that all changed when China's Chang'e Number 3 rocket and its Jade Rabbit rover landed in the moon's Bay of Rainbows.
According to the New Scientist, China's landing could herald a 'modern moon rush', as countries rush to explore the moon, examine what minerals are available, and also look for important clues about the moon's development, the development of Earth, and even of life itself.
Such lunar explorations have been made more feasible by the discovery in 2009 of millions, if not billions, of tonnes of frozen water on the moon. This allows for the establishment of moonbases, since astronauts could potentially use the water as both drink and fuel. This would open up the possibility of using the moon as a starting point for trips further afield, to Mars maybe. And who made the important discovery of water on the moon? Russia? Europe?
Actually, it was India, another eastern nation venturing into space. India's Chandrayaan-1 mission, the nation's first-ever visit to the moon, found water concentrated at the moon's poles. India also deservedly made headlines in November this year for launching a probe to Mars, which – if all goes to plan – is due to orbit the Red Planet next year and look for signs of methane (a tell-tale sign of life), while also attaining a greater understanding of the Martian atmosphere.
Both India and China are intent on boldly going where no man has gone for a long time. But their ambitions have been greeted, not with applause, but with sneers and criticism from many in the West. On the US Daily Show, host Jon Stewart mocked China for not realising that it was no longer 1957. 'China soft-landing an unmanned rover now is like those people on crutches or in bear suits who finish the New York City marathon hours after everyone thinks the race is over', he mocked.
Stewart is not alone in thinking the race should be over. Many have questioned the priorities of these emerging economies that still have severe poverty at home. 'India's Mars "fantasy" defies earthly woes', declared the Financial Times, pointing out that India's announcement that it would send a rocket to Mars came in the same week that it suffered its worst-ever powercut.
Belgian economist Jean Drèze argued: 'I don't understand the importance of India sending a space mission to Mars when half of its children are undernourished and half of all Indian families have no access to sanitation… It seems to be part of the Indian elite's delusional quest for superpower status.' A London-based economist claimed India's space ambitions proved 'the Soviet-style "disconnect" between its superpower ambitions and its "largely Third World" reality'. In an article headlined 'How can poor countries afford space programmes?', The Economist asked rhetorically, 'What if the 16,000 scientists and engineers now working on space development were deployed instead to fix rotten sanitation?'.
With the reining in of the US space programme, and the Russian programme beset by budgetary concerns, the mantle of space exploration appears to have been passed to the East. Yes, China and India are currently only following in the footsteps Russia and the US made in a bygone era, but their ambitions mean that within a decade or two they could be strides ahead of past achievements. Both India and China are already planning to put astronauts on the moon by the early 2020s, with some experts predicting China will have a permanently manned moonbase within a decade or two.
This comes at the same time as the US has ditched its plans to return to the moon. America's greatest achievement in space this year was when Voyager 1 become the first manmade craft to leave the solar system and enter interstellar space. An amazing feat. But that voyage began in 1977.
China and India's space-age thinking is making Western critics feel uncomfortable. 'They're poor, so why are they repeating our past stupidities?', runs the logic. It would be far better if these countries just accepted their 'Third World reality' and swapped their space engineers for sanitation workers. The best retorts to these shallow criticisms have been coming from the developing countries themselves. 'The dream for lunar exploration once again lights up the China Dream', said one Chinese newspaper when Jade Rabbit touched down.
Jitendra Goswami, India's lead scientist on the Mars mission, was challenged by a BBC reporter who told him that the vast majority of tweets he had seen on India's space race were asking why India wasn't tackling poverty first. Goswami replied: 'We should not feel uncomfortable… This thing should inspire a certain group of people to do something even more than this… If the Mars mission is successful, every Indian child, whether in a village in Assam or on the streets of Delhi, can look up into the night sky and, when they catch a glimpse of the red glimmer of Mars, will know their country has been there.'
Should this Eastern space race continue, people of all nationalities will be able to look to the universe and take pride in the fact that mankind is still exploring it. The East is showing us that space exploration is not yet ready to be consigned to history textbooks.
Patrick Hayes is a columnist for spiked.
Picture: Andy Wong/AP/Press Association Images
To enquire about republishing spiked's content, a right to reply or to request a correction, please contact the managing editor, Viv Regan.