Gender segregation: Islamist crusaders on campus?
It isn't 'Islamofascists' who are destroying reason and Enlightenment.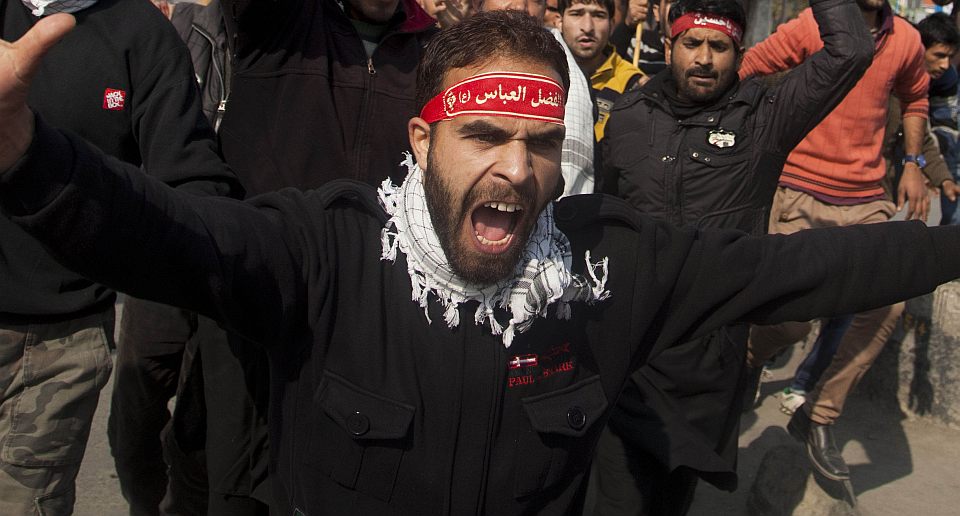 This weekend, as people mourned the death and celebrated the life of that enemy of apartheid, Nelson Mandela, I hope they spared a thought for the brave Brits currently waging war on another, apparently equally pernicious form of apartheid: gender segregation in universities. Certainly the critics of Universities UK's guidance on gender segregation on campus – which said it might sometimes be acceptable if an external speaker refuses to address a non-segregated audience – hilariously fancy that they are following in Mandela's footsteps.
So at last week's London demo against Universities UK's guidance, the hundred or so protesters promiscuously overused the A-word, waving placards saying 'End gender apartheid'. One news report pointed out that the protest was 'purposefully held… on the day of Nelson Mandela's memorial'. One of the speakers, from the feminist campaign group Southall Black Sisters, compared herself to Mandela. 'I stand here reminded of the heroic struggle waged against racial apartheid in South Africa', she said, 'and yet find myself protesting against another form of apartheid'. When UK Universities eventually withdrew its guidance, following the intervention of PM David Cameron, former Tory MP Louise Mensch wrote a celebratory column saying the anti-segregation campaigners had shown that all our Mandela tributes were 'more than words'.
Oh dear. This just might be the most cringe-inducing case of inappropriate moral equivalence of the whole of 2013. Let us try to segregate fact from fiction. Apartheid in South Africa was enforced on every single black person in the country, by law and brute force. The kind of gender segregation on British campuses that Universities UK was talking about is mostly voluntary and extraordinarily rare, being carried out at a handful of tiny Islamic Society meetings. Apartheid in South Africa lasted for 50 years. Universities UK's guidance on gender segregation on campus – no laws or diktats – lasted three weeks. Mandela and others spent the best part of 30 years in jail for daring to criticise apartheid. Our brave warriors against sex-divided meetings on campus spent two hours in the rain on a protest in Tavistock Square before eventually getting their way.
For the critics of Universities UK to compare themselves to warriors against apartheid in South Africa brings to mind the teenager who evokes William Wilberforce when his mum insists he tidy his bedroom. Indeed, the whole campaign against Universities UK's guidance on gender segregation has highlighted some big problems with what passes for humanism today. Largely led by those who define themselves as secular, rational, Enlightened critics of religious extremism and intolerance, the anti-segregation campaign has revealed that modern-day humanists understand little about where the true threat to Enlightenment values is coming from today, and are happier roleplaying in self-aggrandising dramatic re-enactments of earlier campaigns against authoritarian backwardness than they are getting to grips with the real forces currently denting reasoned universal values.
It is true that the advice of Universities UK – an advocacy organisation for all universities in Britain – was bad. The main moral error it made was to say that even public meetings on campus may potentially be segregated. This is unacceptable. It is one thing for religious groups and private societies on campus or off campus to practise gender segregation; that is their faith-based prerogative and no external force should have the authority to tell them to do otherwise. But it's another thing entirely for a meeting in the public sphere to be split along gender lines. In public settings, whether buses, cinemas, restaurants, universities, the world of work or town squares, people ought to be treated equally, and the beliefs of no religious or political group should be allowed to override such equality.
But what was telling about campaigners' reaction against Universities UK's advice was the speed with which they pointed the finger of blame for it at Islamic extremists. The problem, we were told, was not the moral relativism and Enlightenment-allergic tendencies of the body that represents British universities, but rather Islamic fanatics' powers of moral pollution, their ability to hold hostage even a body as august as Universities UK.
So one campaigner accused Universities UK of 'caving in to religious sexism and intolerance'. It is 'bowing to' the prejudices of religious groups, we were told. Our universities are 'kowtowing to hardcore fanatic Muslim groups', campaigners insisted. Universities UK's advice represents a 'capitulation' to 'religious fanatics', said one commentator. By this reading, the problem is not that those who oversee British universities have lost faith in universal values but rather that they have been got at, warped, tempted into the cesspit of intolerance by gangs of apparently very convincing fanatics.
So-called humanists have developed a tendency to externalise the threat to Enlightenment values, to depict the throttling that Enlightenment thought has received in recent years as something carried out by fundamentally foreign forces. It is always assumed that our institutions are generally okay and indeed would be in robust moral health if it wasn't for those pesky 'Islamofascists' – yep, humanists overuse that F-word as well as the A-word – making ridiculous demands and eventually getting institutions to 'kowtow' to them.
This, it seems to me, gets things utterly the wrong way round. The real issue today is not that small gangs of fanatics are forcing universities to ditch reason and universalism, but rather that universities' already-existing dearth of faith in reason and universalism acts as an invitation to such fanatics to try their hand, to make rash demands, to say, effectively, 'Who are you to judge how I behave?'.
It is Western society's own new culture of non-judgementalism, its fear of causing offence, its descent into the relativistic mush of believing that all belief systems are 'equally valid', which gives a licence to Muslim groups, and all sorts of outfits based on the narrow politics of identity, to demand that their way of life should never be criticised and should always be indulged.
When, for example, groups of Islamist hotheads demand the banning of a book that mocks Muhammad, they aren't injecting a foreign, Iranian-style intolerance into otherwise free speech-loving Britain – they're merely accepting the invitation to feel offended that has been issued by modern Western society itself, which constantly tells us that causing offence is bad, making judgements is harsh, and 'our way of life' is not necessarily superior to anyone else's. It is the mainstream's abandonment of the universal values of freedom and reason which ignites the opportunistic authoritarianism of fringe groups.
It's the same on campus. Islamic fanatics aren't bringing down the academy as we once knew it. Rather, it is the academy's own 30-year-old ditching of its one-time ideals – pertaining to liberal thought, democratic values, and the pursuit of knowledge through reason – which has given a green light to the development of more and more potty, unreasoned groups on campus.
Indeed, if Islamic finger-waggers think women aren't up to being exposed to certain ideas, then they're just as likely to have been influenced by recent trends on Western campuses as they are by the outpourings of some imam in Karachi – by trends which say that the literature produced by Dead White European Males is exclusive and sexist; that history is too male-dominated and we now need 'herstory' to make women students feel better; that men and women have different learning capacities, with men gruffly opting to imbibe as much info as possible while women apparently have a more empathetic relationship with facts and knowledge, and so on. If some Islamic Societies on campus think women are fundamentally different to men, they could just have easily picked that idea up from the relativistic, anti-universal, fundamentally knowledge-hostile ideas that have emanated from within the academy in recent decades as from the Koran.
Campaigners would have us believe that the problem with modern universities is that there are barbarians at the gates, demanding the squishing of old-fashioned ideas about equality and democracy. In this, they echo the traditionalists who were horrified by the cultural events of the 1960s, by the rise of a new generation of liberals and hippies, and who blamed the whole thing on small sects of Marxists 'marching through our institutions'. What those traditionalists couldn't see was that it was their own abandonment of longstanding values which cleared the way for the emergence of a newer, looser-minded generation. And today, too, modern humanists fail to understand that it is the once-Enlightened West's own dumping of Enlightenment values that has inflamed Islamist and other backward sentiments here and there, and so they also develop a conspiracy theory about who is apparently doing over universalism: this time it isn't small gangs of Marxists but small mobs of Islamists that are apparently single-handedly demolishing 500 years of liberal thought. And as campaigners, dolled up as modern-day Mandelas, chase after these fantasy destroyers of reason, the real, internal threat to reason goes unchallenged.
Brendan O'Neill is editor of spiked.
Picture by: Dar Yasin/AP/Press Association Images
To enquire about republishing spiked's content, a right to reply or to request a correction, please contact the managing editor, Viv Regan.