The real dirt on Black Pete
The Dutch tradition of Black Pete is not racist; it's just a bit of fun.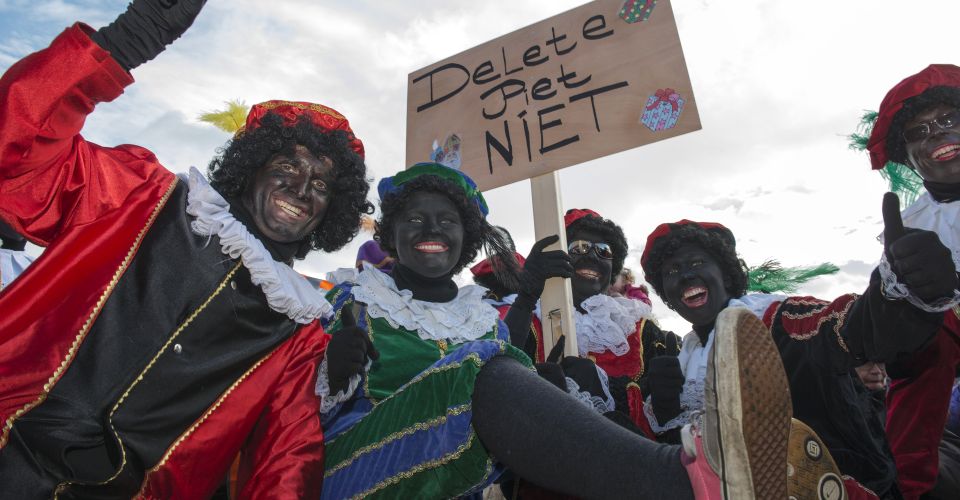 Just as we, the Dutch, can be fairly sure we'll always be disappointed at the World Cup, there's something else we can count on in life. As soon as the trees start shedding their leaves, someone will try to start a national discussion about Saint Nicholas' Eve, a children's celebration on 5 December where presents and sweets are enjoyed by all. Yet the impulse for this annual debate doesn't come from anti-consumerists or anti-sugar zealots; it comes from anti-racists.
You see, Saint Nicholas – a slim version of Santa Claus, but dressed more like the Pope – is invariably accompanied by an army of 'Black Petes'. With their black-painted faces, red lips and big curly Afro wigs, the Petes make for a rather uncomfortable sight, evoking a long-gone era when the Dutch were more into murder, theft and the slave trade than playing football or building bike lanes. And while the tall Saint Nicholas figure acts like an elderly statesman, elegantly waving his hand at the cheering crowd from atop his white horse, the Black Petes form a happy bunch of clumsy helpers who just dance and jump around, handing out sweets.
Now, for anyone from outside the Netherlands, Saint Nicholas' Eve, complete with Black Petes, may sound like the silliest thing ever. It probably is. Our tradition has been ridiculed quite a bit by foreigners, and some of them, like American comedian David Sedaris, have done a fine (if pretty inaccurate) job at doing just that. To most outsiders, our traditional children's celebration comes across as, well, racist. And if you were to trace back the origin of the characters, I don't doubt they arose from a racist worldview. Yet, for millions of well-meaning Dutch people, Saint Nicholas' Eve really is no more than a traditional children's celebration.
Still, every year we hear a minority of people say: 'Black Pete is a sign of racism. Let's either change his colour, or cancel the party.' And usually, the majority of Dutch counter: 'Hands off our tradition!'
But this year, these arguments have got completely out of hand. Now officials from the United Nations alongside longstanding campaigners complain that Saint Nicholas' Eve is racist, while the majority of the Dutch have become so fed up with these party poopers that they're saying things which make you wonder whether they're well-meaning at all.
So, while my daughters are counting the days until Saint Nicholas arrives from Spain by boat and gives them sweets and lots of presents, Black Pete's opponents are busy accusing this long-standing tradition of racism.
This year's discussion was started by black artist Quincy Gario, who claimed on TV that Black Petes are a colonial hangover. Black Petes belong to a time 'when slavery was still around and when someone like me would be made a slave'. According to Gario, Saint Nicholas is welcome, but the Petes are not because they're 'insulting and discriminating'. Meanwhile, Gario is currently intent on obstructing the arrival of Saint Nicholas in Amsterdam.
Now, his actions hardly make Gario a true freedom fighter or revolutionary liberator. After all, he doesn't care that the Petes are referring back to slavery, but that the slaves were black. As long as a white, old rich man arrives accompanied by 'Rainbow Petes' (red, blue, green, yellow), things will be just hunky dory for Gario.
Earlier this month, Gario's TV appearance was still causing controversy. The Saint Nicholas Society (yes, there is such a thing) suggested that 20 per cent of Petes should be painted some other colour. Then, every year, that percentage could go up. Others don't think that goes far enough. Amsterdam alderman Andrée van Es has already called for Black Pete to be abandoned. Trouw, a centre-left newspaper with Christian roots, claimed that the colour should be changed 'when contempt is being felt'.
When pressed on this most urgent of issues, Dutch prime minister Mark Rutte said that Pete's colour is not a political matter. 'Well, Black Pete is black', he said. 'There's not much we can do about that.'
But he may just have to. The United Nation's High Commission for Human Rights has expressed serious concerns. The group's chair, Verene Shepherd, has already said in an interview that the celebration is 'a throwback to slavery' and that the 'practice should stop'. She continued: 'My personal view is that in the twenty-first century, this should not be happening.' Her remarks made the Dutch furious – a Facebook page in support of the tradition received a million 'likes' in a single day.
Outsiders may wonder why the Dutch are so reluctant to admit Pete's racist undertones. I guess we just don't see it that way because we don't mean it that way. I bet most Dutchmen don't regard Black Pete as a caricature of black men. (In fact, we often speak of 'Pete' and leave out the word 'Black' – not out of political correctness, but more out of joviality.) We tend to see him as a clown, a fairytale figure, completely apart from the real world. That's also what a 2012 survey of Amsterdam residents revealed. Asked for associations, the vast majority coughed up positive ones, praising Pete's good cheer and talents for making others happy. Only a small percentage responded by referring to slaves and discrimination. The Dutch simply have fond memories of Pete – I know I have.
The possibility of Black Pete disappearing from Saint Nicholas' Eve celebrations is a sure sign of a global culture that demands political correctness and doesn't tolerate context. Things become so much easier when we declare 'zero tolerance' as a principle for engaging with the world around us. So if we stumble upon something that looks racist, sexist or biased in whatever way, it should be banned. In that sense, it is revealing that the current crusade against Black Pete is being led by people outside of Holland, who can't believe what they're seeing in a country once known for its tolerance.
The condemnation of people outside the Netherlands is playing a significant role in the debate. Take anthropologist John Helsloot, working at the prestigious Meertens Institute as a 'researcher in the field of festivities and rituals'. He suggests Pete's costume and face paint need to be stowed away in a museum, insisting that the Dutch must 'go through the pain of losing a dear tradition'. Why? Because not only does Black Pete have racist roots, but 'the world' is looking at the Netherlands 'with surprise, disbelief and disapproval'.
So, apparently it is a modern sin to have others look at a folkloric celebration with 'surprise, disbelief and disapproval'. So we'll change it because of them. Yes, we may be aware of the real meaning of the Petes, but if others – unaware of the Netherlands' cultural subtleties – can't deal with the Petes, then we had better get rid of them.
Yet Saint Nicholas' Eve is not intended for foreign observers; they should mind their own business. I can't imagine the Dutch telling Americans to tweak their Thanksgiving menu just because the ingredients used to be quite popular with the Native Americans before the European colonists decimated them. Furthermore, the complaints from anti-racists draw their moral force from a culture of victimhood. So, every day on Dutch radio, we hear more stories from people who used to run home after school, crying because their bullying peers were calling them 'Black Pete'. These anecdotes cause defenders of the Petes to lose their bottle. I have heard many friends change their minds because of these stories.
But just as we don't abolish carrots in order to protect children with ginger hair from being bullied, there's no real point in creating 'Rainbow Petes' in red, blue, yellow and green as a way to halt racism. Unfortunately, like many other societies, racism is still part of Dutch society – though thankfully, not a very large part. But racism won't disappear if we tell Petes to paint their faces a different colour.
It's too bad that none of the arguing parties understand what the celebration is really about. It's not about insulting black people, nor is it about conserving tradition. It's all about kids receiving presents and sweets. My daughters will enjoy the celebration, no matter what colour the Petes are. We created Saint Nicholas and the Black Petes; we should be able to re-create them.
There's only one thing I want Saint Nicholas to bring me for 5 December: a pill or a gadget that either makes us all go colour-blind or at least has us shut up about Black Pete once and for all.
Marco Visscher is a Dutch journalist and co-producer of the Battle of Ideas Satellites in Amsterdam. Visit his personal website here.
Picture: Patrick Post/AP/Press Association Images
To enquire about republishing spiked's content, a right to reply or to request a correction, please contact the managing editor, Viv Regan.