The intolerant crusade against circumcision
In the name of child protection, anti-faith zealots are attacking a way of life.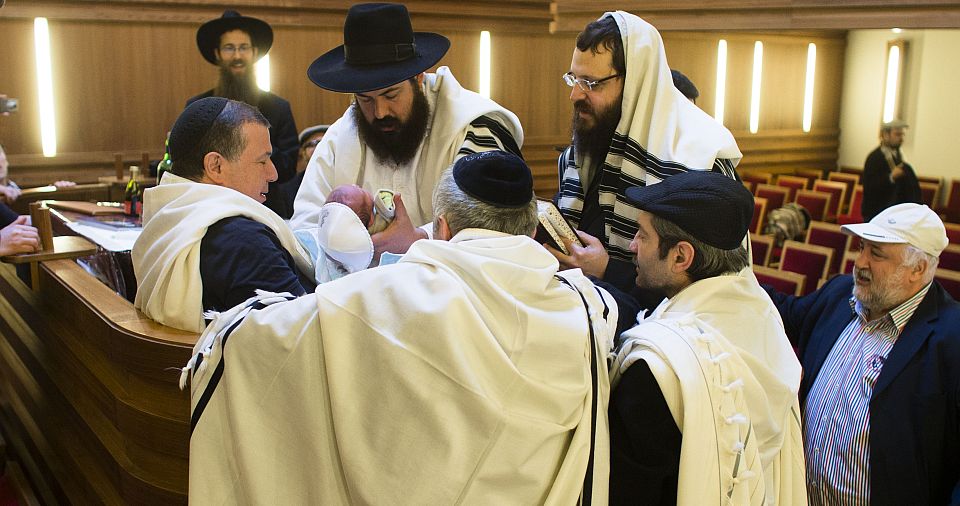 After my mother died, rummaging through a box of her old papers I came across two timeworn documents that reminded me of the precarious nature of human existence. One was a paper titled 'Provisional identification card for civilian internee of Buchenwald'. Compared with her faded signature, my mother's fingerprint still looked fresh on this piece of paper dated 15 November 1944. For some inexplicable reason, the image of her fingerprint struck me as menacing. But it was the other old document that really captured my attention: a false identity card that my father used to get around in German-occupied Budapest in 1944. Next to a faded picture of my Hungarian Jewish dad, the certificate boasted that he was a Swiss citizen working as a representative of the International Red Cross in Hungary.
My father's false identity card actually saved his life. In September 1944, he, along with hundreds of other men, was randomly picked up on the streets of Budapest and herded into a park by Hungarian Nazi militia men. At gunpoint, my father and the others were forced to drop their trousers and reveal their genitals for inspection. Anyone who was circumcised was immediately taken to the Danube River and executed. Holding his trousers with one hand and waving his false ID with the other, my father protested his 'innocence' and demanded that he be treated according to the proper diplomatic conventions. Thankfully, the imposing-looking Swiss ID card impressed his captors and he survived the ordeal. However, several Christian men who had the misfortune to be circumcised did not. One glance at their genitals indicated that they were subhumans, unworthy of mercy.
My father liked to think that all of that was history. He would occasionally tell me stories of how the Hellenic rulers of ancient Israel tried to force Jewish people to stop the circumcision of their boys. They were told to abandon their 'barbaric' customs and adopt a civilised way of life. A decree by the Seleucid emperor Antiochus IV commanded Jews to leave their sons uncircumcised or face death. This decree against the 'barbaric' behaviour of an 'uneducated' people, issued by an imperial civilisation, was part of a comprehensive campaign to destroy the Jewish way of life. The revolt against the decree, led by Judah Maccabee, is still considered one of the defining moments of Judaism.
Left, Furedi's father's false ID; right, Furedi's mother's Buchenwald ID.
Hundreds of years later, during the Spanish Inquisition, anyone found to be circumcised was deemed to be a secret Jew and could face torture and death. My otherwise atheist dad believed that if Jews had not been prepared to die for a religious-inspired practice in the past, then his people would have vanished from history. Not even a false Swiss ID could have saved them.
First time tragedy, second time farce
I am not sure what my father would make of the current intolerant crusade against circumcision. It is difficult to make sense of the strong views held by campaigners and policymakers who seek to criminalise and pathologise the circumcision of Jewish and Muslim boys. Last Tuesday, a resolution passed by the Parliamentary Assembly of the Council of Europe condemned male circumcision as a 'violation of the physical integrity of children'. Unlike Antiochus IV, these parliamentarians did not use the narrative of a civilisational mission against barbarism to justify their assault on people's way of life; instead they used the apparently neutral language of health and child protection to legitimise their crusade. The Council's resolution called on governments to 'clearly define the medical, sanitary and other conditions to be ensured for practices such as the non-medically justified circumcision of young boys'.
The Council's attempt to stigmatise circumcision coincides with a growing campaign against circumcision in Scandinavia and Germany. In recent weeks there has been a veritable culture war against this age-old practice. Most of the time, the crusade is conducted in a very politically correct language which avoids any explicitly culturally loaded terminology. In this vein, the German Social Democratic parliamentarian Marle Rupprecht argued that the Council's resolution, which she supports, 'does not intend to stigmatise any religious community or its practices'. As far as she is concerned, it's all about the child – and if the campaign against circumcision inflames anti-Semitism, well, that is a price worth paying for this holy cause, apparently. Rupprecht said it was the Council's 'mandate to promote the respect for human rights, including children's rights, on an equal footing with the fight against racism, anti-Semitism and xenophobia'.
Other campaigners make little effort to hide the fact that the crusade against circumcision is about hammering a way of life. Earlier this year, a Norwegian daily newspaper, Dagbladet, published the kind of cartoon that would have made the editor of a German Nazi publication in the early 1940s proud. The cartoon shows a caricatured dark, Jewish-looking fiend stabbing a young child with a three-pronged devil's pitchfork. The mother of the child is holding a blood-stained Torah while saying: 'Mistreatment? No, this is a tradition, an important part of our belief.'
This cartoon, saturated with pure hatred, is likely to offend the sensibilities of some of the more delicate moral crusaders against circumcision who claim to be protecting Jewish children from their abusive parents. Yet one of the most fascinating features of this crusade is that it consists of a coalition of cosmopolitan urbanites and xenophobic reactionaries who are not sure whether it's the Jews or the Muslims that represent the greatest threat to European life.
Hateful anti-circumcision cartoon in Dagbladet.
In the name of the sacred child
The main argument used to justify the anti-circumcision crusade is that the aim is to protect children from a dangerous form of physical violation, a horrific act of parental abuse. Implicitly, this charge is about diminishing the status of parental authority, particularly in the domain of moral values. That is why parents who educate their children to embrace the family religion have also been condemned as child abusers by anti-faith campaigners. That most vociferous proponent of atheism, Richard Dawkins, expressed this sentiment when he recently said that 'odious as the physical abuse of children by priests undoubtedly is, I suspect that it may do them less lasting damage than the mental abuse of having been brought up Catholic in the first place'.
The rhetorical strategy of depicting circumcision as child abuse is an attempt to make a connection with public concerns about the threat of paedophilia. That is why some opponents of circumcision invoke the term 'ritualised child abuse' to describe this custom: this hints at dark practices that are the moral equivalent of paedophilia, in the hope that a sense of moral outrage might be incited against circumcision. More than any other modern idiom, the term 'abuse' conveys a sense of evil, whether it is applied to the rituals performed by paedophile gangs or the rituals performed during the circumcision of Jewish baby boys. Little distinction is made between practices that fall under the title 'child abuse'.
In the twenty-first century, the child has become a unique symbol of purity and virtue. The moral status of the sacred child is so powerful that it is increasingly being put beyond discussion. As the sociologist Anneke Meyer observes, '"The child" becomes a shorthand for sacralisation and moral status; its meaning no longer has to be made explicit'. Meyer says this narrative is now 'so powerful that in fact any opinion can be justified by simply referring to children, and without having to explain why and how children justify it'. The very mention of the word 'children' closes down discussion; the discourse on the alleged perils of childhood means 'anything can be justified via children, as children make the case good and right', says Meyer. She concludes that through 'justifying attitudes and practices in the name of the child', an individual can 'represent [himself] as a moral person'.
Unlike the anti-Semitic propaganda of the past, which warned about the moral pollution of Christian communities by Jewish influences, the current anti-circumcision crusade focuses on the potential spiritual pollution of the child. Historically, the word 'abuse' evoked notions of moral pollution and defilement. Redefined as 'abuse', the act of circumcision comes to be recast as an act of sordid violence perpetrated on children. Numerous commentators have casually used terms like 'genital mutilation' or 'sexual mutilation' to describe circumcision. The rebranding of male circumcision as a form of mutilation is an attempt to make it seem morally equivalent to the act and rituals of female circumcision, or what many describe as female genital mutilation.
However, back in the real world, male circumcision as practised by Muslims and Jews simply involves the removal of the foreskin, whereas female circumcision is far more invasive and dangerous. Indeed, the fact that millions of boys are also circumcised for non-religious reasons, either at birth or later in life following a health complication, indicates that circumcision is not really considered an act of mutilation. How can an operation condemned as a form of sexual or genital mutilation in one instance, when it is carried out for religious reasons, be advocated as an unobjectionable and sound medical procedure when it is used to improve someone's health? Because it is not only the physical aspects of circumcision that are being pathologised – more importantly, the cultural dimension to circumcision is under attack.
The compulsive veneration of the child in European society has allowed child protection to be dominated by an ideology of evil. The current obsession with abuse is bad enough. But when the discussion of abuse helps to mobilise certain individuals' passions against other people's religious practices, then it is helping to foster a mood of intolerance. Tragically, just about anything can be justified in the name of protecting the child. My father, who inhabited a world where xenophobia lacked any restraint or inhibitions, would have been shocked to discover that today's anti-circumcision zealots communicate their prejudices through the therapeutic language of health and child protection. He would have agreed with the famous nineteenth-century German political economist who coined the phrase, 'First time tragedy and second time farce'.
Frank Furedi's new book, Authority: A Sociological History, is published by Cambridge University Press. (Order this book from Amazon (UK).)
Picture by: Markus Schreiber/AP/Press Association Images
To enquire about republishing spiked's content, a right to reply or to request a correction, please contact the managing editor, Viv Regan.