Football's Etiquette Inquisition
Both fans and players should rip up football speech codes.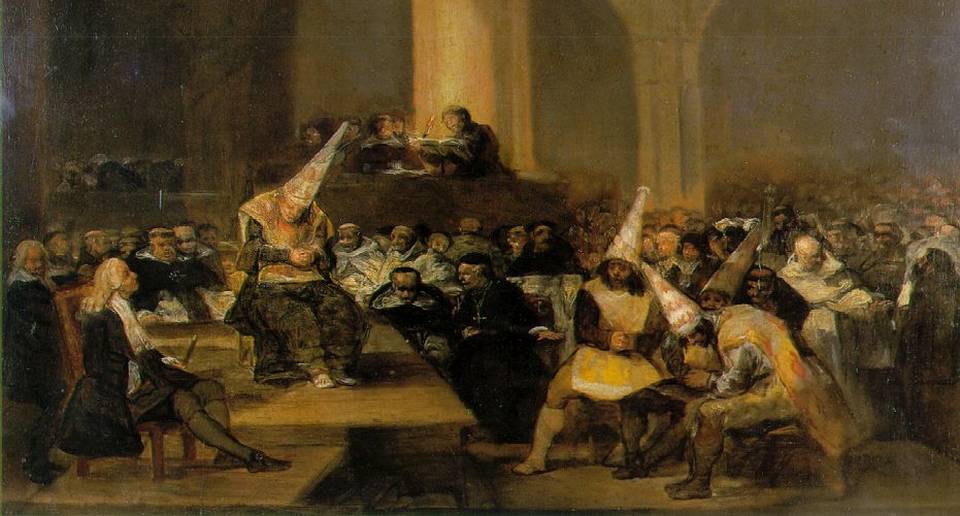 First they came for the racists. Then the homophobes. And now they've come for the mildly sexist. The Etiquette Inquisition took a turn for the absurd last week when BBC Final Score pundit Robbie Fowler was forced by the BBC to apologise on-air for describing Jan Vertonghen and Fernando Torres as a 'couple of girls'. Yes, really. Utterly ridiculous. What's the world coming to?
Anyone who watched the Spurs v Chelsea game on Saturday could see that Torres and Vertongen were engaged in a childish playground spat. At one point, Torres appeared to scratch the Spurs defender's face. But no punches were thrown. No one got decked. As fights go, it was fairly pathetic. It was, dare I say it, just a 'bit of handbags'. To be honest, Robbie Fowler's assessment was pretty spot on. 'Torres and Vertonghen were at each other's throats all game, like a couple of girls – pulling each other's shirts and pushing each other', said the former Liverpool striker. What's wrong with saying that? Whisper it, but most girls don't fight with the impeccable technique of Olympic boxer Nicola Adams. Is such an innocuous phrase really worthy of an enforced public apology? Someone at the Beeb evidently thought so. Within minutes, Fowler was making a cringeworthy retraction. 'I made a comment about women's football. I do apologise', said the ashen-faced pundit. 'I'm a big, big fan of Liverpool Ladies actually, who have a chance of winning the league tomorrow. I'll be watching that. Anyone at home who was offended – I'm deeply sorry.'
So, who exactly was offended by Fowler's turn of phrase? According to the Mirror, the BBC received 'numerous' complaints. I find it hard to believe that many feminists spend their Saturday afternoons watching Final Score. However, regardless of how many people actually complained, the Fowler saga illustrates just how thin-skinned our society is becoming. The shrill, intolerant 'You Can't Say That' culture, which originated in university campuses and local-authority equality units, is now infecting all areas of public life.
We can argue the toss over whether offensive language should be banned – personally I'm against any restrictions on speech – but there's a world of difference between Fowler's comments and deliberately hurtful abuse. Fowler clearly didn't mean to insult women. His words can hardly be described as 'hate speech'. But inappropriate words are considered verboten regardless of intent or context these days. In 2011, Alan Hansen had to apologise for using the c-word on Match of the Day. No, no that c-word, but the word 'coloured', which Hansen used to describe black players. Again, there was no intent to cause offence, but Hansen was still hauled over the coals. In 2012, Rio Ferdinand was fined £45,000 by the Football Association for referring to Ashley Cole as a 'choc-ice' in a tweet. The term 'choc-ice' means Uncle Tom or sell-out, but to equate it with a racial slur such as 'nigger' is nonsensical.
Perhaps the most absurd example of this purge of bad words is the campaign to stop Spurs fans chanting 'Yid Army'. Last month, the Football Association (FA) warned Spurs fans that they could be prosecuted for using the Y-word. 'Use of the term in a public setting could amount to a criminal offence and leave fans liable to prosecution', said an FA statement. Spurs fans have never used the term 'yid' in order to insult Jews. On the contrary, the word has been used as a badge of honour; a defiant riposte to anti-Semitic jibes aimed at Spurs fans on account of the club's historic association with north London's Jewish community. Anyone with an ounce of common sense can see that Tottenham fans are not anti-Semitic.
David Cameron became embroiled in the row when he made the perfectly reasonable point that context matters: 'There's a difference between Spurs fans self-describing themselves as yids and someone calling someone a yid as an insult. You have to be motivated by hate', said the prime minister. Comedian David Baddiel, who has been prominent in the campaign against the Y-word, insists that, regardless of context, the Y-word is a 'race hate word' which shouldn't be used even by Spurs fans. 'The fact is that whatever its origins, their continuing use of the Y-word legitimises and sustains the racist abuse aimed at Spurs by other fans', wrote Baddiel in a recent Guardian comment piece. By the same logic, black rappers who call each other 'nigger' or gay activists who have reclaimed the word 'queer' are somehow perpetuating bigotry. Go figure.
Although it is dressed up in the language of inclusion, the purge of inappropriate language is a modern form of tyranny. In a free society, nobody should be prosecuted for name-calling. Nobody should be arrested for singing insulting songs. Nobody should be forced to make a public apology for saying footballers were fighting like girls. The response of Spurs fans to the threat of prosecution is to strike up a defiant chorus: 'We'll sing what we want.' It's a dictum the rest of us ought to follow. We should be free to say what we want. And if someone feels insulted? Don't run crying to the police. Man up and deal with it.
Duleep Allirajah is spiked's sports columnist. Follow him on Twitter @DuleepOffside. He is speaking at the debate Is cheating ruining sport? at the Battle of Ideas festival on 20 October.
Picture: 'Scene from an Inquisition' by Francisco Goya via Wikimedia Commons.
To enquire about republishing spiked's content, a right to reply or to request a correction, please contact the managing editor, Viv Regan.