Why slaughter shoppers?
Modern terrorism is increasingly a pointless, bloody rage against the masses.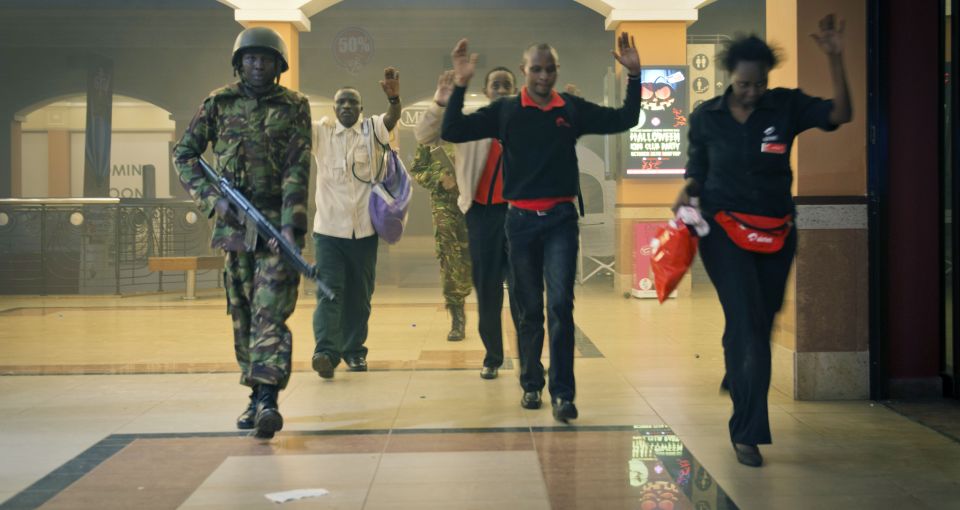 In some ways, we know too much about what happened in Nairobi's Westgate mall over the course of four horrifying days last week. We know that the terrorists gunned down children gathering for the filming of a kids' cookery programme. We know that the blood-soaked bodies of shoppers were stacked up behind a deli counter. And we know that the 10-to-15 members of this de facto death squad showed no compunction when slaughtering, whether it was a shot to the back of a little girl's head, or a slit to the throat of a confused shopkeeper. As it stands, 67 people were killed and 175 injured. Given the Kenyan army caused a roof to collapse on top of the attackers – and no doubt their hostages, too – the death toll is expected to rise.
And yet despite the news media being awash with gruesome detail, there is so much we don't know about the Westgate attack. Instead, too many have been too willing to grasp what happened in terms of an older political framework, one in which a militant political organisation, from the IRA to the PLO, seeks to challenge an oppressor. So, in the case of Westgate, the putative attackers, members of the Somali Islamist group al-Shabab, were retaliating against Kenya for invading Somalia in 2011. Some analysts have even gone so far as to pinpoint Kenyan troops' takeover of the port of Kismayo, a lucrative trading position for al-Shabab, as the catalyst for the Westgate attack. As one commentator put it: '[The Westgate attack] wasn't a random act. On the contrary, it was a direct consequence of Kenya's own policy decisions. To say that in no way justifies this heinous attack – it merely identifies cause and effect.'
Yet tit-for-tat accounts miss something. They appear too glib, too easy. They may not excuse a drawn-out atrocity like Westgate, but they do give it a nicely polished rationale.
But it's a rationale at odds with what actually happened. Yes, the Kenyan military, under the auspices of the African Union, did play a role in weakening al-Shabab's position in Somalia. And no doubt members of al-Shabab, already a declining, increasingly unpopular grouping in Somalia (even Osama Bin Laden disowned it because of is brutality), did feel anger towards the Kenyan army. But there is a massive, unexplained causal gap between that sense of grievance and the attack on a shopping centre in Nairobi. That's right, a shopping centre. This wasn't an attack on the Kenyan state. This wasn't a gun battle with the Kenyan army, the principal object of al-Shabab ire. No, this was an indiscriminate attack on men, women and children at a shopping centre. The people targeted weren't intent on a conflict with militant Islamists in Somalia; they were shopping for Old El Paso fajita mix.
This, as Brendan O'Neill has argued, is important to grasp. The new terrorism, of which the Westgate attack was just the latest of countless examples over the past decade, is characterised by an unprecedented barbarism. Its largely Islamist protagonists seem to embrace butchery. So bereft of anything approaching a moral compass are they that nothing seems to register as just a little bit wrong: shooting children in the head, slaughtering families gathered outside a church, blowing up people at a Saturday market. Everyone's fair game, and the easier the random target, the better. This is presumably what Bilal Abdullah and Mohammed Asha thought in June 2007 when they left a petrol bomb outside London nightclub, Tiger Tiger, despite the Ministry of Defence being only a mile away.
So why is the new terrorism so profoundly nihilistic? The reason for this is that there's a relationship between the morally unhinged acts and the socially unhinged nature of the protagonist. From the London bombers to the Westgate attackers, there is always something deeply individualised about those who carry out or attempt to carry out these acts. They don't seem to represent an actual social constituency and as such they are not answerable to anyone outside of their ultra committed cadre. This has a morally disorienting effect.
The older 1970s and 1980s type of terrorism, as bloody as it could be, was always reined in by the actual social and political communities in whose name the terrorists acted. To randomly slaughter families in a shopping centre over the course of four days would have alienated the past terrorists' supporters, not inspired them. But the likes of al-Shabab (which lost what broad support it had in Somalia when it began a campaign of mutilations and public executions) and the myriad other al-Qaeda rip-offs don't have to answer to any specific community. They are not socially constrained. And as a result, they operate outside any recognisable social and moral universe. Anything goes.
But there's also more than that. Because as individualised as this new terrorism is, as unanchored and alienated as its protagonists are, there does seem to be some horrifically twisted moral purpose there, too. That is, the new terrorists seem to set themselves against modern society as a whole, condemning its consumerism, its decadence, its irreligiosity. They don't speak for any concrete social or political community in particular; they speak against modernity in general.
This is why al-Shabab, a group putatively engaged in struggles within Somalia, has proved so attractive to non-Somalians. CNN reports, for instance, that not only have 15 American citizens died fighting for al-Shabab, but four of them did so as suicide bombers. And 22 people in Minnesota alone are reported to have fought with and funded al-Shabab. In 2007, the chief protagonist among the 'Minnesota Mujahadeen', Cabdulaahi Ahmed Faarax, told several potential recruits that he had 'experienced true brotherhood' while fighting in Somalia, that 'jihad would be fun' and they would 'get to shoot guns'.
What's important to grasp here is that the new terrorism does not draw its militants from any specific struggle in Somalia, or anywhere else for that matter. Rather, it draws upon a broad and deep disillusionment with modern society; it exploits the non-identity between society's threadbare values and particular members. And it turns certain individuals upon society as a whole. Hence the new terrorism does not target the institutions of the state; it targets the institutions of civil society. In particular, it targets the embodiments of modern social life: a shopping centre in Nairobi, an office block in New York, a market in Baghdad.
In 1911, amid anarchist bomb plots, Leon Trotsky wrote a scathing critique of what he called 'individual terrorism' – the act, for example, of assassinating a minister – on the grounds that it turned what could be a mass struggle into the act of a single individual. 'In our eyes', he wrote, 'individual terror is inadmissible precisely because it belittles the role of the masses in their own consciousness, reconciles them to their powerlessness, and turns their eyes and hopes towards a great avenger and liberator who some day will come and accomplish his mission'. Today's individual terrorist is far more degenerate than his anarchist precursors. So far removed from the masses is he, so little concerned is he with any actual struggle for something in particular, that his terror is turned against the masses. The consequences have been barbaric.
Tim Black is deputy editor of spiked.
Picture: Jonathan Kalan/AP/Press Association Images
To enquire about republishing spiked's content, a right to reply or to request a correction, please contact the managing editor, Viv Regan.