Leonard Cohen: age cannot wither him
As he enters his 80th year, seeing Cohen live is life-affirming.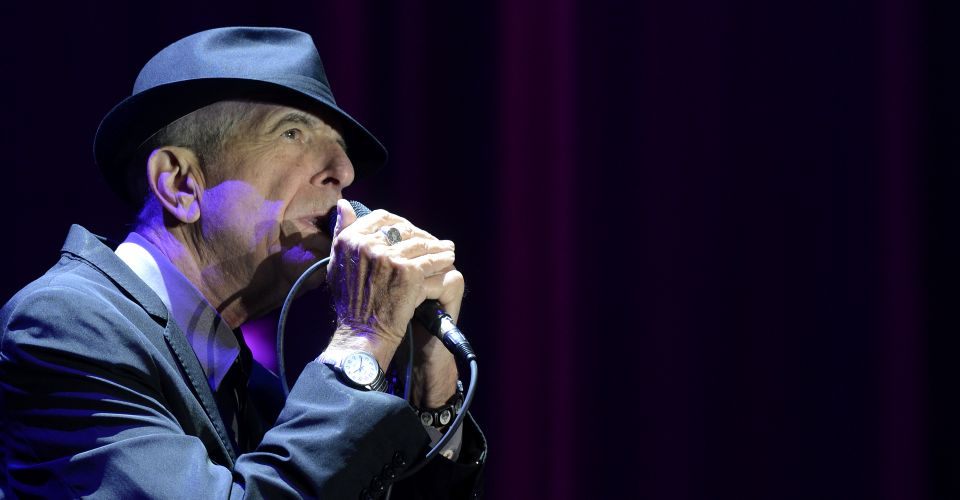 Halfway through Sunday's three-hour show at London's O2 Arena, as Leonard Cohen began messing around, plinky-plonk style, on a little electronic keyboard, some started to applaud. 'Are you humouring me?' he asked. 'If so, I accept your compassion towards the elderly.'
Warm laughter all round. The joke was of course that none among the enraptured thousands was humouring or being kind towards the man in the grey suit, hat and hair. For once, nobody could see 'elderly' as a cheap euphemism for 'past it'.
Cohen the Canadian-born Jewish poet and singer-songwriter will be 79 years old this Saturday, 21 September. He has surely never been better. His rich voice remains unique, and he brought the 20,000-capacity Dome down with an extraordinary performance, making that cavernous space seem almost intimate. As I said to Ginny, my wife, in a euphoric car park moment straight after the show, I have not seen a man dominate an arena through his personality in that style since the Gary Glitter comeback tour at Manchester Polytechnic in 1979.
This is more than patronising guff about being 'marvellous for his age'. Cohen seems to me to have been rehearsing all of his life for the part he plays near-perfectly now: the worldly-wise sardonic sage of the songbook, deploying his acerbic wit to share what he has learned over his long career about life and death, love and hate, pain and perseverance, faith and hope in the face of darkness and depression. Some of us who may not have entirely taken to the folkie acoustic and uptight Leonard of the Sixties can be electrified by the more relaxed but razor-sharp older model.
On Sunday, Cohen galvanised the arena with an emotion one would not always have associated with his work: the joy of being alive. Bending into the microphone in the knock-kneed stance that brought to mind an even earlier punk-music hero, Hank Williams, he held the crowd in his hand as readily as his hat, mixing classic songs with material from his new album, the pointedly entitled Old Ideas. This album has been described by one critic as 'Autumnal' music, and the songs do not shy away from issues of age and mortality – before Cohen shrugs 'that's how it goes', and literally skips off stage, then back on for the three encores (including 'Famous Blue Raincoat') that butted the show right up against the O2's absurd 'curfew', when they cut the power off.
Cohen's performance now seems all the more remarkable given that he apparently retired from live performing in 1993. Fifteen years later, having discovered that a former manager had emptied his savings accounts, he reluctantly went back on the road to restore his pension fund. Five years further on, having since been on a seemingly endless world tour, you get the sense that he will have to be dragged off the global stage.
No doubt every show feels like it might be the last time you see him sing; as he acknowledged at the start, 'I'm not quite ready to hang up my boxing gloves yet. But I know where the hook is.' Then added, 'I don't know when we will meet again, friends. But tonight, we're going to give you all we got.' And they did, making the three hours seem considerably shorter than the half hour spent queuing to exit the O2 car park.
Of course, even Cohen cannot quite be ageless. There is a theatre-style interval mid-show, and long intros and instrumentals that allow the star to pace himself through the evening. That is no hardship thanks to the quality of Cohen's campaign-hardened band of world-class musicians, especially the superb 34-year-old Moldovan violinist Alexandru Bublitchi, and the Spanish guitar player Javier Mas. Cohen's main backing vocalist and long-time collaborator Sharon Robinson, who he refers to as his 'secret wife', is as good as ever, though the junior backing singers, the blonde harp-and-mandolin-playing Webb sisters, might seem a little Glee-club twee for some tastes (eg, ours).
In an age when older people are too often seen as a problem, a drain, even candidates for euthanasia, Cohen enters his eightieth year as a beacon of life and creativity, and a glorious advertisement for the benefits of experience and wisdom that mean you can get better at some things with age (if not, sadly, everything).
The revitalised Cohen's grand world tours have introduced his music to a new audience and made him cool again among critics. On Sunday, young women sitting near us, wearing trilby hats in tribute to their hero, repeatedly shouted 'We love you, Leonard!' at a man old enough to be at least their grandfather. The majority of the crowd was still middle-aged, including more Jews than I have seen in one place since my visit to Jerusalem's Wailing Wall. (Cohen, who comes from a long line of Jewish priests, rearranged the show from Saturday to avoid the Jewish Sabbath. Though he also spent some years in a Buddhist retreat, which he credits with helping to alleviate his long-term depression.)
It might be easy to think of a Cohen concert as just a wistful wrinklies' night out. As a young barman said to Ginny, 'Yes, it's nice and gentle, but it's more for, err, people like you'. Fair enough, each to his own. But if he thinks Cohen's stuff is gentle, he cannot have been listening to the cutting lyrics of songs such as my favourite: 'Everybody knows that the dice are loaded / Everybody rolls with their fingers crossed / Everybody knows the war is over / Everybody knows the good guys lost / Everybody knows the fight was fixed / The poor stay poor, the rich get rich / That's how it goes / Everybody knows.' And that world-weary message seems uplifting and life-affirming in Cohen's hands.
As we left the arena, O2 staff were handing out flyers promoting a show by another veteran, the 68-year-old Rod Stewart, which takes place on Cohen's 79th birthday. Forty years ago I would have taken Rod the R'n'B king ahead of the lugubrious Leonard every time. Today, I would have no interest in going to see the self-parodying panto dames that the likes of Stewart and the Stones have become. By contrast, the joy of seeing Cohen live was about something more than nostalgia. Leonard Cohen is an old idea whose time has come.
Mick Hume is spiked's editor-at-large. His book, There is No Such Thing as a Free Press… And We Need One More Than Ever, is published by Societas. (Order this book from Amazon(UK).) Visit his website here.
Picture by: Michal Krumphanzl/Czech News Agency/Press Association Images
To enquire about republishing spiked's content, a right to reply or to request a correction, please contact the managing editor, Viv Regan.