From Huhne to Rudd, they're all mad about Murdoch
Every loser wants to blame the Murdoch press for their failings.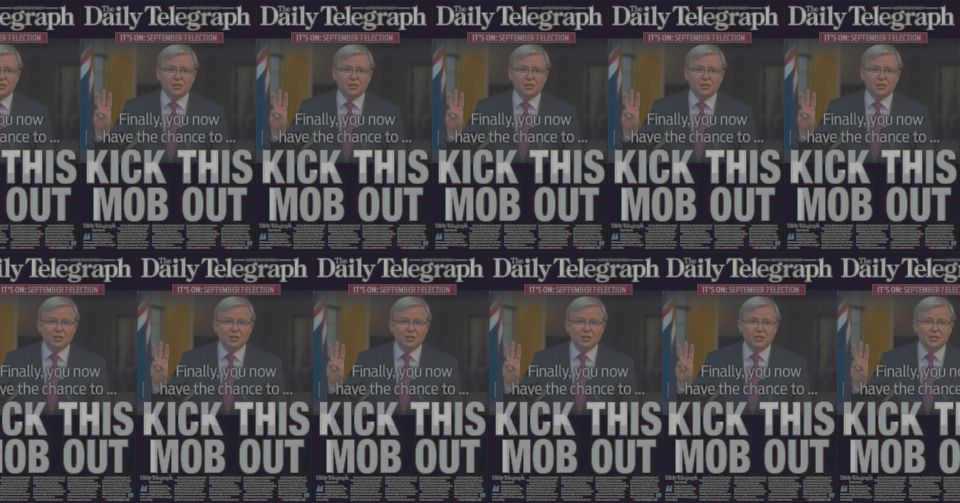 Ho, ho, ho. Did you see Chris Huhne's loony-sounding attempt to blame Rupert Murdoch for his downfall? Almost everybody has been having a laugh at the former Lib Dem MP and UK cabinet minister's accusation that the Murdoch press was somehow responsible for his marriage break-up and prison sentence for perverting the course of justice, having allegedly targeted him because of his role in exposing the phone-hacking scandal.
Yet Huhne is no lone loon. His pathetic attempt to blame a media mogul for his personal problems is only an extreme version of the mad obsession with Murdoch that haunts the whole British media-political class – and which has also been much in evidence around the Australian general election. Huhne's bad case of Murdoch-myopia is merely the logical extension of the widespread illogical belief that the demonic Rupert is effectively responsible for all the evils on Earth.
For those who might have already forgotten who he is, Huhne was energy secretary in the UK Coalition government until he was charged with perverting the course of justice, over allegations first raised in the press that he had got his then-wife, the economist Vicky Pryce, to take the blame for his speeding offence. Having lied throughout the media and police investigation, Huhne eventually pleaded guilty on the eve of his trial in March 2013. He and Pryce were jailed for eight months each.
The freed former Liberal Democrat minister has now been handed a weekly slot in the Guardian. This week he used his first column and a follow-up BBC radio appearance to lambast the Murdoch press for allegedly conspiring to stitch him up as an act of political vengeance, after he had called for an inquiry into the phone-hacking scandal. It was of course true that two Murdoch papers, The Sunday Times and the late News of the World, played a key role in exposing Huhne's misdemeanours. That is what used to be called investigative journalism, whether you think it worthwhile or not in a particular case. This was far from being the result of a top-level political conspiracy, however. Indeed, Murdoch press journalists involved in pursuing the Huhne story have now revealed that there was a distinct lack of enthusiasm for it among their editors and executives, who initially thought Huhne was too much of a faceless small-fry to warrant the attention.
Unsurprisingly, Huhne's infantile plea that 'it wasn't me, a big press baron did it and ran away' has evoked little public sympathy. Media pundits and political opponents have scoffed at his 'vomit-inducing' attempt to shift the blame, and even his former political allies among the Lib Dems and campaigners for press regulation have sought to distance themselves from his anti-Murdoch rant.
But hold on a minute. Let's not pick on poor old Chris. He was only following the lead of politicians and media outlets in the UK and Australia who, under the influence of Murdoch-myopia, have sought to blame the press baron for a multitude of problems. When Huhne told the BBC that 'Murdoch in particular is exceptionally powerful and over many, many years he has… used that political influence to bulldoze a way for his business interests', he was singing from the same hymn sheet as many others. The common pattern is to claim that your own failings are really Murdoch's fault. Huhne overstepped the mark only by trying to scapegoat Murdoch for his personal as well as political problems.
Asked if he agreed with Huhne's attempt to blame Murdoch for his downfall, Lib Dem leader and deputy prime minister Nick Clegg equivocated that no, that was not 'exactly my position'. Not exactly, but not a million miles away from it, either. Clegg, after all, has been in the forefront of demanding new laws and regulations to curtail the influence of the Murdoch press over British politics, declaring during the Leveson Inquiry that 'woe betide anyone who took on [the] media… [A]lmost the entire political class competed to bow and scrape in front of Rupert Murdoch.' Other Liberal Democrats have gone further in their frantic attempts to blame the Murdoch press for their political crisis. Perhaps Huhne should sign up to the group of party members whose address describes them as simply 'libdemsagainstMurdoch'.
The Guardian and the BBC might be slightly embarrassed by Huhne's crass attack this week. But such pillars of the liberal media have long led the fashion for Murdoch-baiting/blaming, holding him effectively responsible for everything from global warming to war, in ways that sometimes make Huhne seem quite reasonable by comparison.
Amid all the talk of England's chances in next year's football World Cup, for example, it is worth recalling the key question posed by a leading Guardian columnist after the team's exit from the last one, in 2010. 'Was it Rupert Murdoch', she demanded, 'wot lost England the World Cup?'. Such outbursts might suggest that the British intelligentsia has lost its marbles, due to the long-term effects of tabloiditis and Murdoch-myopia.
The left's law of inverse proportions suggests that the more it loses support and power, the more desperate are its attempts to blame the Murdoch press for the dire state in which British politics now finds itself. When Murdoch appeared before the Leveson Inquiry, the front cover of the New Statesman, house journal of the Labour left, branded him 'The puppet master'. Professor Brian Cathcart of the Hacked Off lobby for press regulation rails against the 'mighty machine of corrupting political influence' that is guilty of 'manipulation, even puppetry' and 'the abuse of power going on beneath the surface', all done 'in Rupert Murdoch's name'. The doyen of this brand of radical conspiracy-mongering is leading Labour MP Tom Watson, whose bonkers book Dial M for Murdoch accuses the media baron of running a 'shadow state' and having 'orchestrated public life from the shadows' through an 'invisible web of connections and corruption' in high places. The web might be invisible, but heroes such as Watson and Cathcart apparently have the superpower to see it.
And where did Tom Watson turn up most recently to peddle his David Icke-like line on the secret Murdoch conspiracy? In Australia, Rupert's homeland, where he called on the Australian Labor government to step up its attacks on the Murdoch press if it hoped to win the general election. The British Labour MP thus joined the chorus of Australian headlines complaining about the influence of the Murdoch press in the election campaign and blaming papers such as the Daily Telegraph and The Australian for swinging the polls against Kevin Rudd's Labor party. Labor's slipping support naturally had nothing to do with the party being in a state of near-total disarray.
One pundit even claims that Labor 'should easily have won' the election, were it not for the Murdoch press's 'crusade' to replace prime minister Rudd with Liberal Party leader Tony Abbott. During the campaign, Murdoch tweeted that 'Oz polls show nothing can save this miserable [Labor] government… People decided and tuned out months ago.' Leading Labor representative John Murphy responded furiously that 'the reason people tune out, Mr Murdoch, is because of the tripe served up in your tabloids and your cross-promotion of that tripe. Everyone knows you twist the political agenda to suit your business agenda and in so doing you crush and corrupt our democracy. We will not surrender to your massive media power encapsulated in your tweet.' The notion of 'massive media power' being 'encapsulated' by a little 140-character tweet on a social network would seem to 'encapsulate' the irrationality of the Murdoch obsessives. In the election, Murphy lost his seat.
The mainstream anti-Murdoch crusaders in the UK and Australia share two characteristics. First, they seem to discover that Murdoch is evil only after his press turns against their favoured parties. Labour was happy enough when the Sun backed Tony Blair in three general elections. It was only after the News International papers deserted Gordon Brown in 2010 that Labour lieutenants such as Tom Watson launched their mission to get Murdoch. Similarly, the Australian Labor Party saw no conspiracy afoot when the Murdoch press backed it in 2007. When the papers turned against Rudd, however, the scales seemed magically to fall from Labor eyes.
Second, and more important, is the common message underlying all the talk about Murdoch's 'manipulation' and 'puppetry' in both political systems. The assumption is that the electorates in the UK and Australia are essentially gullible fools, who can be easily persuaded by tabloid 'tripe'. The myopic campaign against Murdoch is really an expression of contempt for the public. After all, puppeteers can only manipulate wooden-headed puppets. Of course the Murdoch press is powerful and influential, and of course it backs its choice of candidates (though often after sensing which way the public wind is already blowing). But to try to blame it for the crisis of democratic politics in general, and social democracy in particular, is a low attempt to shift responsibility – and a code expression of disgust with the public.
If Rupert Murdoch did not exist, it is not only Chris Huhne who would have to invent him in a pathetic effort to get himself off the hook.
Mick Hume is spiked's editor-at-large. His book, There is No Such Thing as a Free Press… And We Need One More Than Ever, is published by Societas. (Order this book from Amazon(UK).) Visit his website here.
To enquire about republishing spiked's content, a right to reply or to request a correction, please contact the managing editor, Viv Regan.