The film bores who can't see Woody for the trees
A new 'companion' to Allen's movies confirms the sterility of film studies.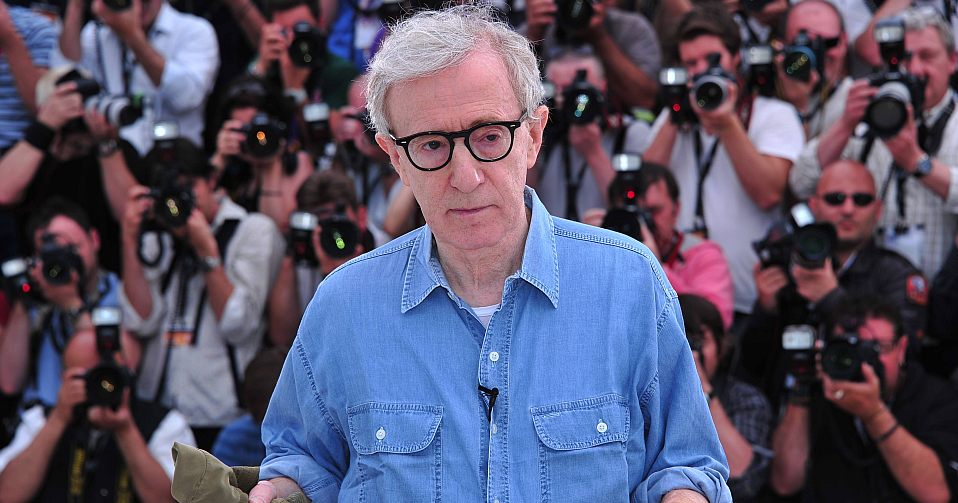 Have you kept faith with Woody? I know I have.
Every year, I make sure to catch his latest picture. Oh, sure, there have been times when I've thought about giving up. I found what I like to think of as his late-middle period tough going. (Demarcating the developments in Woody's long artistic trajectory can be as complicated as Orwell said navigating the niceties of the English class system was.) Not because those movies of the mid- to late nineties – Mighty Aphrodite (1995), Deconstructing Harry (1997), Celebrity (1998) – were less finished than one had come to expect (although I'll venture that nobody has ever actually taken pleasure in the rough and ready visual surface of Deconstructing Harry), but because of their tawdriness. Who knew that Woody could type those naughty four-letter words, let alone have pretty girls say them out loud? Who knew that Woody knew that sex could exist as more than merely an arena for comic hi-jinks? To those who grew up on Allen's early-middle period romanticism, it was all rather alarming.
Subsequently, much of his output has been casual to the point of lacklustre (Melinda And Melinda (2004), You Will Meet A Tall Dark Stranger (2010), To Rome With Love (2012)). But whenever a Woody picture has had you braced for the crash position – Cassandra's Dream (2007), say, whose underwritten script and excruciating mockney geezer turns from Colin Farrell and Ewan McGregor had you squirming long before its uncharacteristically lengthy 108-minute running time was up – he has sensed the danger and pulled out of the dive.
Within 12 months of Cassandra's entropic emptiness, Allen was back with the energetic Vicky Cristina Barcelona (2008) and, another year later, the spunky sourness of Whatever Works (2009). Since then there've been another four pictures – and next year's is already in production. By my calculations, if Woody can live until 2021, when he'll turn 86, he could have written and directed 50 movies in the 53 years since 1969. Who would bet against him doing so? As Woody once counselled a sack-sated Diane Keaton: 'Some people have got it, some people haven't. I've got lots of it.'
No point denying that the sundry contributors to Peter J Bailey and Sam Girgus's A Companion To Woody Allen have lots of it, too. If only the 'it' in question were something anyone save those same contributors and their suffering students could possibly have need of. The book contains roughly a quarter of a million words and not one sentence that can be read for pleasure. What is it with movie academics? Nobody ever got into film because it bored them. With the odd honourable exception though (Perkins, Bordwell, Braudy, Cavell), film studies is a yawn – a ceaseless litany of politicised abstractions and speculative metaphysical-isms. Here is postmodern Woody, here pre-feminist Woody, here white-supremacist Woody. You would seek Bailey and Girgus in vain for a critic who grasps that Allen is the last great liberal humanist. The closest anyone comes to understanding that his theme is the survival of – and our surviving of – love is Vanderbilt's assistant professor in the Department of Communication Studies, Claire Sisco King. She calls marriage and monogamy 'relational paradigms'.
Such periphrastic boilerplate abounds. John Douglas Macready is of the opinion that applying 'Levinas' anti-ocular notion of visage [is] a means of excavating the invisible asymmetrical relations between self and other that both traverse and rupture the filmic'. Hmmm. As Woody replies to Diane Keaton's drone about 'a priori relationships' and 'epistemological contradictions' in Love And Death (1975), 'I've said that many times'.
But for all its coldness, film theory has never had much to do with clarity. Cecilia Sayad's claim that 'it is through Allen's comments on current affairs that his films become topical' is merely tautologous. But her suggestion that this topicality 'destabilise[s] the notion of the auteur as producer of timeless works that transcend their eras' is an affront to logic. Who but the most bombed-out Romantic ever thought an artist could float free of the quotidian? How else can an artist talk about the general than by dealing in specifics? Dickens wrote sentimental melodramas about the Victorian England he lived in, but you would have to be blind to the world you live in not to see that he wrote about today, too. (This is not to go along with Robert M Polhemus's preposterous suggestion that the reference to 'collateral damage' in Match Point (2005) – a dark existential romance Patricia Highsmith might have written – means the picture is a parable of the Iraq War.)
And not only can our contributors not write – some of them seem not to be able to read. Take Renée R Curry, who quotes from two separate interviews in which Allen owns up to the dearth of non-white faces in his pictures ('I don't know the black experience well enough to really write about it with any authenticity'; 'I never knew New York as it really existed. For that, you have to speak to Spike Lee or Martin Scorsese'), before bemoaning – you guessed it – the dearth of non-white faces in his pictures. 'It is an unconscious habit of white privilege', lectures Curry on the subject of Vicky Cristina Barcelona, 'to think that one is not compelled to account for the people who live in the environment one wants to film'. But in a free society, moviemakers aren't compelled to do anything. I have no doubt there are and were non-white faces to be filmed in Barcelona, but the suggestion that Allen ought therefore to have worked them into his story is a tokenist insult. Artists talk about what interests them; critics might have other interests, but they tread dangerous ground if they think them more interesting than their object of study. Beneath the ideological flim-flam, all Curry is really saying is that Allen's work isn't realistic. Who'd have thought it? The guy who made The Purple Rose Of Cairo and Play It Again, Sam isn't interested in the Lukacsian totality! (Incidentally, Spike Lee's New York is hardly the last word in verisimilitude.)
For others here, Allen is more convincingly radical. Claire Sisco King believes that while his recent output isn't a patch on his earlier work, Allen has let things slide deliberately in order to highlight how constrictive contemporary Hollywood's conventions can be. For Stephen Papson, meanwhile, Allen is the nearest thing to a Frankfurt School Marxist the movies have yet given us. And indeed, Allen's loathing of so much music post Cole Porter does have echoes of Adorno's detestation of music post twelve-tone serialism. Still, his stridently apolitical comedy – and his certainty that pop culture is not apodictically contaminated by capitalism – would have made him an uneasy bedfellow for the Frankfurters.
Then again, I can't see any similarity between Woody's work and that of Alfred Hitchcock, though practically every contributor to the Companion makes what Cynthia Lucia calls 'an unlikely though brief detour' through the Master of Suspense's oeuvre. Unlikely these detours are, and none more so than that of Gregg Bachman. He believes that the casting of North By Northwest's Martin Landau in Crimes And Misdemeanours (1989) is only one of many connections with Hitchcock's work to be found in that picture. Those shots of Landau's Judah Rosenthal driving his car, for instance – aren't they reminiscent of those in which Janet Leigh drives a car in Psycho? And the way Allen's camera tilts and pans as Judah takes in the murdered corpse of his mistress, Dolores – isn't the move 'very reminiscent of the aftermath of the murderous shower scene'? Still not convinced? Well how about the fact that Judah, an ophthalmologist, ruminates on whether 'the eyes are the windows of the soul'? Doesn't that suggest that Allen wanted to put us in mind of Rear Window (1954)? Yeah, and Deconstructing Harry is all about Jacques Derrida's De La Grammatologie…
Needless to say, Derrida really does show up in the Companion. So do Barthes, Lacan, Lyotard, Heidegger, Iragaray, each of them quoted or paraphrased with incontinent approbation. Quite what they're doing here is another matter. Love or loathe Julia Kristeva, you'd be hard pressed to connect her thought with Woody. True, her suggestion that 'our gift of speech, of situating ourselves in time for an other, could exist nowhere except beyond the abyss' sounds like one of Allen's early pieces for the New Yorker. But even if you can make sense of what it's trying to say, I can't see that her work is any more applicable to Allen's than it is to Altman's or Almodovar's. As J Andrew Gothard's 17-page long 'Census of Woody Allen's Allusions' (far and away the best thing in this book) makes clear, philosophy post-Sartre just isn't in Woody's purview.
Not much is. Even his greatest admirer would have to concede that Allen's pictures are a little Upper West Side samey. But with its inability to see beyond issues of gender and race and that dread po-mo catch-all, self-reflexivity, this book makes them seem more samey still – and mighty similar, too, to any other director whose work gets the academic treatment. There isn't a movie in the book that escapes being called out for its sexist stereotypes or its reinforcing of the Mulveyan gaze. Nobody ever wonders about, say, the differing narrative functions of Allen's leading ladies – how Diane Keaton was usually cast as a pretentious airhead, Louise Lasser as a sexy comic foil, Mia Farrow as an emotional car-crash. To do that, of course, you'd have to actually watch the movies, rather than merely sit through them ticking off spurious references to what passes for contemporary thought.
Oh, and doesn't the 'companion' element in Bailey and Girgus's title suggest that their book will be stuffed with information? Some hope. Not only does it contain no all-encompassing bibliography (instead, each chapter carries its own) and section on further reading, but there's no filmography either. This for a writer and director and actor with one of the most prodigious CVs in the business, and one whose works have, as we have noted, a habit of running into one another in the auditorium of memory. With companions like this, who needs enemies?
Christopher Bray is a freelance journalist and author. He is author of Sean Connery: The Measure of a Man, published by Faber and Faber. (Buy this book from Amazon(UK).) 
A Companion to Woody Allen, edited by Peter J Bailey and Sam B Girgus, is published by Wiley-Blackwell. (Buy this book from Amazon(UK).)
Picture by: Joel Ryan/AP/Press Association Images
To enquire about republishing spiked's content, a right to reply or to request a correction, please contact the managing editor, Viv Regan.