Anti-lads' mags – and anti-people
Saleha Ali finds a Lose the Lads' Mags protest wet, unpopular and very snobby.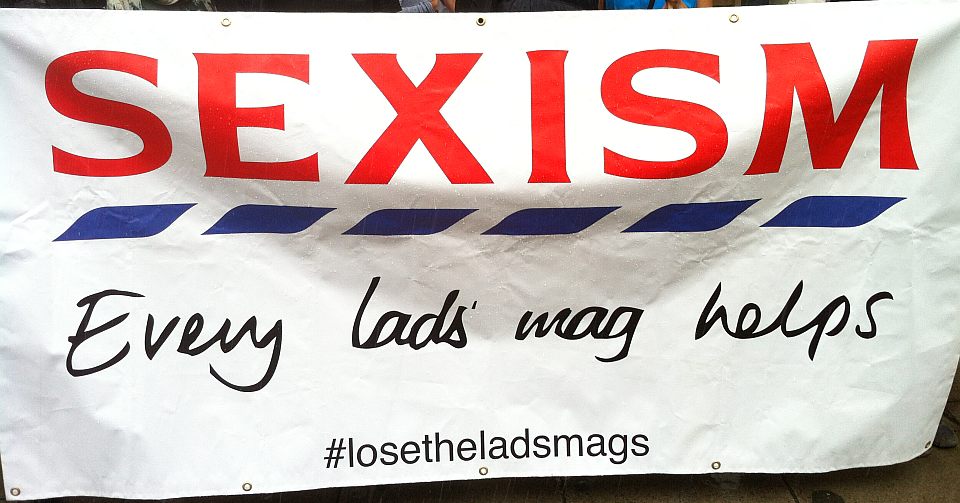 It's Saturday afternoon and it's tipping it down. Yet here I am, soaked, approaching a Tesco Metro on London's Regent Street to check out a protest which has caught the imagination of the Twitterati and certain media outlets. The Lose the Lads' Mags campaign is an attempt to force Britain's largest retailers to drop so-called sexist lads' magazines such as Nuts and Zoo. According to the campaigners, the presence of these magazines in big stores constitutes sex discrimination and harassment of female staff and customers, contrary to the Equality Act of 2010. The campaigners also complain that such magazines objectify women and promote misogyny.
It becomes clear quite quickly that while Lose the Lads' Mags may have cooked up a storm in the virtual world, that has not translated into bodies on the ground. In fact, there are about 35 anti-lads' mags campaigners, a youngish crowd of mostly women, flanked by half as many journalists.
I am quickly introduced to a nice young woman from the Southall Black Sisters who is collecting signatures to support the campaign. So far she has collected two, but she's still happy enough to speak to me about the protest and her concerns. She says the campaign is not about promoting a prudish attitude towards women. Rather, she says, it is a reaction to the 'objectification of women and treating them like a piece of meat… We don't want [lads' mags] to be there in the first place.'
'Where do you draw the line?', I ask her. Can customers and staff members from ethnic minorities ask Tesco not to sell the Daily Mail because it is offensive to immigrants? She says that while the Daily Mail may not have much to commend it, lads' mags are more comparable to the government's explicitly anti-immigrant 'racist vans'. The message, images and language of lads' mags, she says, are explicitly sexist, degrading and threatening towards women.
Other protesters talk about the 'harm' caused by these magazines. 'There is a growing body of research that shows a link between sexual images, patriarchal attitudes and violence against women, such as rape and harassment', says women's rights activist and criminologist Aisha Gill. Yet for some reason, she refuses to cite the research. I push her on this. How does this so-called research explain rape against women in more conservative countries, such as Saudi Arabia, where images of the female body are absent from public life? 'I think in countries where there are conservative attitudes in terms of the body politic, violence remains pervasive… but should that be an excuse to not do anything over here?', she replies.
The problem for Gill and her fellow protesters is that the evidence for lads' mags doing harm simply isn't there. If it were the case that they transmit dangerous messages and promote sexual violence, you would expect an increase in violence against women to coincide with increased sales of lads' mags. But according to a British Crime Survey, incidents of domestic violence fell by 64 per cent between 1997 and 2009 – the period during which sales of lads' mags were at their height.
Still unsure what the fuss is about, I compare the cover of Zoo to Gay Times, which features a half-naked man. What is the moral dividing line between the two? 'Whether gay men feel objectified or not is their problem', says one protester. 'If they don't like it, it is up to them to fight it.' One thing is for sure – this is not a campaign bothered by ideas of equality. Instead, it seems to be a special-interest campaign premised on the idea that women are fragile victims in need of protection.
As I continue to take pictures and talk to people, it becomes clear that rather than voicing the real everyday concerns of women, or having any serious debate about the position of women within society, this campaign is more about feeling superior to the consumption habits of the masses. Irritated shoppers huff and puff their way through the mini-throng, and every now and then a protester takes an interest in them. It is revealing who they stop. One protester dumps a photocopied Lose the Lads' Mags pamphlet into the hands of a guy in overalls with the admonishment, 'You seem like the sort of guy who needs to read this'. Later on, a protester grabs a pile of lads' mags from the rack inside the store and dumps them in the middle of a busy road. The store's security guard has to come out and pick them up once the traffic stops – so much for protecting Tesco workers.
As the downpour turns into a light drizzle, so the protest fizzles out. I approach Kat Banyard, protest organiser and founder of UK Feminista, and suggest to her that perhaps the campaign is condescending towards male readers of lads' mags. Surely men can tell the difference between fantasy and reality? She responds by telling me that lots of men have written to her supporting the campaign. Apparently they, too, are offended that these magazines expect them all to be visual rapists. That's me told then. Some men can tell the difference between fantasy and reality, she seems to be saying – the right-thinking sort who don't read these magazines in the first place.
Whether or not the campaign will succeed, it is fair to say that its vision is nuts. Forcing your views on to people without giving them a say is censorship masquerading as feminism. If someone wants to read a magazine full of naked or scantily clad women, that's their business. I'm not going to channel my inner Mary Whitehouse on them, and neither should UK Feminista and Object.
Saleha Ali is a writer and researcher based in London.
Pictures by David Bowden
To enquire about republishing spiked's content, a right to reply or to request a correction, please contact the managing editor, Viv Regan.