Ten big fat lies about fracking
The director of FrackNation explodes the myths put about by fracktivists.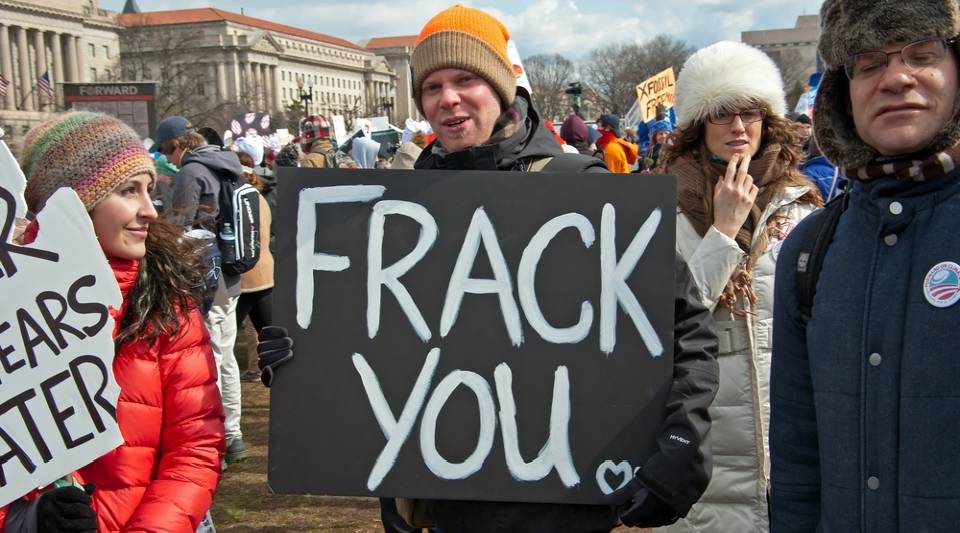 Phelim McAleer, an Irish filmmaker based in America whose pro-fracking movie FrackNation is described by the New York Times as 'meticulously researched and provocative', has had his fair share of run-ins with 'fracktivists'. Here, he picks apart the 10 biggest lies told by the anti-fracking lobby.
1) Anti-fracking activists are nice people who love debate
Actually, far from being liberal, open-minded souls bringing truth to power in a kinder, gentler way, anti-fracking activists have chosen a new disposition: angry! I guess no one told the fracktivists that just because we don't agree doesn't mean we can't get along. Watch Vera Scroggins, for example.
Vera, an anti-fracking, Sierra Club-endorsed activist from Pennsylvania, adds to the 'dialogue' with such constructive comments as:
'You're a freak.'
'You're a male prostitute.'
'You're an Irish freak. Go drink some alcohol.'
'Go get drunk and be a drunken Irish freak.'
'You're an alien. You look like a f***ing alien.'
Or take actor and activist Alec Baldwin. In the run-up to a debate about fracking in the Hamptons that he was taking part in, following a screening of the anti-fracking movie Gasland, Baldwin approached the New York Independent Oil and Gas Association (IOGA) to see if it could suggest a speaker who was not as anti-fracking as the other speakers on the panel. IOGA suggested me as an independent voice, a journalist with an international perspective who has researched fracking for over two years in two continents. But suddenly Baldwin was no longer interested in debate or diversity of opinion, and he vetoed me from the panel. Then, a few hours later, he popped up on Twitter and posted the following:
@phelimmcaleer Come debate me, Phelim, you lumpy old gas whore. Who's paying you?
— ABFoundation, 1 June 2013
@phelimmcaleer Phelim, you are a dreadful filmmaker. But come debate me, you tired old bullshitter.
— @ABFalecbaldwin, 1 June 2013
Sean Lennon – son of peace activists John Lennon and Yoko Ono – thought that someone who disagreed with him on fracking was a good 'argument for abortion'.
Or, if you're still not convinced, just peruse the comments on my movie's Facebook page left by anti-fracking activists. Such pleasant people!
2) Everyone hates fracking
From news coverage, you would think that everyone in America hates fracking. Even the name sounds awful. Who could support such a terrible practice?
Well, it turns out that just about everyone who lives with it loves it.
Dimock, Pennsylvania is one place where all journalists reported that everyone hates fracking. Yes, there were 11 families in the village involved in a very lucrative lawsuit with an oil-and-gas company, and the journalists always interviewed them. But they completely ignored a petition signed by 1,500 people in the community who said their water was fine and had not been affected by fracking. What is 11 out of 1,500? Less than 1%. It's the 99% who support fracking.
There is one other group that is opposed to fracking in Pennsylvania – the New York elite. This coalition of grumpy hipsters and celebrities have holiday homes in Pennsylvania, or they're concerned that if a new industry brings wealth and progress to PA then the 'traditional' (read poor) way of life there will be destroyed.
So once or twice a year, the likes of Mark Ruffalo, Susan Sarandon and Yoko Ono get bussed in from the city to meet disgruntled locals, and then are chauffeured back to their gas-heated homes after another day of successfully blocking natural-gas development.
If you want proof positive that communities love fracking, look no further than the ballot box. Consider this US Businessweek report on the 2012 election: 'Anti-fracking candidates in the Southern Tier [New York] were beaten up and down the ballot after intense campaigns, some of which were framed as referendums on shale-gas development.'
At least 20 anti-fracking candidates were rejected by New York voters (New York is supposed to be the heartland of anti-fracking sentiment). But hey, keep protesting, fracktivists – after all, democracy is for the little people, and you can walk all over them on your way to your next starry TV interview about the 'evils' of fracking.
3) Fracking is brand new and untested
Pop quiz: how long has fracking been around? Here are your choices:
a) Since 2010
b) Since 1990
c) Since 1975
d) Since 1960
Sorry, you're wrong. Trick question. The first fracked well was in 1947! And more than one million wells have been fracked in the US since then (2.5million worldwide). In terms of industrial processes, it doesn't get much older or more thoroughly tested than fracking.
4) Fracking makes your water flammable
No lie about fracking is more widely believed than this old canard. It was popularised by Josh Fox in his HBO-funded documentary, Gasland. In it he shows a man who can light his tap water on fire, supposedly because of fracking.
I asked Josh about reports that some people could light their water before fracking occurred. He didn't like this question.
He eventually admitted that he knew people could light their tap water on fire decades before fracking ever started but chose not to include this fact in his documentary because 'it wasn't relevant'.
There are three places in the US called Burning Springs, and there are historical records of people lighting their water since the 1600s.
5) Fracking contaminates drinking water
If fracking doesn't make your water flammable, it must at least contaminate it with dangerous chemicals, right?
Not according to Lisa Jackson, the former head of the US Environmental Protection Agency (EPA) and no friend to big business. She testified before Congress that there have been zero proven cases of water contamination due to fracking.
That's right – one million fracked wells later, there are no examples of contaminated water anywhere. Zero.
6) Fracking uses a lot of dangerous chemicals
Fracking fluid is 98.5% water, 1% sand, and 0.5% chemical additives. Some of these additives are also used in making ice cream! Colorado's Democratic governor, John Hickenlooper, drank fracking fluid to prove its safety to his local residents.
But these are still chemicals and we should be scared of them – that is the cry of the fracktivists. But water is a chemical. Coffee has a whole bunch of chemicals in it. Everything is a chemical. Don't be duped by bad science (like the people these American comedians convinced to ban the scary sounding 'dihydrogen monoxide').
7) Fracking causes breast cancer
In his short film, The Sky is Pink, Josh Fox claimed that a spike in breast cancer in Texas was a result of fracking. Turns out he was wrong. Again. (Seems like a theme for Josh.)
The Associated Press interviewed leading cancer researchers who all concluded: there was no spike.
Did Fox apologise for scaring women and families? No. He's an environmental activist. The media don't ask him difficult questions or demand that he clears the record. Less than a year later, HBO released Gasland Part 2, Fox's sequel about the dangers of fracking. There was no mention of breast cancer in it, and he has never withdrawn his original claim. This is the anti-fracking playbook. Scare people, get media attention. And when the science comes in debunking the scare story, move on to the next scare story.
8) Fracking uses a ton of water
Even fracking fans have a hard time swallowing the water stats for fracked wells: the EPA estimates that fracking used between 70 and 140 billion gallons of water in 2011. That sounds like a lot of H2O. Unless you have a lawn.
Americans use 20 times more water on their lawns than they do on fracking.
9) Fracking should be banned because it causes earthquakes
One of the scarier arguments against fracking is that it causes earthquakes, especially if you live in a tectonically charged US state, like I do. Yet all activity under the ground affects the earth, and if you don't like this fact then you should also campaign to ban supposedly eco-friendly hydro-power, which actually has caused earthquakes (but they only affected Indians, so environmentalists don't care – just so long as the energy created was 'sustainable').
But the biggest cause of man-made earthquakes is the environmentalists' favourite power source: geo-thermal. It seems that some earthquakes are more equal than others.
10) Fracking destroys the landscape and disturbs bucolic rural America
The process of fracking (which is separate from drilling) is noisy and looks messy – for a few days. Then the land is reclaimed and the industry moves on to the next area. All the scary photos of huge machinery and big trucks are taken during this initial process. Which is a bit like photographing the building site of a half-built house and saying all house-building should be banned. As a filmmaker, my biggest problem was trying to film working gas wells in a way that would look interesting. They are tiny and often hidden behind hills or behind bushes and trees.
Oh, and fracking does create traffic. That claim is true. Locals call this 'jobs'. They generally like it. They may complain sometimes but they know that the only thing worse than traffic in rural America is no traffic.
Phelim McAleer is co-director of FrackNation.
Picture: Michael G McKinne / Shutterstock.com
To enquire about republishing spiked's content, a right to reply or to request a correction, please contact the managing editor, Viv Regan.