Don't blame useless Ed – Labour's dead
Chucking political eggs at Labour leader Miliband is missing the point.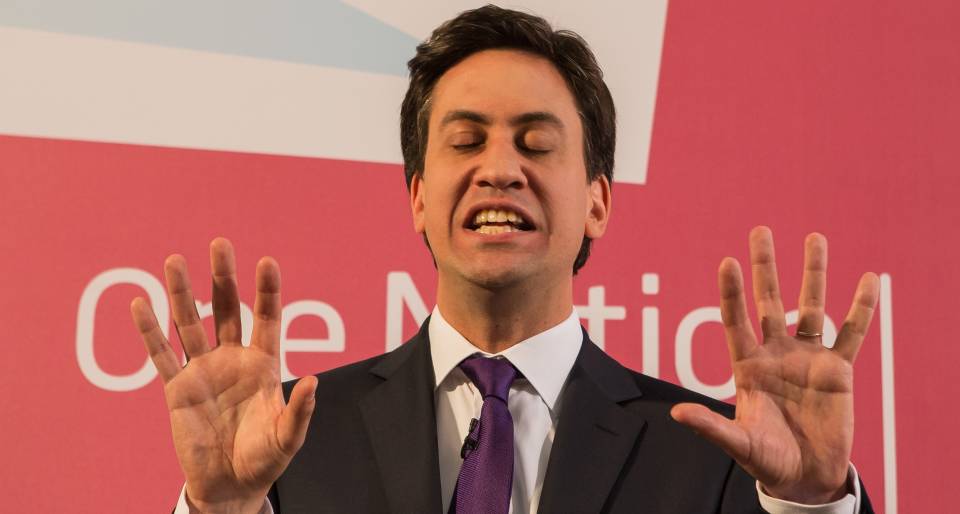 When everybody from Labour's John Prescott to Tory Boris Johnson appears to agree, it is generally a sure sign that something is wrong. Even when they are agreeing with the obvious fact that Ed Miliband's Labour leadership is worse than useless.
This summer's political 'silly season' has turned into open season on Labour Party leader Miliband, as the opposition fails to make real headway against the flailing Lib-Con coalition government. It's not just the Tories putting the boot in, either. More significantly, Labour Party grandees have turned on their leader for having, in the typically incoherent words of Lord Prescott, 'massively failed' to get their party's message across.
Far be it from me to leap to Miliband's defence. He is indeed a hopeless excuse for a political leader, with no vision or charisma or connection to the public, as reflected in his dire poll ratings among Labour's own voters.
But that is precisely what makes Miliband the man for the job today. Political parties tend to get the leaders they deserve. And the empty shell of the Labour Party fully deserves the empty suit that is Miliband junior. The problem is rather more profound than the leader's better-dead-than-Ed 'personality'. It is the political death of Labourism and social democracy.
Miliband is a fitting symbol of a party that is divorced from both modern society and its own roots. From the first, Ed and his elder brother David were defined by a lack of ideology or firm beliefs. Thus while they gained access to Labour's inner circles through their family connections, they always rejected their famous father Ralph Miliband's 'dogmatic' socialism.
Despite his successful political career (he has always been clear that it is a 'career', like banking, not a vocation or a mission), Ed Miliband has never fought a public battle for leadership in his sheltered life. He rose without trace in the smoke-free rooms of the media, academia and Planet Think-tank. The New Labour leadership groomed young Ed for a place in a future government by sending him off to Harvard to study economic wonkery – the political equivalent of sending posh young ladies to a Swiss finishing school to polish up their etiquette. Then they anointed him as Labour MP for Doncaster North – the first one to hold that seat who had not been a miner or a miner's son. Miliband was not so much parachuted into 'his' working-class constituency as beamed down from an alien spaceship.
Then, after Gordon Brown's defeat in the 2010 General Election, Ed Miliband beat his brother to become Labour leader almost by accident – the first time under the electoral college system that a candidate had 'won' the leadership without the majority support of either party members or MPs. Nobody seemed to know where he had come from or how he managed it. That made the 'accidental leader' the perfect frontman for a party that had no idea where it was going or what it wanted to achieve.
Despite being a political nobody who stood for nothing, however, Miliband was quickly acclaimed by self-deluded Labour commentators as the saviour of 'real Labour' (forgetting that they had said much the same about grisly Gordon Brown). Three years on, Labour lords are turning on their messiah for failing to deliver them the miracle of resurrection, aka a likely parliamentary majority.
Yet the criticism of Miliband today is as misplaced as was the praise heaped on him before. Contrary to the accepted wisdom in those circles, Tony Blair and his New Labour clique did not kill 'real Labour'. It was the fact that Labourism was already dead as a political movement which allowed them to take over in the first place. For a while the showbiz style of Blair's high-voltage PR operation managed to conceal the crisis behind him. But a political pygmy such as Miliband has no chance of hiding the hole where the Labour Party is supposed to be.
This summer's Miliband-bashing is essentially a displacement activity by those who cannot face up to Labour's demise. One of the few times the Labour leader made the front pages lately was when a disgruntled punter threw an egg at him in a South London market. The criticisms from frustrated Labour grandees are really just the media equivalent of chucking an egg at Ed – and about as meaningful in political terms.
Take, for example, the widespread criticism that Miliband's leadership has failed (or even 'massively failed') to get Labour's message across. This is an accusation levelled at every Labour leader since the rise of Margaret Thatcher. It always avoids the real question: exactly what message might that be, then? The notion that Miliband's failure is one of communication rests upon the absurd assumption that he has some meaningful message to communicate to the public. It seeks to depict a political crisis as a PR slip.
Those engaged in the latest round of Labour's court politics this summer are as removed from any real contact with a constituency as those Big Brother contestants locked away in a house, nominating one another for eviction in an election that nobody cares about. Some commentators in this closed world of fantasy politics have even described the recent outbursts of dissent as Miliband's 'summer of discontent', comparing it to the 1978/79 'winter of discontent' when the trade unions rose up against James Callaghan's Labour leadership. Yes, of course: a couple of old Labour fogeys getting grouchy in the Guardian is exactly the same as millions of public-sector workers going on strike against Labour's policies of pay restraint.
The extent to which this debate is removed from any real sense of political campaigning was summed up by Lord Prescott's complaint that Labour shadow ministers had not been on Twitter enough all summer. They would far rather fight the Tories on the tweets than the streets.
The focus on Miliband's evident personal shortcomings misses the point about the terminal crisis of social democracy in an age when state socialism stands discredited and nothing of substance has emerged to replace it. This problem is not confined to the UK. The Australian Labor Party has just gone through a similar round of internal bloodletting, with complaints about prime minister Julia Gillard's personal performance leading the party to remove her from office shortly before a general election. That leadership change has done nothing to revive the fortunes of the Labor Party. The competent Gillard looks like a political giant compared with Miliband. Yet that did not save her from being scapegoated for the latest crisis of social democracy.
Anybody who seriously suggests that the Labour Party's problems are down to Ed Miliband or Twitter is as deluded as those who still believe that the Tory-Lib Dem coalition can turn the UK economy around. To be a great political leader, you need a party to lead. You have to have a message (beyond 'Vote for me please!') before you can 'massively' get it across. And you need some convictions before you can display the courage of them.
It almost seems as if the only ones who really want Miliband to remain as Labour leader are the Conservatives, who hope he is the one thing that can make David Cameron look masterful. Perhaps those of us on the left who want to see some proper political debate about alternatives for the future should also leave poor wee Ed alone, however. And leave the ghosts of Labour past to fight over the rotting corpse of their party.
Mick Hume is spiked's editor-at-large. His book, There is No Such Thing as a Free Press… And We Need One More Than Ever, is published by Societas. (Order this book from Amazon(UK).) Visit his website here.
To enquire about republishing spiked's content, a right to reply or to request a correction, please contact the managing editor, Viv Regan.