'Liverpool PC': You'll Never Talk Alone
Liverpool's list of banned words is only the latest attempt to police fans' speech.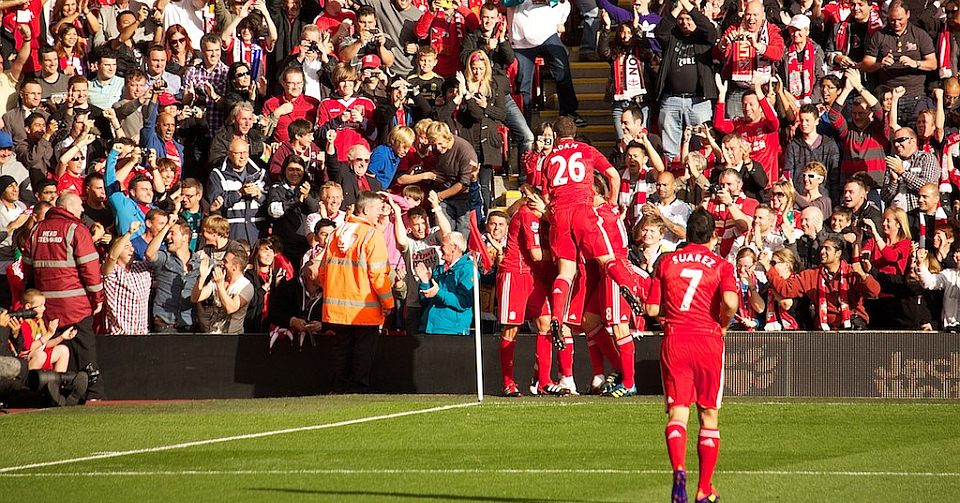 Is it just me, or does the campaign to give football fans and players a good 'ethical' kicking seem to start earlier each year? Even before a ball has been kicked in the new season, the first political red card has been shown with the publication of Liverpool FC's staff handbook listing words that the club now deems 'offensive' and 'unacceptable' anywhere at their Anfield stadium.
As with all such attempts at official moral harrumphing, it makes reasonably ridiculous reading. Beneath the heading 'What YOU need to look out for', the handbook lists banned words under four categories. The 'Race/Religion' section includes not only the obvious – 'Nigger, Wog, Paki', etc – but also such obscurities as 'Nip' (not heard since Second World War comics went out of fashion) and 'Coloured' (a word used almost exclusively of late by ex-Liverpool players on Match of the Day). It carefully spells the outlawed insult 'Gypsy', because of course no supporter would ever be so vulgar as to say 'Gypo'. The surprise is perhaps that the booklet does not include on its hit-list the 1960s Alf Garnett classic 'Scarse git', or the more contemporary chant, 'You Scouse bastard'.
The handbook's 'Sexual Orientation' list ranges from 'Poof, Fairy, Queer' to 'Lezzer, Knob-jockey, Bender'. It also seeks to criminalise statements such as 'You're gay' or 'That's gay', a move which some youngsters might consider, frankly, a bit gay. The next section, on 'Gender', scrapes the linguistic barrel by attempting to ban not only words such as 'Princess' and 'Queen' (so no singing the national anthem), but also phrases such as 'Play like a girl', 'Man up' and 'She-man' (?). Then the final section on 'Disability' rounds off with the likes of 'Midget, Cripple, Retard' alongside 'Spaz' (a staple of the 1970s playground), 'Downy' and 'Handicapped' – presumably as in 'Our team is handicapped by the inclusion of Stewart Downing'.
On the pitch Liverpool might be struggling to climb into the top four of the English Premier League (EPL), but off it the club is keen to show that it is climbing the PC table, particularly after being accused of indulging racism over its handling of the Luis Suarez / Patrick Evra bunfight. So, as if the handbook was not enough, somebody called 'Liverpool's social inclusion officer' then added to the fun by popping up in the media to boast that 'the club has already attained [anti-racism lobby] Kick It Out's equality standard preliminary level and has recently submitted its application for the equality standard intermediate level demonstrating its continued commitment'. Imagine the excitement of soaring from preliminary to intermediate level equality standard – who needs any more boring old European Cups?
So far, so surreal. Of course as a Manchester United fan myself, it is only to be expected that I would enjoy poking fun at such an attempt at Liverpudlian piety. However, it also has to be admitted that it is slightly unfair to single out 'Liverpool PC' for criticism. Their handbook is only a clumsy effort to catch up with the national campaign to police the language and thoughts of football fans and players.
Indeed, in one important sense at least, Liverpool FC is still behind the PC curve. Its handbook introduces its lengthy list of outlawed words thus: 'It's important to understand the context of what's being said, but here are examples of a few [?] words worth listening out for which are usually offensive and the club considers unacceptable.'
What? 'It's important to understand the context' in which words are used? Such outrageous hints at common sense have no place in football today. The ethical standard has been laid down by repeated statements from the FA, Kick It Out and all the rest of the anti-racist industry, making clear that words deemed racist or rude are always offensive and unacceptable, 'regardless of context'. The football authorities now declare that words can be evil, no matter what was meant by them. So a black comedian using the 'n-word' in an ironic routine at a football awards dinner can spark a race scandal, and a player such as John Terry can be banned effectively for using the word 'black', even though a court found him not guilty of racist abuse. Liverpool need to pull their PC socks up a bit further, and stop all this sensible talk of 'context', if they hope to win promotion from Kick It Out's intermediate level this season.
Amid all this up-itself-righteous nonsense, the 'context' which really ought to matter is that we are talking about language used at a football match, not a supper party or an FA committee meeting. Football is not like real life. It is a gloriously irrelevant distraction and emotional outlet where people – usually, whisper it, white working-class men – can behave in ways they would not dream of doing elsewhere. Football has long been considered an exception to social etiquette. Now that rule is being reversed, so that if anything fans are expected to obey more rules at the match than outside. 'Free Speech for Football!' should be a rallying cry today. But the respectable civil liberties lobby would rather defend freedom for foreign poets than for fat abusive British football fans.
The intensifying crusade to police 'offensive' language at football is an attempt to tame the words, deeds and even thoughts of the working-class people who play and watch it. In the process the authorities are sanitising the game. At the end of last season, the ghastly Lord Ousely, Kick It Out chairperson, once again spelled out the mission creep of the phoney moral crusade by demanding that FIFA's anti-racism campaign crack down not just on racial abuse but on anything deemed 'nastiness' in crowds. 'We don't see that sort of nastiness in other sports', complained the appalled Ouseley. 'The tribalism and the way people seek to express their frustrations in football is quite unique.' Indeed it is. And we wouldn't want it any other way.
Mick Hume is spiked's editor-at-large. His book, There is No Such Thing as a Free Press… And We Need One More Than Ever, is published by Societas. (Order this book from Amazon(UK).) Visit his website here.
Picture by Danny Molyneux (Flickr) through Wikimedia Commons.
To enquire about republishing spiked's content, a right to reply or to request a correction, please contact the managing editor, Viv Regan.