Kate's baby and the myth of monarchist masses
Republicans once trusted the public. Now they despair of it.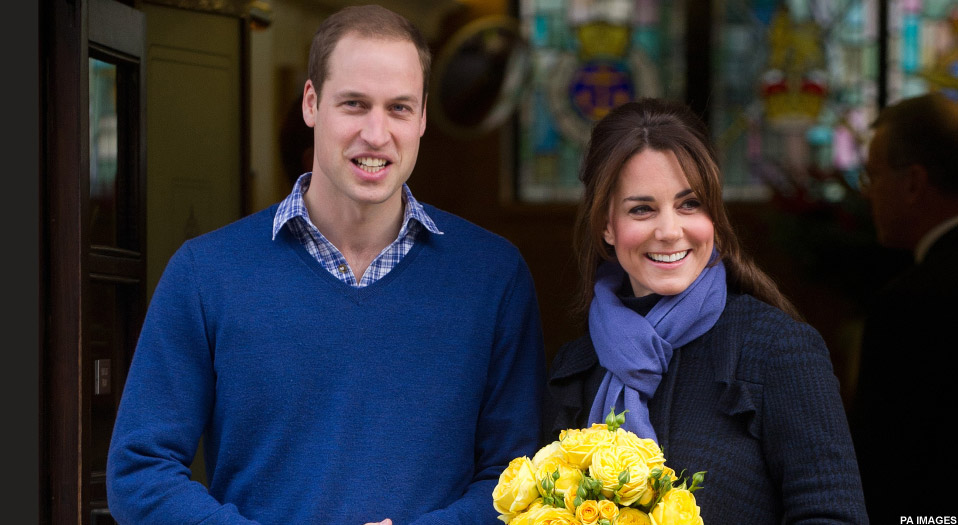 So, the royal baby is finally here, and across Blighty the little people will have made themselves virtually bald through frenzied forelock-tugging, or perhaps busted their backs by bowing and scraping before their mewling future king. At least, that's the impression that has been given by a certain breed of observer, the ironically public-allergic republicans who seem to hate the monarchy primarily because of the behaviour and emotions it induces in the plebs. Once, being a republican meant trusting the public (the clue was in the name) and believing it had the capacity to think and act rationally. Today, if the ostentatious chattering-class wailing about the mob hysteria over Kate's baby is anything to go by, it means the opposite – it means despairing of the public and shaking a snobby head over its Stepford-like enthralment to all things monarchical.
As soon as it was announced that Kate was expecting, these shallow republicans started bemoaning the mass hysteria that would ensue. Britain will once again become 'a nation of forelock-tuggers', clever broadsheet people warned. Apparently, 'forelock-tugging is all the rage' in this supposedly modern nation, where the daft blob formerly known as the public is being kept non-angry about the recession and other horror stories through being dripfed info about Kate, Wills and their baby. In the words of the Mirror's poetic Brian Reade, 'Our austere country need not grieve, for Wills' missus can conceive'. That has been the central message of most of the apparently rad commentary on Kate – that the plebs are easily bought off with photos of a pregnant princess and smiling prince. One columnist wrote of the 'ready-to-whoop peasants' waiting for news of Kate's babe. A writer for the Independent said of Kate's pregnancy, 'Everyone laps it up… it makes plebs of us all'.
Well, not all of us… It became highly fashionable during these past nine months of future-sovereign gestation for liberal-leaning observers to make a loud, proud display of their ability to rise above the hysteria and behave in a non-pleb-like fashion. 'Who exactly is supposed to be interested in Kate's baby? Not me, and not anyone I know', declared a clearly brainwashing-immune and well-connected columnist. 'I don't give a damn', she said. Another expressed her desire to escape the public frenzy by spending the summer 'living in a small hut in the Hebrides, internet-free, media-free, playing only a lute for entertainment'. Here, 'republicanism' becomes about self-consciously separating oneself from the public, the throng, rather than engaging with it and treating it seriously.
There is a deeply ironically elitist strain to all this pseudo-republicanism. Today, being a republican effectively means expressing one's superiority over the plebs, juxtaposing one's own non-gullible sensibilities against the blob's unthinking lapping-up of a 'giant tidal wave of baby bullshit'. We saw the same thing during Kate and William's wedding in 2011, which was described by one columnist as a 'magnificent pleb-pleasing distraction'. It was a Wedding of Mass Distraction, said a radical writer, where the aim was to keep the moronic masses 'happy and obedient' in this era of recession. Celebrity curmudgeon Will Self said Brits had been 'brainwash[ed] on an Orwellian scale… conditioned from birth to accept [monarchy]'. Not all Brits, of course; not the ones with strong minds, like Self and his mates, who can resist top-down conditioning and see monarchism for what it is.
Certain sections of polite society have always found the monarchy offensive more for the wide-eyed stupidity it excites in the masses than for the fact that it is an undemocratic institution. So in 1907, Leonard Woolf of the Bloomsbury Group wrung his manicured hands over 'the people's superstitious loyalty towards the royal family'. In 1992, social psychologist Michael Billig published his influential book Talking of the Royal Family, which analysed the 'strange mass obsession' with the monarchy. In the late 1990s, a European sociological study claimed to find that 'royalism [among the public] coincides with a low educational level and an authoritarian attitude'. Royalist sentiment is now taken as a marker of profound ignorance, and republican sentiment has become an expression of haughty disdain for, and distance from, such ignorance.
There are two annoying things about all this. The first is that it's plain wrong to depict today's media and public interest in Kate's baby as a resuscitation of old-world royalist sentiment. Most of the public relates to Kate in the way they relate to celebs – not as a godly bearer of a babe whom we will one day bow before, but as another preggers celeb in nice clothes we can read about in our spare time; a posher Kim Kardashian, if you will. The House of Windsor has self-consciously cultivated a celebrity image for itself in recent years, sensing that its old imperial, mysterious, God-derived powers and so-called right to rule are on the wane in this era of profound crisis for traditionalism, and that celebrity is now a far more powerful source of authority than kingliness. Indeed, the popularity of Kate as just another celeb, albeit a super-A-list one, speaks to the moral diminution of monarchism as it was once understood, to the emptying-out of its alleged magic and power, not to its rehabilitation.
And secondly, this pleb-mauling republicanism is not republicanism at all. It is very often fuelled by an anachronistic desire to protect Kate from the prying eyes of the princess-hungry throng. We are putting poor Kate in a 'gilded cage', lefty columnists fret. Others claim we are hounding her – we have clearly 'learned nothing since Princess Diana'. It's a very odd republicanism which feels empathy for individual members of the royal family and disdain for the public. For me, editor of the uber-republican spiked, republicanism is not about sneering, but rather is about engagement, taking ourselves and the public seriously, talking about how society should be run, and by whom. And as the American revolutionary John Adams said, pursuing such republicanism means believing the public can be 'sufficiently enlightened to disabuse themselves of artifice, imposture, hypocrisy and superstition'. Sadly, too few British republicans believe that these days.
Brendan O'Neill is editor of spiked.
To enquire about republishing spiked's content, a right to reply or to request a correction, please contact the managing editor, Viv Regan.