Stuart Hall: the thirst for punishment
The calls for the TV presenter's sentence to be harsher are not based on the principles of justice, but on a desire for revenge.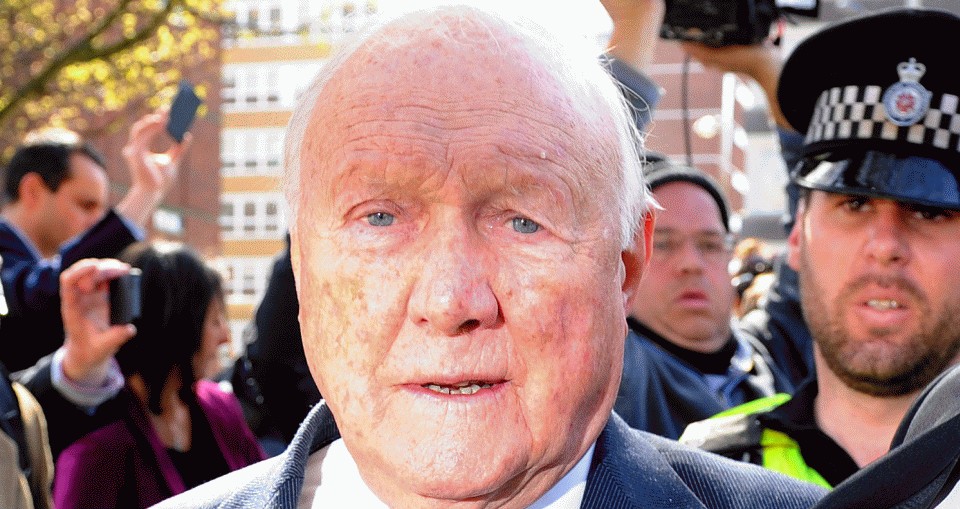 Last week, the veteran broadcaster Stuart Hall was sentenced to 15 months imprisonment for a series of historical offences against children committed between 1967 and 1986. As soon as the sentence was announced, there was unanimous criticism of its leniency. The Guardian, which no doubt likes to consider itself a liberal proponent of rehabilitation and hands-off sentencing, said the judge got it wrong, and should not even have taken into account Hall's age or his guilty plea to shorten his sentence. In other words, do away with the normal standards and entitlements that most defendants have before the criminal courts, and lock him up and throw away the key.
Let's make one thing clear: the only outrageous thing about Hall's sentence is the fact that an 83-year-old is being sent to prison, for what may well be the last years of his life, for relatively low-level offences committed over 20 years ago. The judge had indicated that he may have suspended Hall's sentence – in other words, he would have imposed a custodial sentence which Hall would not actually serve unless he committed another offence in the course of the suspension. In the end, however, it was thought right that the geriatric Hall, who is suffering from significant ill health, deserved a spell behind bars.
Although the reaction to the sentence would have you believe that Hall was a major sex offender, this is simply not reflected in the facts. The judge explained that the offences 'ranged in seriousness'. He found that most of the counts did not warrant a custodial sentence. There were no counts alleging contact which went beyond unwanted touching and kissing. Some of the counts were made more serious by the fact that complainants were very young. The most serious offence was for the touching of a 10-year-old girl. The judge said, in relation to that count, that the assault itself was a 'minor' one, but that the age of the girl was a significant aggravating feature.
This is all absolutely correct. Hall had obviously spent a period of his life taking advantage of his position to touch people he shouldn't have done. Had he been arrested at the time then locking him up may well have been an appropriate response. But what about today? What possible societal interest is served by throwing an elderly man into prison, one who stopped offending of his own volition 27 years ago?
Obviously Hall's sentence is not rehabilitative. There is no suggestion, nor any evidence, that he presents any threat to the public whatsoever. Sentencing Hall to custody must therefore be entirely punitive. It is ironic that many of those now baying for Hall's blood are the same people who usually argue for greater leniency and rehabilitation in the justice system. Their treatment of Hall suggests that when it comes to certain kinds of offenders, they are just as keen to chuck people inside as anyone else.
Of course, were society capable today of having a grown-up, honest and objective discussion about these cases, then perhaps some of those who are usually so quick to proclaim their liberal approach to criminal justice may well have recognised that the public shaming that Hall has gone through as a result of his guilty plea may well be punishment enough. But with Hall, even the most liberal commentators were arguing that his sentences on each count should have run consecutively not concurrently, meaning Hall would serve a sentence of around six years.
To argue seriously that Hall deserves a six-year sentence is to confuse justice with revenge. It would confuse the court's proper role in administering justice in the interests of society with the personal and individualised act of taking revenge on behalf of Hall's victims. Of course, Hall's offending was inexcusable and did serious harm to those he targeted. Accordingly, a 15-month sentence was arguably a just one. It did, at least, accurately reflect the nature of his offending, and the same principles were applied to him that would be applied to any other defendant in the same position.
But the media and politicians, who are calling for Hall to be locked up for good, don't want justice; they want the court to provide is 'closure' for Hall's victims. In other words, they want revenge. They want the court to move away from the objectivity and impartiality with which defendants are normally treated, and instead pass whatever sentence is necessary to satisfy the victims.
This is simply not what the courts are for. Nor should they be. The judge in Hall's case should have suspended Hall's sentence and spared him prison. This would have been a merciful and rational thing to do. Sadly for Hall, the climate today means objectivity and compassion often gets left at the door of the court and replaced with the perverse desire for revenge. Anyone else convicted under this all-powerful media spotlight should not expect mercy.
Luke Gittos is a paralegal working in criminal law and convenor of the London Legal Salon.
To enquire about republishing spiked's content, a right to reply or to request a correction, please contact the managing editor, Viv Regan.