Israeli settlers: the new 'niggers' of global affairs
Settlers are the one group of foreigners it's fashionable to loathe.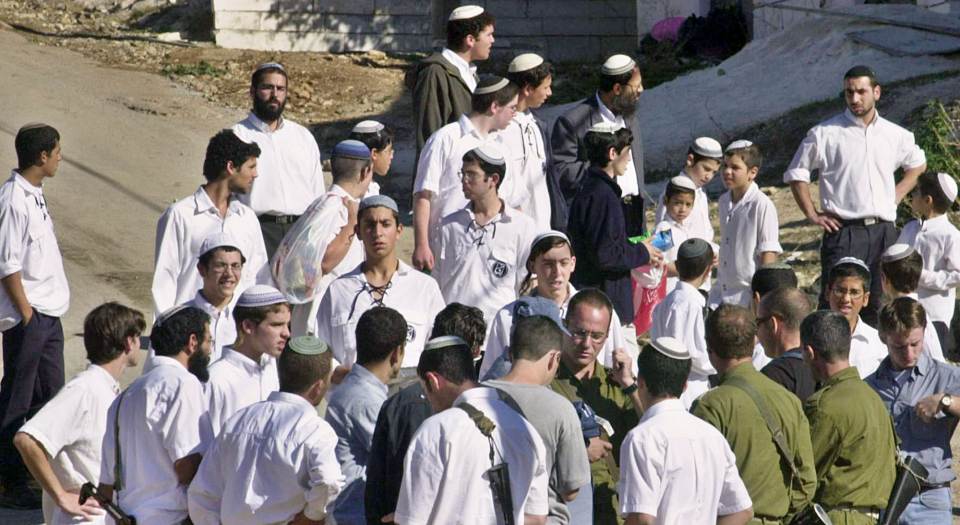 There is a magnificent irony to Behind the Wall, British novelist Bidisha's radical travelogue about her visit to the Palestinian territory of the West Bank: it is packaged as a noble challenge to Israel's dehumanisation of Palestinians, yet it positively drips with its own inhumane contempt for Israelis, especially Israeli settlers.
They are 'the most abnormal people', 'odd recluses', 'thugs', 'strange', 'completely unworldly'; they 'look like zombies' or 'aliens or ghosts, ranks of spectres'. And don't get Bidisha started on Israeli soldiers – they are 'sick fucks' who wear 'the creamy smiles of liars'; they are 'sunburnt, wiry, mean'. And apparently all these peculiar creatures, soldier and settler alike, have a penchant for shitting on people. They 'throw faeces and urine' at Palestinians; their sewage 'destroys the soil as it flows down to the occupied territory [in the West Bank]… lines of shit and piss sinking into the land.' See? These Jews claim to care for and love their ancient homeland but really they're smearing it with faeces.
I have read a lot of books about foreign affairs in recent years, including about Afghanistan, Pakistan, the Middle East and north Africa. But I have not encountered in any of them anything as openly contemptuous as Bidisha's descriptions of entire swathes of the Israeli population, settlers in particular. Even settler children find themselves on the receiving end of Bidisha's barbs – they are odd and emotionless, 'peculiar children', who look like they have been 'kept away from sunlight and all regular human contact'. Most intemperate observers of faraway, allegedly strange lands have the decency to leave the children out of their screeds; not Bidisha. She approvingly quotes her travel guide's description of settlers and their kids as 'the most abnormal people you will ever see in the world'.
This short, prejudiced book confirms that Israeli settlers are the new 'niggers' of international affairs, the one group of foreigners it is acceptable for respectable people to heap opprobrium on and to discuss in the same way Victorian colonialists might have discussed weird tribes in Africa. Bidisha strips settlers of all humanity, leaving us only soulless, faceless entities to gawp at. They are 'alien colonisers from a B-movie, maneuvering en masse and unseen, arising out of the darkness and ballooning to occupy a space without a sound', she says, as if these are not people at all but something akin to that B-movie Blob, silently devouring land and humanity. It all brings to mind Joseph Conrad's Heart of Darkness, though of course less well-written, and with his 'unseen presence of victorious corruption, the darkness of an impenetrable night' transported from Africa to Israel/Palestine.
In perhaps the most startling part of the book, about her stop-off in Hebron, Bidisha questions whether Israeli settlers are proper Jews. 'To be utterly blunt', she says, 'they don't look remotely Jewish'. Which immediately raises the question of what Bidisha thinks a Jew should look like. Big nose? Wiry hair? Someone as well-educated as her ought to know that the idea that Jews have distinctive physical characteristics that mark them out from non-Jews is a myth. You get the impression that the real reason the settlers don't look or seem Jewish to Bidisha is because they are so passionately attached to the idea of soil, history, homeland, and aren't Jews supposed to be cosmopolitan and wandering? These zombie-like settlers are probably saying to each other 'here once lived our great-great-great-great-great-great-great-great-great-great grandfather 4,000 years ago', jokes Bidisha's travelling companions, also writers and artists, whom she unembarrasedly refers to as a 'small international elite', who all seem perplexed by the sight of Jews who have a fierce attachment to place. The reason the settlers seem not to be 'remotely Jewish' is because they don't conform to these outsiders' view of what a Jew is, or should be.
Anti-Zionists like Bidisha always insist there is a big difference between hating Israel (a political position) and hating Jews (an irrational prejudice). This is true: one can loathe Israel with a passion without being anti-Semitic. But what is increasingly coming to the fore in critiques of Zionism is the idea that there are good Jews, who are liberal and spiritually homeless, and bad Jews, who have archaic values and are wedded to the idea of an historic homeland. Anti-Zionism, the key, unifying political faith of modern Europe's chattering classes, is slowly but surely giving rise to a moral divide between respectable, civilised Jews and more unpredictable, problematic Jews, the 'zombies', as Bidisha calls them, who are 'completely unworldly'.
This book – written at the Chalet la Giettaz in the French Alps, Bidisha artlessly informs us, 'the perfect place to reflect and write' – doesn't offer much insight into the Middle Eastern conflict. But it does provide a brilliant glimpse into how the conflict is now viewed by Western radicals – as a brutally simplistic war of values pitching put-upon, childlike Palestinians against thuggish Israelis. Indeed, it is notable that Bidisha depicts both wicked Israel and battered Palestine as childish entities, with Israeli soldiers described as 'school thugs', 'teenage babies playing a big game', wearing 'the sharp eyes of children', and Palestinians depicted as damaged and fragile, whose 'children are psychologically disturbed' and risk being consumed by 'depression, addictive behaviours, violence, anger'. The only adult presence in the book is Bidisha and her 'small international elite', and the numerous NGOs that have swarmed Palestine, which are mostly made up of educated Western women who are all 'calm, tough and fearless', Bidisha tells us. These adult actors, level-headed, rational, educated, look with horror upon the fucked-up child that is Israel, and with pity upon the bullied child that is Palestine.
Bidisha completely sidelines Palestinian adults, particularly the men, who are apparently all creepy and sexist – 'It seems that Arab men just don't respect the ladies too much', she says, revealing that she is as good at making sweeping generalisations about Arabs as she is about Jews. This elbowing aside of Palestine's adults allows Bidisha, like so many other Western radicals today, to treat Palestine as a purely childish thing, the weak, vulnerable, mewling babe of international affairs who needs 'calm, tough and fearless' women from overseas to metaphorically suckle and save it. Indeed, a key part of Bidisha's and her small international elite's mission is to help Palestine's psychologically damaged children, to prevent them from falling victim to 'addictive behaviours and self-sabotage' by encouraging them to open up, to write, to 'Tell Your Story'. It's therapy disguised as solidarity. It brings to mind that godawful film Precious, in which well-educated lesbians venture into darkest Harlem and encourage the fat negro girls to get all cathartic in a personal journal.
Sure enough, Bidisha transforms a Palestinian child, a boy who looks like a 'little lost sackful of love'. He writes a moving essay during one of her 'Tell Your Story' classes, so afterwards she gives him 'a hug and a squeeze' and 'pet[s] him like he's a brown velvet bear' (!!!). Thus is Palestine saved, one child at a time, by the mothering instinct of well-to-do, caring radicals who write tear-drenched travelogues in the French Alps. She who saves a brown velvet Palestinian kid from depression or drugs saves the world.
Brendan O'Neill is editor of spiked. Visit his personal website here.
Picture: ENRIC MARTI/AP/Press Association Images
To enquire about republishing spiked's content, a right to reply or to request a correction, please contact the managing editor, Viv Regan.