No, Nigel Farage is not 'normalising' fascism
The new series of I'm a Celebrity… has sent the anti-Brexit media into tailspin.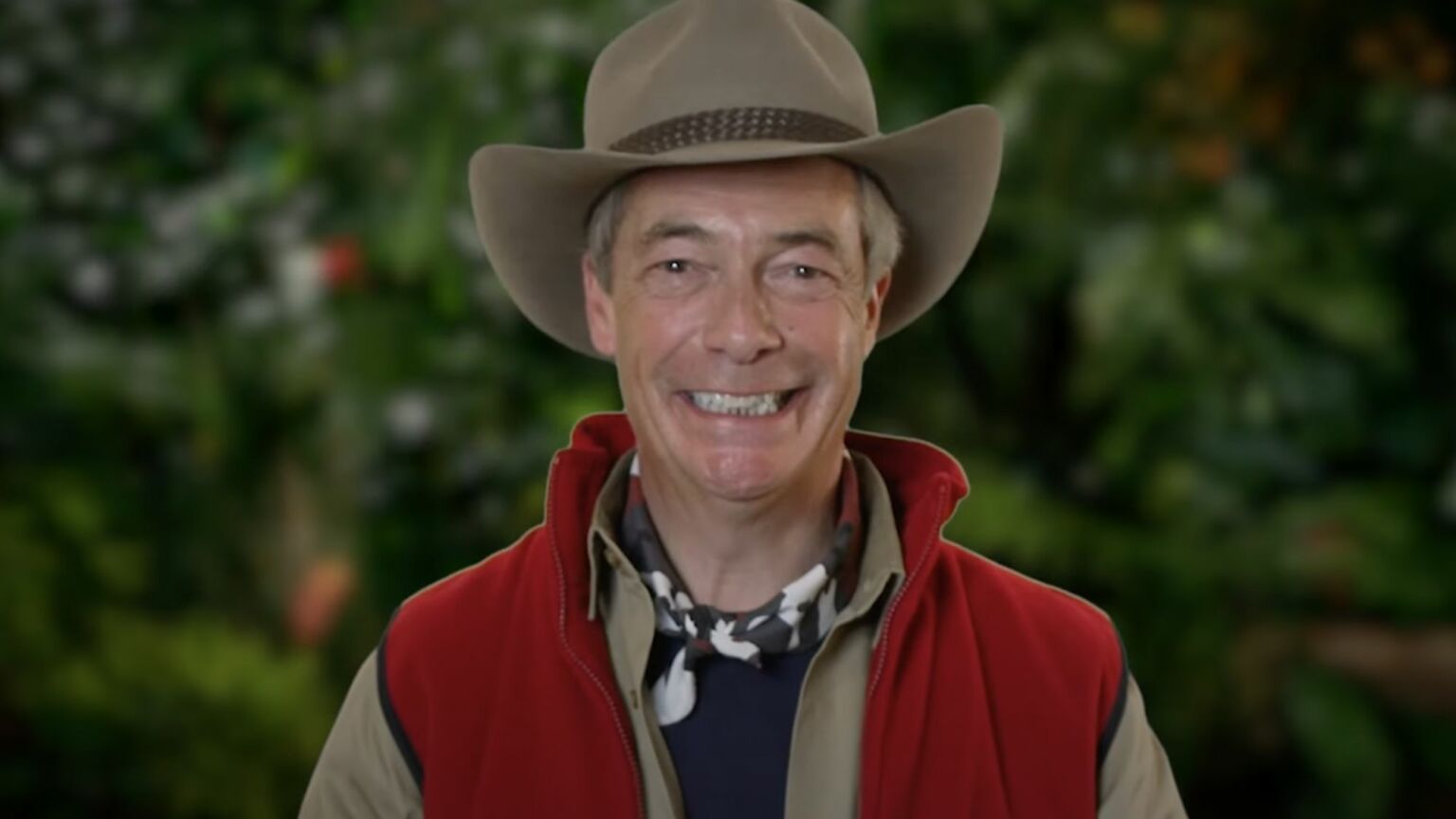 ITV's I'm a Celebrity… Get Me Out of Here! is back. Incredibly, its now all-too-familiar blend of peeled cheese, sentimentalism and jocular sadism is still considered newsworthy, even in its 23rd series.
As ever with I'm a Celebrity…, there's one particular stake-bound effigy providing the crocodile's share of commentary. This year it is the OG of Brexit turned GB News presenter, Nigel Farage. The jowly disruptor has been paid a reported record appearance fee of £1.5million, which if nothing else suggests he really should have been put in charge of the post-Brexit negotiations with Brussels.
Despite generating plenty of digital newsprint, overnight viewing figures suggest this expensive gamble may have backfired. Reports claim that the show's opening-episode audience has fallen from some nine million last year to seven million this year.
ITV's decision to include Farage in this year's line-up hasn't just been slammed on commercial grounds. It's also been roundly criticised by the right-thinking for political reasons. The Guardian has accused ITV of 'normalising the abhorrent' and some have even complained that Farage's participation platforms 'fascism'. Well, who could have watched the first episode last night and not been reminded of Adolf Hitler's rise to power? Apparently, the Führer also made his name through a series of televised humiliations, alongside pecky and anxious YouTubers and weather persons. Even the shorts were eerily familiar.
Farage understands that he gets certain people's backs up, and appears to enjoy it. He refers to himself proudly as a 'Marmite' figure. 'People either love or hate me', he says.
Among some, though, Farage provokes not so much dislike, but disgust. Even before the first episode aired, Barbara Ellen in the Observer was already nauseated by the prospect of Farage 'disinfecting and normalising his public persona for political re-entry'. Upon watching the show, the Guardian's John Crace complained that ITV has 'given a platform' to a man who has built 'an entire political career on imagined grievances' and 'casual xenophobia'.
Time and again, the word 'normalising' comes up. But surely 'normal' is simply a set of opinions or views that is held by a majority. To use an I'm a Celebrity… metaphor, what is normal is anything – regardless of how palatable it may be to Guardian readers – that is in the belly of the crocodile, rather than in the snout or the tail.
And by that measure, I am sorry to have to tell you this, Barbara and John, but Nige is normal. He doesn't have to be normalised, because he's already as normal as they come. He's as normal as XTC's Nigel, as F1's Nigel, as Nigels always are. The referendum result proved that if nothing else.
If anything, it is the views of the modern lefties at the Guardian and the Observer that are not normal. Little wonder they're obsessed with the project of 'normalisation'. This is actually their own technique, their praxis, their objective. They want to 'normalise' what have hitherto been fringe views using every means, medium and institution possible.
Meanwhile, back in the Kampf, sorry, camp, things have barely begun. Viewing figures may yet rally – sorry, another unfortunate term. Even if they don't, last night's show still provided the highest overnight ratings for an ITV broadcast in 2023.
It remains to be seen who will emerge from I'm a Celebrity… disinfected and made fit for public consumption, and who will turn out to be a rotter. Perhaps the Guardian's fever dreams will come true and NF will live up to his initials more than his previously affable, well-fed TV persona. Perhaps it will turn out to be his first important step towards Tory leadership, and ultimate world domination. Or perhaps this time next year he'll be getting shouted at by a lady SAS officer, in a shed.
I for one will not boycott the show. I won't watch it much, either. I'm sorry, but that's the best I can do. The sooner we can normalise that, the better.
Simon Evans is a spiked columnist and stand-up comedian.
To enquire about republishing spiked's content, a right to reply or to request a correction, please contact the managing editor, Viv Regan.