The curious case of the male sorority sister
The liberal media's fawning over oddball Artemis Langford has revealed the misogyny at the heart of the trans cult.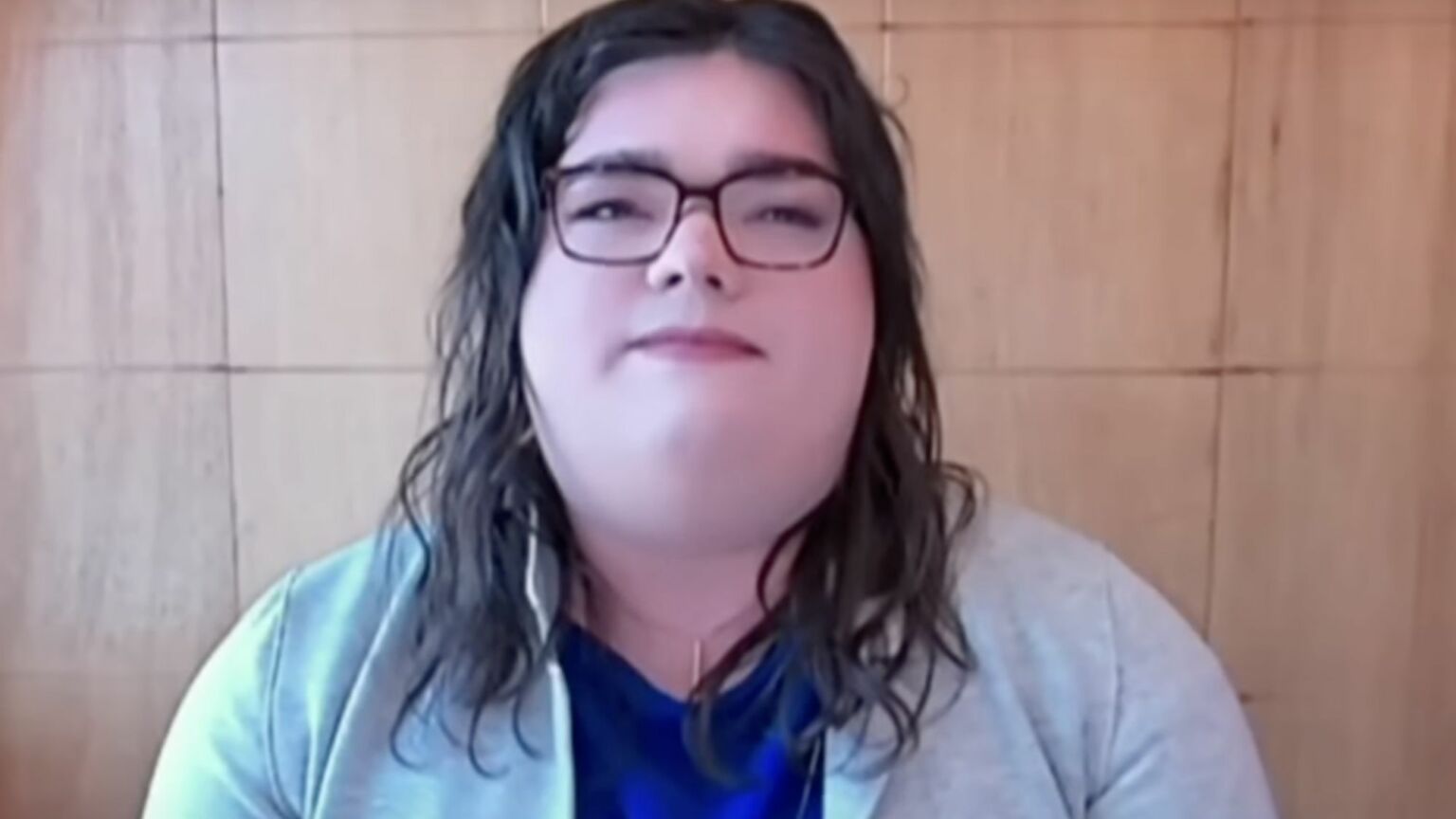 Imagine it's 1997 and you are a young, edgy, fun-loving feminist. The world you live in has produced Girl Power, ladette culture and Take Back the Night marches. You and your girlfriends have said 'Hell No!' to creepy men and you own your sexual empowerment. Then, a terrible accident befalls you and you fall into a coma. You awake from the coma in 2023 to find that those who call themselves feminists today are defending the rights of predators to enter women's spaces and are celebrating girls who cut off their breasts and take testosterone. 'But wait', you cry, confused from your hospital bed. 'Aren't we supposed to be protecting women, and teaching girls that they are fine just the way they are?' And then you are kicked out of the hospital and denied further medical care for being a transphobe.
Every month now throws up a new level of WTF when it comes to the trans issue. Things have got so bad that I'm starting to just shrug off the stories of shocking sanctification of male sexual deviance. And I've come to expect the public humiliation of anyone who dares speak up about it. It's basically the new normal.
Another curious tale came this month, when the Washington Post published a glowing feature about Artemis Langford, a male student at the University of Wyoming and a member of the local chapter of the Kappa Kappa Gamma sorority. Last year, Langford, who is six-foot-two, overweight and identifies as trans and queer, became the first biological male to enter a US sorority – organisations that are, by definition, for women only.
Understandably, some in the Wyoming sorority have objected to Langford's presence in the shared house. Back in March, six of the sisters filed a lawsuit against the sorority's national governing body for allowing him to be admitted. According to a report in Reduxx about the lawsuit, Langford 'had been voyeuristically peeping on them while they were in intimate situations, and, on at least one occasion, had a visible erection while doing so'. The lawsuit also alleged that he is 'sexually interested in women, that he took photographs of the women while at a sorority slumber party and that he repeatedly questioned the women about what vaginas look like'.
In August, a federal judge in Wyoming dismissed the lawsuit on the grounds that the national sorority's bylaws do not define what a woman is. Plus, under freedom-of-association laws, the court said it did not have the right to define the word 'woman' on the sorority's behalf. 'Who decides whether Langford is a Kappa Kappa Gamma sister?', the judge asked. 'Not the six plaintiffs. Not the KKG's Fraternity Council. Not even this federal court… This judge may not invade Kappa Kappa Gamma's freedom of expressive association and inject the circumscribed definition [that the] plaintiffs urge.' The 'circumscribed definition' in question? That a person with a penis cannot be a woman.
As we've come to expect, all the usual suspects have lined up to praise Artemis Langford, despite the lewd behaviour alleged by the sorority sisters. In an interview with him on MSNBC, the anchor described him as 'a very brave and unique person'. 'It's okay to be exactly who you are', she added. Apparently, for liberal America, being who you are should entitle men to enter women's private spaces.
The Washington Post profile is even more glowing still. Its highly flattering feature gives an extraordinary amount of weight to the 'gut punch' Langford says he felt at not being welcomed by all the sorority sisters. Author William Wan even tries to present Langford as some kind of civil-rights pioneer. Apparently, after studying the history of sororities and sorority sisters' roles in advancing women's causes in 19th-century America, 'Artemis saw her own life in their stories. Fitting in had never come easily.'
There is a lot to pity in Artemis Langford. When I was growing up, girls fiercely fought back against boys who would stare at us, or try to follow us to the bathroom, or look up our skirts. Boys like that were often tormented by their peers because of their weirdness. The school yard was a bit of a jungle where conventional behaviour was strictly, sometimes cruelly, enforced by kids themselves. Teachers and other adults tended to let rough justice prevail.
Yet somehow, we now live in a world where grown-ups are not just encouraging young people to be nice to the oddballs and misfits – which would be fair enough – but also forcing young women to undress in front of them. Directors of national charities, editors of national newspapers and corporate honchos all insist that women should share their intimate spaces with men who like to stare at them.
To me, the most interesting question is what is driving the liberal establishment's embrace of the dark, irrational, fantasy that is the gender phenomenon. I know that there are many genuine believers who actually think – despite all the material evidence to the contrary – that a man in a dress can be a woman, even if he has an erection. But they can't all be true believers, surely. Clearly, there are many who are enforcing this new religion at women's expense because of the benefits it brings them, or because they are afraid not to.
It's those enforcers who we should be most angry at. Sad, young men like Langford are simply living by the new, absurd rules that the liberal elites have laid down for them.
Jenny Holland is a former newspaper reporter and speechwriter. Visit her Substack here.
To enquire about republishing spiked's content, a right to reply or to request a correction, please contact the managing editor, Viv Regan.