Why Jewish lives don't matter to BLM
The Hamas apologism of Black Lives Matter activists has exposed the twisted, hateful logic of identity politics.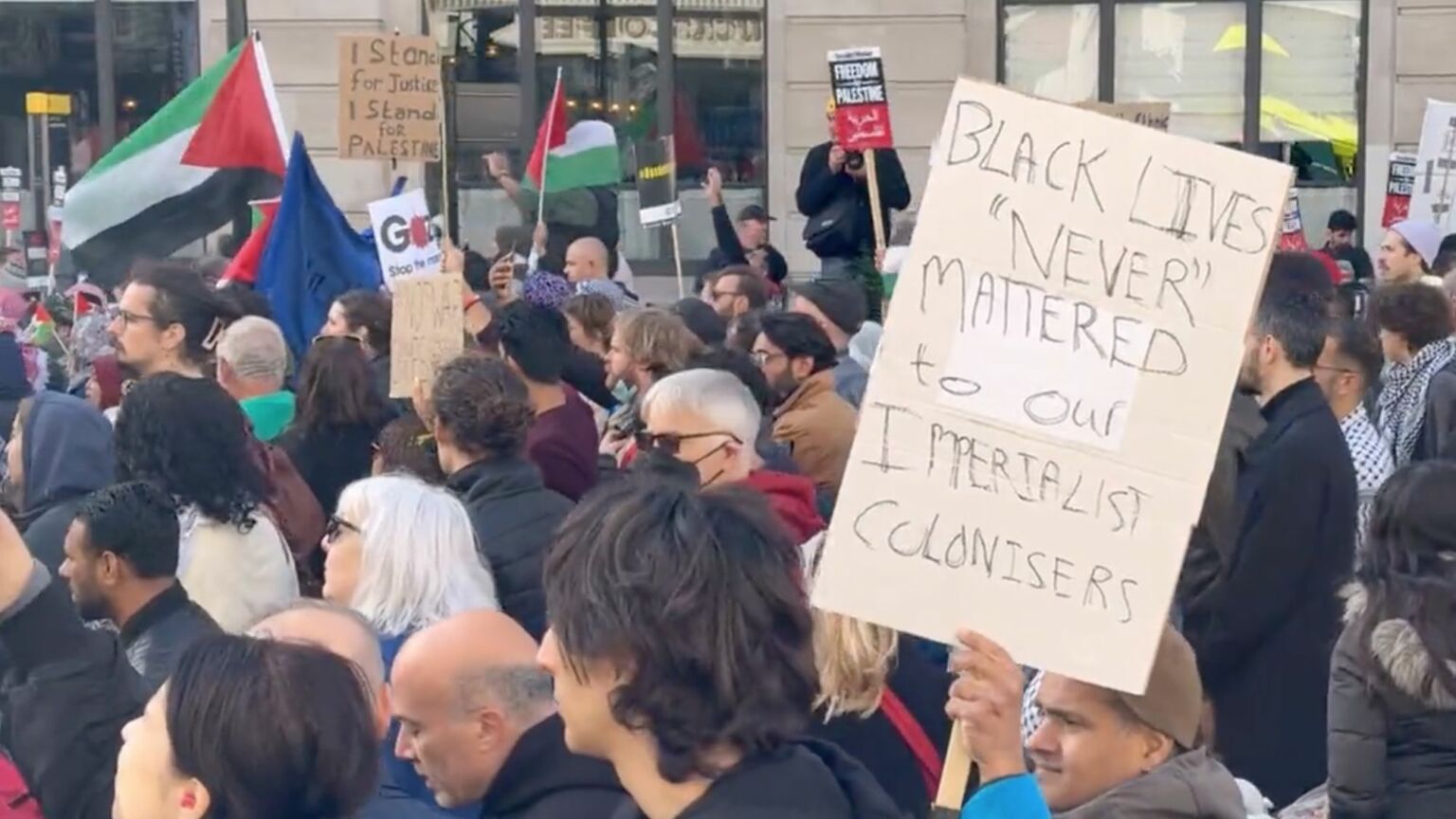 Following Hamas's pogrom of Jewish people in Israel on 7 October, numerous Black Lives Matter (BLM) activists made clear where their sympathies lie. Within days, BLM's chapter in Chicago posted a graphic that celebrated the slaughter. It showed a paraglider of the kind used by Hamas terrorists to enter Israel from Gaza and murder over 200 young people at a music festival. Below the picture, the caption read: 'I stand with Palestine.'
After the tweet was viewed millions of times, BLM Chicago deleted it and gave a semi-apology. 'Yesterday we sent out [a post] that we aren't proud of', it said, before re-asserting: 'We stand with Palestine and the people who will do what they must to live free.' That vague 'will do what they must' presumably does not rule out violence.
Even after the climbdown over the paraglider post, BLM activists in Chicago disrupted a city-council meeting as councillors discussed a resolution to stand in solidarity with Israel after the Hamas attack. The crowd rained down boos and chants, forcing mayor Brandon Johnson to clear the room. The resolution eventually passed, but only after BLM-allied council members left the meeting in protest.
Pro-Hamas statements from BLM were not limited to Chicago. Black Lives Matter Grassroots, a splinter group that represents about two dozen BLM chapters, rationalised Hamas's terror as a 'desperate act of self-defence'. BLM at School, an offshoot of BLM that organises teachers in schools, blamed the Israelis for Hamas's atrocities. The 'unfolding loss of Palestinian and Israeli lives is the direct result of decades of Israeli settler-colonialism, land dispossession, occupation, blockade, apartheid and attempted genocide of millions of Palestinians', it said.
This outright support for Hamas, and the blaming of Israeli victims for Hamas's butchery, came as a surprise to some liberals. They had viewed BLM as a worthy cause and saw themselves as allies of the movement. In the aftermath of George Floyd's death in 2020, BLM skyrocketed in prominence and gained new-found respectability among the great and good. Its slogan was omnipresent. Streets in downtown Washington, DC had the words 'Black Lives Matter' painted on them in giant letters by the city authorities. The black BLM flag was flown all over the US, including in many schools. Major corporations and foundations showered BLM-affiliated organisations with millions of dollars. Many Jewish organisations in the US, including the Jewish Council for Public Affairs, also expressed support for BLM.
But now, witnessing BLM's unholy alliance with Hamas, many establishment liberals are waking up to what BLM really thinks. Jewish organisations, in particular, feel betrayed after years of giving support to BLM. ADL national director Jonathan Greenblatt slammed the organisation: 'The post shared in recent days by BLM chapters in Chicago and LA and [by] other fringe groups, glorifying the Hamas terrorists who used hang gliders to infiltrate Israel, slaughtering over 1,000 innocents, is beyond sick and twisted. It's anti-Semitic, dehumanising and could prompt violence', he posted on X. 'The moral degeneracy of [Hamas's] accomplices in the West is staggering', he added.
As it happens, if these establishment allies of BLM had happened to take a few minutes to examine its history and political positions before sending millions of dollars to its bank accounts, they might not have been so surprised that it rushed to the defence of Hamas. In 2015, BLM co-founder Patrisse Cullors led a mission to Israel, which she termed an 'apartheid state'. That same year, while speaking on a panel at Harvard Law School, she adopted eliminationist rhetoric, calling 'to end the imperialist project called Israel'. Like most of the pseudo-progressive left, BLM's long-standing support for Palestine has included the belief that Hamas reflects the interests of the Palestinian people, and its violence must therefore be excused.
That said, it is partly understandable that many erstwhile BLM allies are now scratching their heads, wondering why support for BLM should carry over to celebrating Hamas terror. In response to the 7 October attacks, BLM Grassroots said that 'as a radical black organisation grounded in abolitionist ideals, we see clear parallels between black and Palestinian people'. But those parallels are far from obvious – certainly most black Americans do not see their interests as bound up with Palestinians living thousands of miles away in the Middle East, and especially not with a terror group like Hamas.
Indeed, BLM's endorsement of Hamas shows how it is not an organic outgrowth of the experiences of the black masses in the US. Instead, BLM is simply another organ of the identitarian left. It reflects the outlook of activists, academics and other upper-middle-class professionals, not ordinary black people. BLM may claim to speak on behalf of black Americans, but it pushes policies – like defunding the police – that hurt middle-class and poorer black people disproportionately. BLM activists are more likely to be found on college campuses – where they rub shoulders with the Boycott, Divestment and Sanctions (BDS) movement, which seeks to delegitimise and isolate Israel – than in black neighbourhoods.
It is worth pointing out that BLM is not a single organisation as such. It is more of a self-declared movement, a loose association of different organisations that embrace the 'Black Lives Matter' slogan and fall under its umbrella. Hence why we've seen a variety of responses to the Hamas attack from different BLM offshoots, rather than a single statement from a national leadership. You could say BLM the organisation is more of a GoFundMe-style platform – one that is controlled by a select few people, despite its decentralised operations. As Wilfred Reilly has written on spiked, the Black Lives Matter Global Network Foundation is still not fully transparent about how it has spent the millions it raised in 2020. Cullors resigned from BLM in 2021, after revelations of multiple house purchases and accusations of embezzlement of funds.
Yet despite BLM being a disparate movement, its activists share a common language. BLMers of different stripes will unite in their oft-stated aim of 'decolonising' the US and other countries. This is a jargon that you will not hear among ordinary black Americans. Up to now, 'decolonisation' could have been dismissed as over-the-top rhetoric, an embellishment. It has often meant little more than a demand for changes to reading lists at universities or schools. But, following the Hamas attacks, that term should be taken as a warning of something more ominous. As BLM at School wrote 10 days after Hamas's barbaric violence, 'Palestinians are reminding us that decolonisation is not a metaphor or abstraction, but requires real, daily struggle'. By this logic, the 'decolonisation' of the US would justify similar violence as well.
Essentially, BLMers have not endorsed Hamas's attacks because of any real alignment between the struggles of black Americans and Palestinians or Hamas, nor of anything related to 'black lives' at all. No, they have excused Hamas and flirted with anti-Semitism because the BLM ideology embraces the mind-numbing oppressor / oppressed categories that all identitarian left organisations today deploy. Under the twisted logic of this mindset, Jews are the oppressors who are always to blame, while Hamas represent the oppressed who can do no wrong. It leads to a sick morality where Hamas's killings, torturing and kidnapping of babies and grandmothers come to be seen as acceptable – as blows for the oppressed against the oppressors.
It is good that BLM is finally being exposed for the morally degenerate movement it has become. But it still has much influence in the US and internationally, and can still do much harm. Not least when BLM activists serve as useful idiots for Hamas. Indeed, Hamas welcomes comparisons with BLM. In a 2021 interview, Yahya Sinwar, a Hamas leader in Gaza, made an explicit link, arguing that 'the same type of racism that killed George Floyd is being used by [Israel] against the Palestinians'. Of course, the murder of Floyd, or the struggles of black Americans generally, in no way justify Hamas's terrorism.
It should have been evident years ago that BLM was nothing like Martin Luther King or the 1960s civil rights movement. To his credit, New York mayor Eric Adams recently harkened back to that movement in a speech condemning Hamas's attack on Israel. Adams noted that, since New York has 'the largest Jewish population outside of Israel', it bears a special responsibility to be 'the place that our voices must raise and cascade throughout the entire country'. He then said:
'Your fight is my fight. That swastika not only displays the pain of anti-Semitism, it [also] displays the pain of racism among African Americans. You marched with us with Dr King. You stood with us with all the fights we have. And I'm saying we're going to stand with you and stand united together.'
In a time when BLM and the identitarian left are embracing the anti-Semitic death cult that is Hamas, King's universalist, humanist tradition – which Adams so movingly brought to life in his speech – is one we urgently need to restore.
Sean Collins is a writer based in New York. Visit his blog, The American Situation.
To enquire about republishing spiked's content, a right to reply or to request a correction, please contact the managing editor, Viv Regan.