The Republicans are squandering the populist moment
The removal of Speaker Kevin McCarthy reveals a party run by juvenile, illiberal narcissists.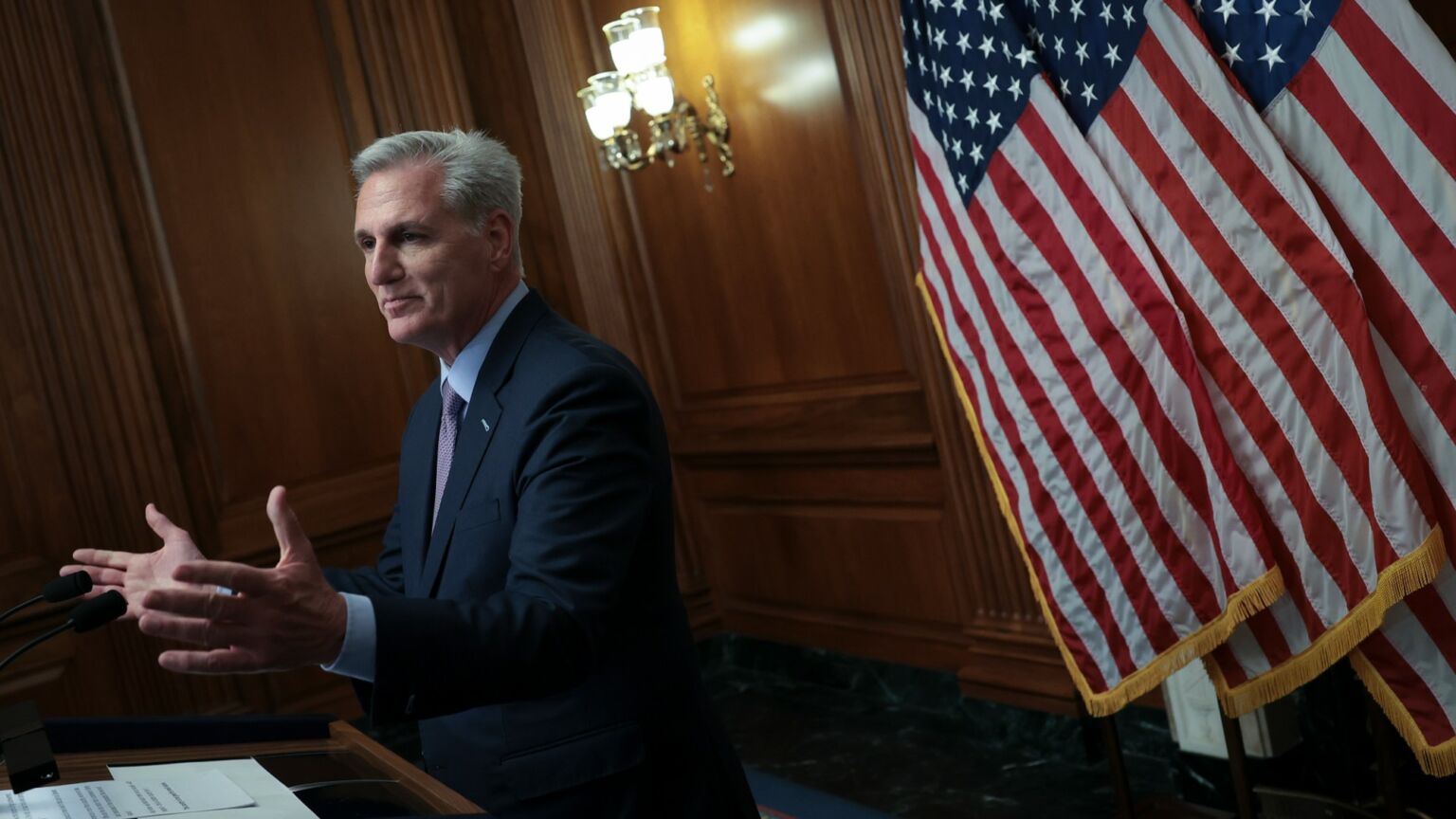 American politics is stuck in a rut. It's clear that voters think the Democrats are performing poorly on key issues like the economy, immigration and crime. And President Joe Biden remains unpopular. Yet, at the same time, voters do not trust the Republicans either, and they are especially put off by the antics of Donald Trump and his closest followers.
This week's goings-on on Capitol Hill will not help matters. The removal of Kevin McCarthy as Speaker in the House of Representatives by a small band of fellow Republicans is only likely to turn more people away from the Grand Old Party.
The mutiny against McCarthy was staged by just eight Republicans, led by congressman Matt Gaetz of Florida. But, with the help of the Democrats, who voted unanimously for the removal of McCarthy, the rebels won the vote, 216 to 210. It was the first time in American political history that the House has voted to remove a Speaker.
The seeds of McCarthy's removal were sown nine months ago, when he was first appointed Speaker. At the time, having underperformed in the Midterms, the Republicans were left with a slim majority in the House of Representatives. This gave more leverage to dissidents like Gaetz. So, although McCarthy won the Speaker role after an unprecedented 15 rounds of voting, he had to make a key concession – a rule stating that a single member could propose a motion for the sitting Speaker to vacate the chair. Gaetz was to seize on that rule to topple McCarthy.
In practical terms, McCarthy's removal effectively stops the House from functioning until a new Speaker is elected. While two Republicans, Jim Jordan and Steve Scalise, have thrown their hats into the ring, it is not clear that the party will be able to agree on a particular candidate. The current chaos could therefore roll on indefinitely, delaying work on matters like the border crisis and aid to Ukraine, as well as threatening the continued funding of the government, which will be voted on next month.
But the mutiny against McCarthy is more significant for what it reveals about the Republican Party itself. It exposes a party in disarray, seemingly unable to stop itself from self-immolating – a party that allows a few malcontents to bring down its leader and prevent the government from operating. It is, in short, not a serious party.
What's even more astounding is there are no substantial principles at stake in the Republicans' 'civil war'. Sure, Gaetz and others argue that they are fighting to control spending and address the $33 trillion in national debt. But this is just posturing. The rebels have not offered any alternative budget proposals, like reforming entitlement spending. And they are also fervent backers of Donald Trump, who, as president, added nearly $8 trillion to that debt.
Gaetz also denounced McCarthy for making deals with the Democrats – most recently, on reaching a stopgap agreement to prevent the government from shutting down. Yet the only way Gaetz could bring down McCarthy was, you guessed it, by doing a deal with the Democrats.
This inconsistency is hardly surprising given Gaetz and his crew are all ardent Trump supporters. Like Trump himself, they put themselves first, and as a result they are capricious and inconsistent. Indeed, one of the rebels, Nancy Mace, called Gaetz a 'fraud' for opposing McCarthy as Speaker nine months ago. Yet there she is today, supporting Gaetz's efforts to depose McCarthy.
The rebels' behaviour bore all the hallmarks of Trumpism in practice. It involved mouthing off with no real plan or goal. The rebels showed themselves willing to tear down existing norms, but for no discernible purpose other than to promote themselves.
Gaetz epitomises these Republican Trumpists. He's a performative egotist, not a substantive politician willing to do the work of a congressman. Gaetz was clearly driven by his personal dislike of McCarthy, who he never forgave for failing to defend him when he was charged with sex trafficking. But bringing McCarthy down didn't just satisfy his thirst for revenge. It also generated publicity, giving Gaetz an opportunity to raise funds for future campaigns (he has his eyes on the Florida governorship).
The Democrats, for their part, have behaved cynically and hypocritically throughout, particularly when they voted to oust McCarthy. In previous times, they might have followed the long-standing bipartisan norm not to interfere in another party's Speaker election and abstained. But no more. They were all too happy to ally themselves with Gaetz and others, despite regularly demonising them as Trumpian threats to democracy.
It's a telling move by the Democrats. By throwing their support behind Trumpist Republicans, they are following their Midterms playbook, when they went as far as financially backing Trump-endorsed candidates in Republican primaries. After all, Democrats have already made it pretty clear that they want to face Trump in next year's presidential election – by which point Trump is likely to have been convicted of at least some of his 91 indictments.
The Republicans' immediate future does not look promising. Whoever succeeds McCarthy is likely to face the same challenges – especially if the Republicans retain the rule that a single member can remove the Speaker.
McCarthy tried to please all of the different factions of the GOP and appeal to party discipline and loyalty. But these ideas have little purchase in the Republican Party today. He was brought down as part of a self-destructive coup, staged over nothing of principle. We should expect more crack-ups and craziness within the Republican coalition in the near future.
The Republicans don't seem to realise the trouble they're in. Since Trump's election in 2016, they have been on a losing trajectory. Their numbers of governorships, state legislative chambers, Senate seats and House seats have all fallen since 2016. And this is because a majority of Americans want nothing to do with Trump-like politicians, and that certainly includes the likes of Gaetz.
If the Republicans want to win the presidency again, they need to engage in a real civil war against Trumpism. This doesn't mean dumping populist ideas – in fact, the Republicans would benefit from more forcefully embracing policies that benefit the working class. No, Republicans need to wage a civil war against demagoguery, illiberalism and juvenile behaviour. Until they are prepared to take this fight on, American politics will remain in this rut. And Biden and the Democrats will retain the upper hand.
To enquire about republishing spiked's content, a right to reply or to request a correction, please contact the managing editor, Viv Regan.