The strange rehabilitation of Theresa May
The former PM has become a stick with which to beat the populist rabble.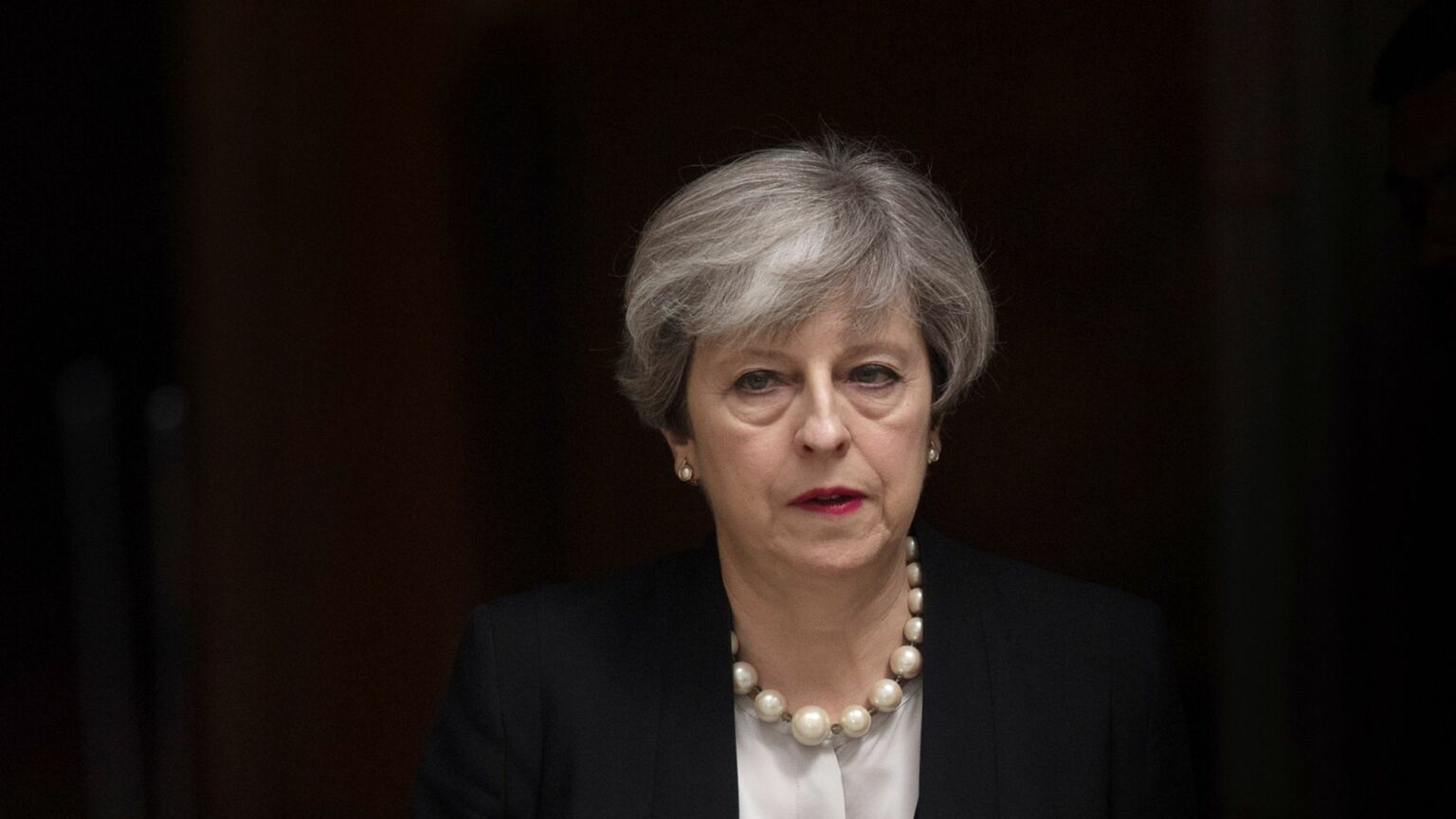 A function of the passage of time is that we see things in a way in which they were not. Take the soldier, Harry Patch, dubbed in his later years the 'last fighting Tommy'. Mr Patch's war record was ordinary, one shared by millions. His medal tally was the normal two, plus the 1939-45 Defence Medal. Yet because of his longevity, he became a national hero. As such, in his extreme old age, he received not just his three service medals, but also a French Légion d'honneur and a Knight of the Order of Leopold from the Belgians, and was even given an honorary degree at the age of 107.
Time, like distance, does funny things to the memory, which must be the only explanation we can give to the recent resurgence in the reputation of former UK prime minister Theresa May. After all, it is hard to see anything in her career that deserves the plaudits she is currently getting. Her new book, The Abuse of Power, has drawn praise from unlikely quarters. Meanwhile, her promo tour has afforded her the opportunity to talk up her time in No10.
Go on, try to remember what Theresa May achieved in politics at all, let alone as prime minister. It's not easy.
Before she entered government, she did one remarkable thing that hugely influenced the Conservative Party. It was her infamous description of the Tories as the 'nasty party' in 2002. That description stuck and has bedevilled the right from that moment on.
That was about it. After that speech, her career was a smooth glide through the shadow ministries. Never causing a ripple. Never raising a cheer. Under David Cameron, both in opposition and in government, the same thing happened. As home secretary, she became a sort of silent partner around the cabinet table. Then, in July 2016, like a blinding flash of grey, there she was, blinking on the steps of No10.
Again, did she actually do anything worthwhile in office? Anything? She did mention that she had once run through a field of wheat. A field I believe to be near Enstone, in Oxfordshire. But that is about it for memorable stuff. I suppose she coined the phrase 'Brexit Means Brexit' – though this is a piece of logical meaninglessness comparable with saying that 'eggs are eggs' or that 'a spade is a spade'.
May became PM in 2016, following the auto-defenestration of David Cameron, after his embarrassing defeat at the hands of the Leave campaign led by Nigel Farage and Boris Johnson. She supported Remain in the 2016 EU referendum, which made her an unlikely candidate for a leader who would be charged with charting a course for Brexit.
From the moment she got the job onwards, her premiership was characterised by drift. She botched the 2017 election, losing the Tories' slender parliamentary majority. Afterwards, her attempt to please both sides on Brexit, with a deal that kept us half in the EU Single Market, led only to endless stalemate in parliament. I dimly remember a series of so-called meaningful votes on what Brexit should look like (or if it should go ahead at all). None of which could command a majority
Although she lost 51 ministers during her first three years in office (including 12 cabinet resignations), the real body blow to her premiership came in May 2019 from Nigel Farage's Brexit Party (where I worked as director of communications). This was when she led the governing Conservatives into a resounding defeat in the European Parliament elections, with the Tories managing to win just 8.8 per cent of the vote. And then, she was gone, announcing her resignation in July 2019, amid the ruins of her Brexit policy.
Ironically, May told the BBC this week that her Brexit deal would have been better than Boris Johnson's. The same deal that she couldn't get passed by parliament, and which led to her being driven from office.
So why is Theresa May being lauded right now? Is it because, following the pantomime premiership of Boris, the squib of Truss and the painful slow puncture of Sunak, she now looks statesmanlike? Is it that her time in No10 looks like a period of sanity in comparison with what followed? Some might think that. But that isn't the full picture.
There is one thing that makes her reversal of fortunes comprehensible: she is a Remainer. Her views are largely those of the liberal elite, if slightly concealed by the bluish shades of a Maidenhead matron. She has become a stick with which to beat the populist peasantry. She reminds the political class of a time when technocracy still felt it had a divine right to rule. She is, essentially, one of them.
Perhaps, given the current state of her party, she should have called her memoir The Last Fighting Tory.
Gawain Towler is a commentator, former director of communications for the Brexit Party and is consulting for Reform UK.
To enquire about republishing spiked's content, a right to reply or to request a correction, please contact the managing editor, Viv Regan.