Why England's schools are crumbling
The RAAC crisis proves that education is among this government's lowest priorities.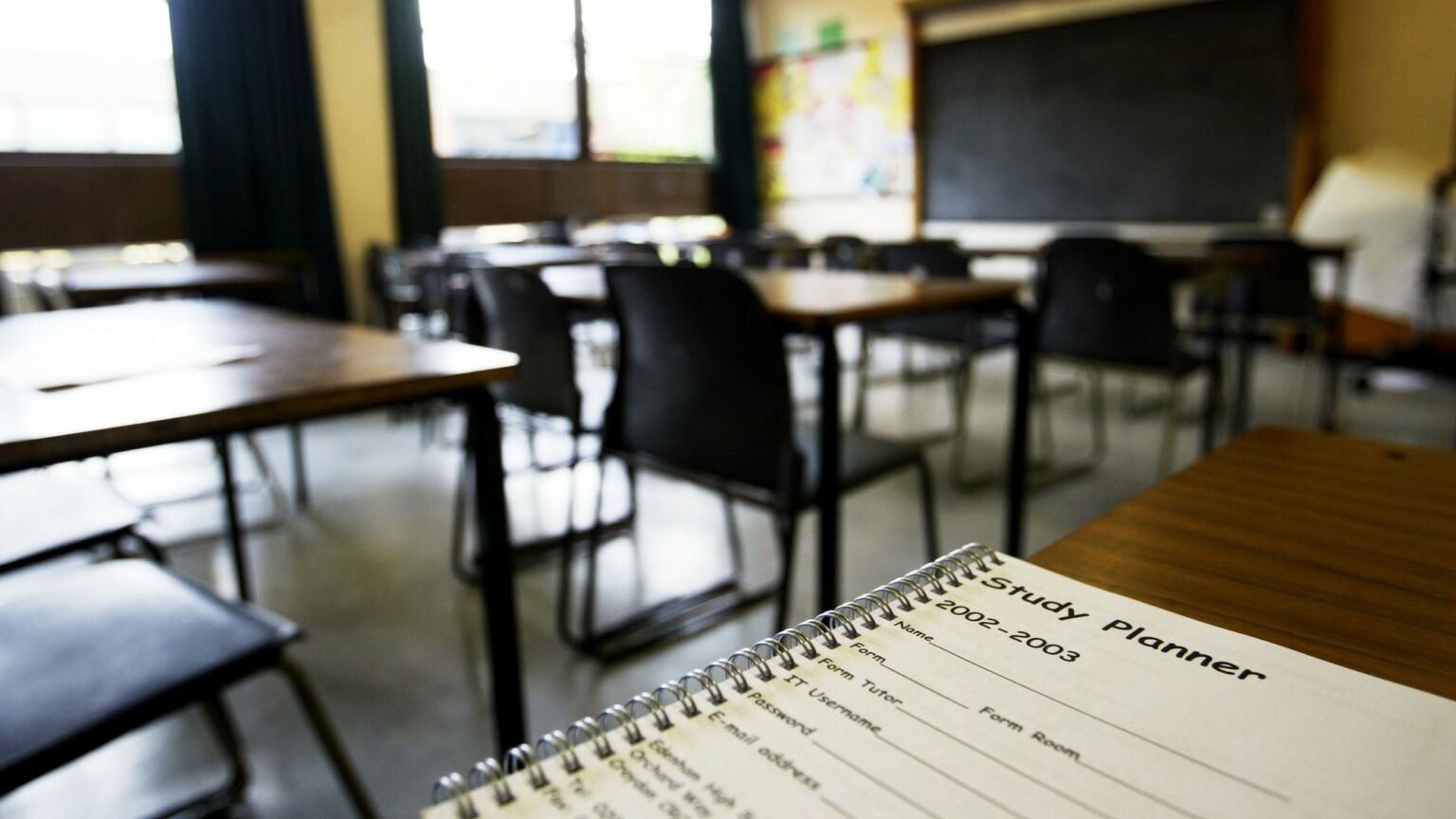 It may be the first week of September, but thousands of children in England will not be returning to class as they normally would. Over 100 schools are either fully or partially closed following the Department for Education's late summer panic over reinforced autoclaved aerated concrete (RAAC).
This cheap, lightweight building material was commonly used in the construction of schools and other municipal buildings, such as hospitals and prisons, from the 1950s to the 1980s. And it has long been known to have a limited lifespan. Yet it seems to have taken the collapse of a concrete beam in a school over the summer holidays for the problem to finally be taken seriously.
If the physical state of school buildings reflects the importance a nation places on education, then the RAAC saga makes clear that teaching the next generation is often a very low priority indeed.
First, in the postwar period, schools were constructed on the cheap, which did at least speak to an ambition to build new schools quickly. This was matched by New Labour's Building Schools for the Future (BSF) programme, which launched in 2004 and aimed to rebuild or refurbish every secondary school in England over a 15-to-20-year period. Questions can be asked about its funding – a reliance on Private Finance Initiatives (PFI) left many local authorities heavily indebted – but it was at least an aspirational plan to modernise schools.
BSF was scrapped by the Conservative-Liberal Democrat coalition government in 2010 and, 13 years later, there is still no new plan for school building. Instead, there has been a series of protracted battles between the Department for Education (DfE) and the Treasury over infrastructure funding. And the Treasury has always come out on top.
Just last year, officials at the DfE requested urgent funding to rebuild 300 schools in England. The then chancellor – one Rishi Sunak – granted money for just 100. He then halved this to allow just 50 schools to be rebuilt. During Sunak's time as chancellor, between 2019 and 2022, the budget for school rebuilding fell by 41 per cent, from £765million to £416million.
Sunak and the Treasury, however, are not entirely to blame here. If the Treasury has been tight with money, then the DfE has been slow to act on RAAC. Even now there is still no public list of all the schools affected. As many as 450 schools suspected of containing RAAC remain to be inspected, with assessments not expected to be completed until December.
This is truly shocking, considering that the problems with RAAC have been known for decades. Only five years ago, a ceiling actually collapsed at a school in Gravesend. This prompted a national survey of school buildings, but seemingly spurred little urgency to actually repair or rebuild them. Indeed, some local authorities have still not even completed the survey, meaning the true scale of the RAAC school crisis is unknown.
Successive governments have let children down badly. Not only by failing to build new schools, but also by failing to take seriously real problems with the existing buildings. It is worth asking why the 2018 Gravesend ceiling collapse prompted a survey, but not mass refurbishment.
What has changed since then? Engineers advising the government note that RAAC is not inherently problematic, but that it needs to be looked after correctly. It is when RAAC becomes exposed to moisture that structural failure can occur. One expert adviser to the DfE, Professor Chris Goodier of Loughborough University, acknowledges the problems with RAAC but says, 'the vast majority of RAAC out there is okay'.
The Scottish government seems to have also taken this view and schools in Scotland with RAAC are remaining open. The SNP's education secretary, Jenny Gilruth, has accused the UK government of deviating from the advice of the Institution of Structural Engineers.
There is a danger that in closing schools now, the DfE has moved from complacency about RAAC to panic. It has moved from doing little to replace or repair decrepit buildings to shutting schools en masse. Both approaches speak to a complete disregard for children, teachers, parents and education. Schools are now facing months – or even years – of disruption, as facilities are rebuilt piecemeal or are clumsily propped up. In the short term, headteachers are left scrambling for temporary classrooms or arranging for children to be taught in dance studios, sports halls or online.
Indeed, it is this capacity for online teaching that perhaps provides another answer as to why schools are closing now. Lockdown showed government ministers and DfE officials that sending children home with laptops can, in some bastardised way, tick a box marked 'learning'. No one seems too concerned that this new round of disruption will further reinforce the disillusionment of the 1.8million children reported to be persistently absent from school.
It is shameful that the government has ignored the problem of crumbling school buildings for so long. But the current overreaction – evident in the reappearance of that terrible Covid-era phrase 'an abundance of caution' – will only rob children of yet more schooling. Risk-aversion is now a higher priority to DfE officials and government ministers than education.
Joanna Williams is a spiked columnist and author of How Woke Won, which you can order here.
To enquire about republishing spiked's content, a right to reply or to request a correction, please contact the managing editor, Viv Regan.