Long-read
The tragedy of David Byrne
The former Talking Heads frontman used to be weird and wonderful. Now he's weedy and woke.
The future had often been a focus for David Byrne, even in his formative years when he was fronting Talking Heads. In one particular lyric from '(Nothing But) Flowers' (1988) he envisages it as an idyllic Eden. He laments the passing of 7-Elevens, as flowers and cornfields have replaced shopping malls and parking lots ('If this is paradise / I wish I had a lawnmower').
Byrne's futurology, shared by his frequent collaborator, Brian Eno, always pushed him ahead of his contemporaries when it came to creating tomorrow's music today. This pursuit of innovation persists now, even though Byrne is an elderly man in his seventies. Since quitting Talking Heads in 1991, Byrne has successfully, and sometimes brilliantly, put his name to dance scores, film soundtracks, musicals and books. Byrne's most recent solo album, American Utopia, was released in 2018 and turned into a Broadway musical in 2019.
It is now five decades on from Talking Heads playing 'Psycho Killer' at the CBGB club in New York. And it's nearly four decades on from Stop Making Sense, Jonathan Demme's acclaimed 1984 film of Talking Heads in concert. This month, the album of the same title inspired by Demme's film is re-issued; and the film returns to cinemas later this autumn.
Much has changed since Stop Making Sense's debut. The future Byrne speculated about has arrived. The world has changed – and so has David Byrne. Sadly, contemporary cultural trends have dimmed what made his work so weird and wonderful. And they've exacerbated his worst political tendencies.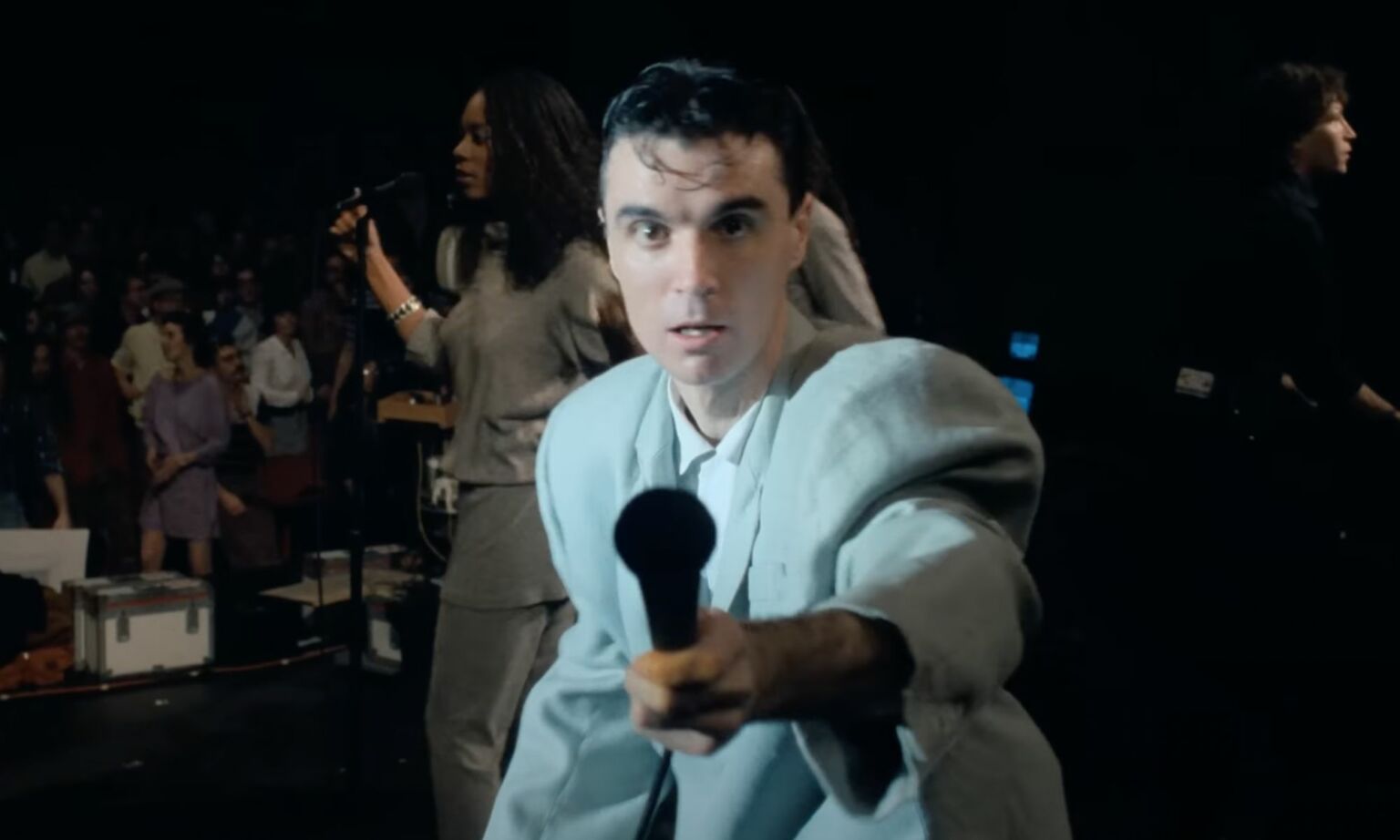 David Byrne in "Stop Making Sense" (1984).
Byrne has always made politically correct noises in relation to several US presidents over the years. He made perfunctory jibes at Reagan, Bush and Trump. And he expressed the obligatory reverence for Obama. But his political correctness is much more pronounced today. In the concert film version of American Utopia (2020), directed by Spike Lee, he nods to all the post-millennial pastimes that occupy orthodox celebrity radicals, from tackling climate change to dismantling systemic racism. He has always shared the prejudices of, and reached out to, the urban liberal upper-class and art-house crowd that have been part of his fanbase from the off.
Byrne arrived in New York in the early 1970s. He was born in Scotland, raised in Baltimore, and studied at the Rhode Island School of Design and the Maryland Institute College of Art, before dropping out. He then moved to New York and formed Talking Heads with Chris Frantz on drums and Tina Weymouth on bass in 1975 (Jerry Harrison arrived later).
Byrne was the Nostradamus of the new wave, in a band that anticipated post-punk before punk. Even though Talking Heads were dressed like preppie Republicans and sang about the Protestant work ethic, Byrne moved and sounded like no other front man. He had a nervy yelp of a voice that was pitch perfect for the arch, disconnected lyrics that bounced off his lips. He seemed as uncomfortable in the modern world as he was on stage.
In recent years, as band members' memoirs settled scores and opened old wounds, Byrne has been revealed as an egotistical figure, with an incapacity to make eye contact or acknowledge that colleagues deserved a songwriting credit. The implication was that he was on the 'spectrum', before we even talked about the 'spectrum'. During an interview in 2020, Frantz said of his erstwhile bandmate: 'His brain is wired in such a way that he doesn't know where he ends and other people begin. He can't imagine that anyone else would be important.' Perhaps that is what has made him so interesting.
Talking Heads were the quintessential New York band, with Byrne an honorary New Yorker. But his relationship with Americans beyond New York has always been more ambiguous. Their homespun lives crop up often in his sometimes obtuse lyrics, full of apple pie, peanut butter, small hopes, big dreams. Coming from relatively humble origins himself, and being an immigrant, Byrne seemingly shared an affinity with and an affection for these figures. But at other times, he could seem sneering and mocking. Whatever their shortcomings, it seems their greatest crime was that they were not native New Yorkers. In 'The Big Country' (1978) Byrne observes these tribes and their reservations from the window of a passing plane – the farmlands, the factories, the baseball diamonds. 'I wouldn't live there if you paid me', he sings.
But by and large, Byrne was busy writing like an alien, making a miracle of the mundane, as though he was the man who fell to Earth. In the film, True Stories (1986), he travels through the fictional Virgil, Texas coming upon madcap characters that might belong in a David Lynch script. The kookiness continued into the 2000s when he wrote a popular blog. Discovering IKEA in his middle years, he even described the experience with the forensic detail of an early Nicholson Baker novel. Some wondered if celebrity had taken him so far into the wealthy cocoon of the New York art-house intelligentsia that he'd lost sight of the reality of those outside it. Had this simply become his schtick, some asked?
But this kookiness had always been central to Byrne's art. By the time Stop Making Sense appeared in the mid-1980s, the twitching limbs and jerky non-dance moves had been exaggerated and honed to become his persona. This, too, was his schtick.
Band members have said the more successful he got, the more distant he appeared. This is clear in the shift in some of the lyrical content, when he writes of sensations and feelings, like a Beckett voice without a home, a name, a future or a past. He was solitary, solipsistic even. 'There's a party In my mind / And I hope it never stops', Byrne sang on 'Fear Of Music' in 1979. By 2004, on the solo album, Grown Backwards, he was singing, 'I'm glad I can't see beyond myself'. He once even sang that compassion was too time consuming.
The music video for 'Once In a Lifetime' (1981), by Talking Heads.
His natural oddness went hand in hand with his obsession with the future. 'It'll be as easy to hook your computer up to a central television bank as it is to get the week's groceries', he predicted in a 1979 interview. In the same interview, he also said that, '[people will] be surrounded by computers the size of wrist watches'. In 1985, on 'In The Future', the predictions were more hit and miss. But he was on the money with this one: 'In the future, half of us will be "mentally ill".' He could have added that many of us would be on the spectrum, and some of us would simply be grifters angling for victim status.
The future trend he didn't foresee was the desire to deny that any progress has been made on social issues. Particularly on the issue of race. How could he have known? At a time when races were divided musically, Byrne was one of those figures instrumental in creating a common ground. Talking Heads introduced African rhythms into their later records; Byrne introduced rhythms from everywhere else to his solo albums. He did write an essay in 1999 for the New York Times entitled 'Why I hate World Music'. But in a 2006 interview, he justified the use of musical styles from around the world in the following terms: 'I would like to think that once something moves you and you have an emotional involvement with it, and you see some relevance in it to your own life, then it's a little bit harder, maybe, to look at the people that produced it as being just exotic others that don't have any connection to you or relevance to you.'
It's hard to see Byrne saying something as genuinely progressive today.
The metamorphosis of David Byrne
Time has passed, trends have changed, and both Byrne and Talking Heads have since been accused of cultural appropriation by hardline race hustlers. They have also nearly been subject to another trend Byrne failed to anticipate: cancellation. This was a genuine prospect when, in 2020, a promotional film made for Demme's Stop Making Sense came to public attention and remained there. It was a skit with Byrne interviewing himself by disguising himself as various journalists, one of whom was an African American. Cue a 'blackface' scandal. It showed how today, past mistakes and bad choices can return to overshadow the present and bury careers. The party going on in David Byrne's head was suddenly halted.
He apologised, atoning for his sin in the modern public square that was Twitter (and is now X): 'It's like looking in a mirror and seeing someone else – you're not, or were not, the person you thought you were.' And there's more: 'I'd like to think I am beyond making mistakes like this, but clearly at the time I was not. Like I say at the end of our Broadway show, American Utopia, "I need to change too"… and I believe I have changed since then.' Former Talking Heads bandmate Frantz was not convinced: 'It's true that his public image has changed. But friends of mine assure me that he hasn't. I think he probably just decided that he could catch more bees with honey.'
But there's an argument to say that Byrne's mea culpa wasn't fake or a schtick, but that it was authentic. It brought out of him that figure that has reared its head throughout his career, and more regularly in recent years. This unique, innovative, talented, stylish, exceptional oddball was becoming The Weedy, Woke, White Bloke. The politically correct one.
After all, this side of him was visible during his blogging years, in the nascent days of the new century. In one post, he recounts venturing beyond his familiar furrow – between his home in Midtown Manhattan and his office in SoHo – and visiting a carnival in Brooklyn. Here Byrne, marvelling at the mundane, was joyful at finding soul-food menus chalked-up on broken wooden pallets. He recalled that he and Brian Eno were mugged at the same festival decades earlier, but argued that the strong police presence at the present festival was now down solely to racism.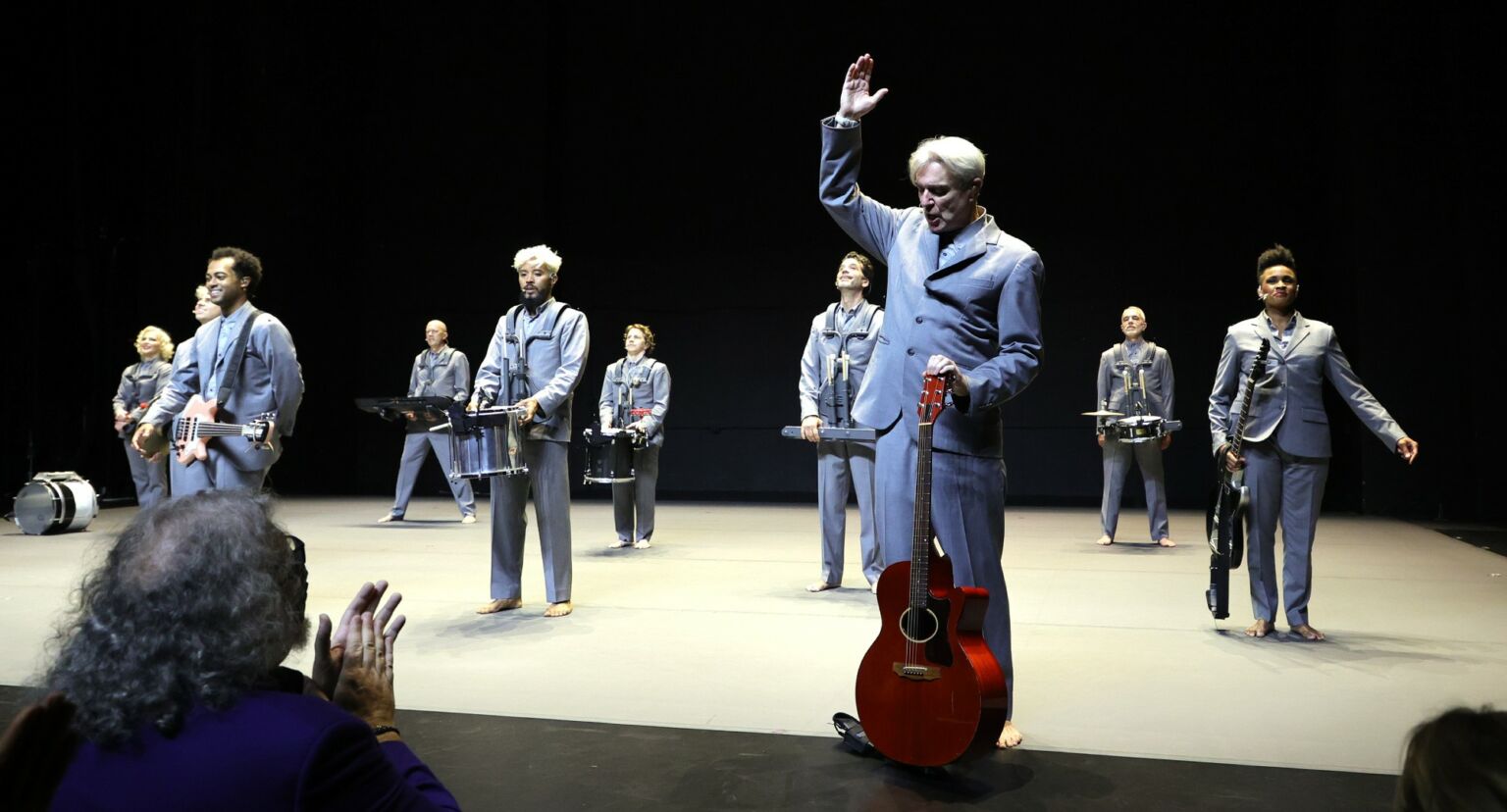 David Byrne in "American Utopia" at St James Theatre, New York City, 17 October 2021.
Excruciating as this was, it pales beside the moment The Weedy, Woke, White Bloke pops up in Byrne's musical, American Utopia. Here Byrne delivers his interpretation of Janelle Monáe's 'Hell You Talmbout', in which the suited, barefoot cast list names of black men and women killed by police officers. Stats and facts are overlooked to accommodate a stunt that conveniently confirms the narrative of systemic white racism. 'Say Their Name!' he and the cast chorus, as though at a revivalist meeting, in anticipation of a response from the Broadway congregation.
If the motive was authentic, the method felt fake, schmaltzy. It belittled the experience of the families slotted into the film holding images of their dead children. It reduced a serious and complex issue to the level of a show tune with audience participation, raised black fists and white man's overbite.
Some nights, the routine was met with silence from the stalls. On occasions, a few fans made for the exit. In one interview, Byrne dismissed these dissenters as being at odds with his usual demographic. They were out-of-towners; they weren't native New Yorkers. They were people like those from the big country beyond the Big Apple. They have a different take on the events that followed the death of George Floyd, and the big moment of the discredited Black Lives Matter movement. They think of the burning buildings, destroyed businesses and ruined livelihoods. Not that those who enjoy the rarefied existence of wealthy New York residents like David Byrne were unaffected by the carnage and chaos. It affected New York, too. It's just that they chose to ignore it.
Byrne now lives in Chelsea and cycles to his office in SoHo, where he works on his online magazine, Reasons To Be Cheerful. It attempts to find hopeful ways of promoting a happy, cohesive future, free from the division and alienation of the present that's partly attributable to the technological developments Byrne highlighted all those years ago.
New York City is currently encountering its own major difficulties, similar to the days when David Byrne settled there and Talking Heads played those sets at CBGB. The crime and the homelessness are rumoured to have brought about an exodus of wealthy New Yorkers, art-house intelligentsia and orthodox celebrity radicals. Those out-of-towners, with their apple pie, peanut butter, and the hopes and concerns they share with a majority of similar Americans, must be thinking: 'I wouldn't live there if you paid me.'
Michael Collins is a writer, journalist and broadcaster. He is the author of The Likes Of Us: A Biography of the White Working Class.
To enquire about republishing spiked's content, a right to reply or to request a correction, please contact the managing editor, Viv Regan.